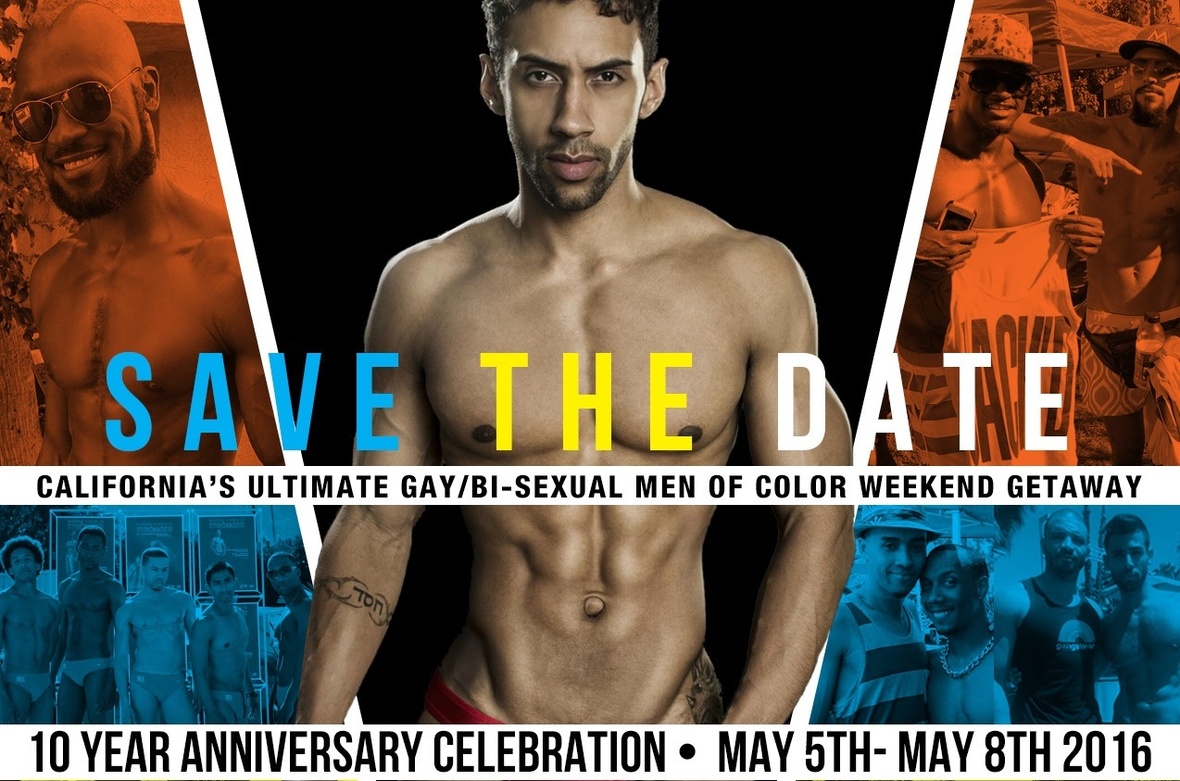 Palm Springs CA –California's largest gay and bisexual men of color vacation getaway is counting down to its 10th anniversary celebration in Palm Springs, California May 5-8, 2016.
Blatino Oasis is the first event to successfully bring gay men of color to the city of Palm Springs on an annual basis, and is now the largest annual event targeting gay men of color in the state of California, attracting thousands of attendees from all over the country and around the world. Event Producer Joe Hawkins, expressed his feelings about reaching a decade in the desert; " I have to say that I am overwhelmed by the fact that an event made up primarily of African American and Latino men, and began just before the recession hit back in 2007, in a place like Palm Springs (where there is no large gay community of color), would have survived the downturn, but it did!" And how!
Blatino Oasis presenting sponsors this year are 'Get Tested Coachella Valley' and the gay hook-up app, Jack'd. "We're excited to have Jack'd and Get Tested Coachella Valley joining us again as Presenting Sponsors," said event founder and producer, Joe Hawkins. "We support Get Tested's goal of making testing free and available to everyone in the community." The Blatino Oasis event boasts having helped to test the most gay men of color in Coachella Valley history.
"Joe Hawkins has done an incredible job creating Blatino Oasis and producing the event for 10 years," said Susan Unger, Project Director for Get Tested Coachella Valley. "We applaud him, we look forward to the event, and we appreciate this opportunity to reach this audience with valuable education and testing." People who plan to attend the event should also know that Get Tested, Coachella Valley, will be at the entry to most of the Blatino Oasis events offering free entry to those who test, for a limited number of attendees, so be on the lookout for the van.
Other event sponsors include Desert Outlook Magazine, The Desert AIDS Project, CCBC Men's Resort, Thugmart, Riverside University Health System, WET Lubricants, The City of Palm Springs and Cathedral City to name a few.
The four day event (May 5-8), features a free Cinco De Mayo arrival party on Thursday, May 5, 9pm-2pm, at Toucans and on Friday, May 6, 9pm-2am, Rap Icon 'Foxy Brown,' will headline the kick-off party at the Copa Room. On Saturday, May 7, there will be a Mardi Gras Pool Party at CCBC in Cathedral city from 2pm-7pm. Saturday night will feature "gay-lebrities" Pablo Hernandez and 'Fly Young Red' performing at Chill Bar-Scorpion Room, hosted by Reality star Milan Christopher of VH'1's "Love & Hip Hop Hollywood". The event will wrap with a Sunday, white apparel awards brunch at Bonta Restaurant in Cathedral City from 11am-2;30pm and a closing pool party at CCBC Resort.
The two night-time dance events and pool parties will feature world class deejays to include Dj Chris Johnson (LA), Dj Ben (West Hollywood) Dj 6PAC (San Francisco) and Dj Konrad Parker (West Hollywood), spinning Hip Hop, R&B, Top 40, House, Latin Pop, Reggae, Reggaeton and top 40,
For more event details, hotels, and to purchase event passes, visit the websitewww.blatinooasis.com