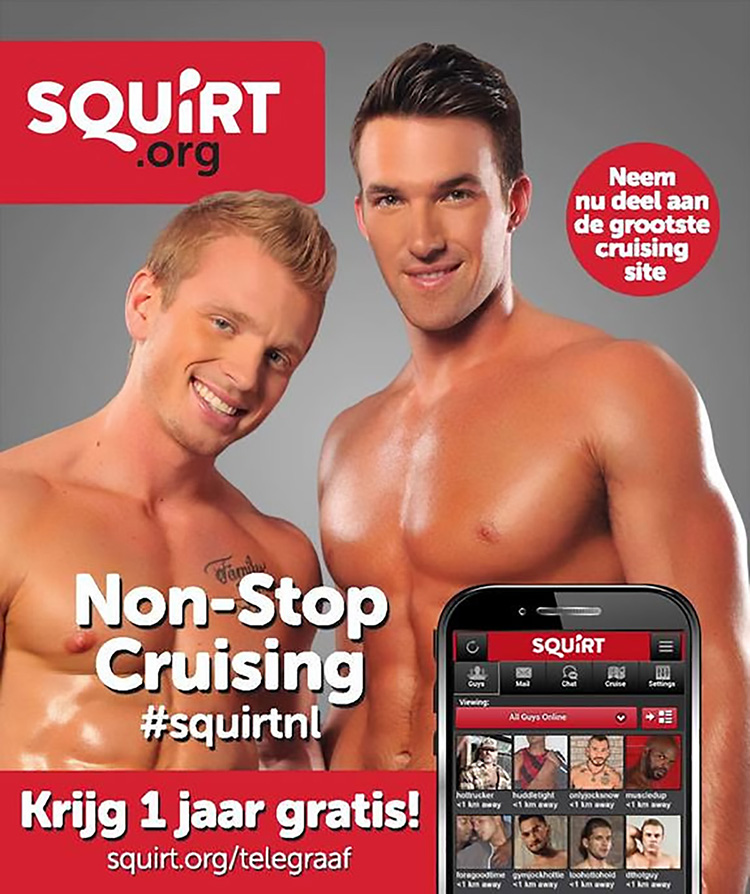 Despite a number of complaints gay Squirt.org ad campaign will remain at train stations throughout the country.
by Orly Lyonne
Outdoor advertisements for the gay hook-up app Squirt will not be banned in the Netherlands, despite a number of complaints, reports PinkNews.co.uk.
Squirt had put up the large signs and posters at major train stations across Rotterdam, Amsterdam Utrecht and The Hague.
Despite a number of complaints, the Advertising Standards Board (ASB) has ruled in favor of the site – and will allow the campaign to continue, reports PinkNews.co.uk.
One complaint said: "It is highly inappropriate that such a website is being promoted in the public space."
The second complainant claimed that the ad was designed to entice children into visiting the website, while a third said it was "truly sickening and shocking."
However, the ASB found that the ads met "the necessary precautions… in the context of good taste and public decency."
It added that while the models are topless, they are not "shown in a sexually provocative pose" or "suggesting any sexual acts."
The app's ads were previously removed from trains in Canada – after the Toronto Transit Commission (TTC) claimed they encouraged gay commuters to "break the law." TTC spokesperson Danny Nicholson said: "The ad was taken down as it promoted sex in public places, which is against the law."
In this country, reports The Advocate, Squirt billboards in Dallas met with similar opposition.