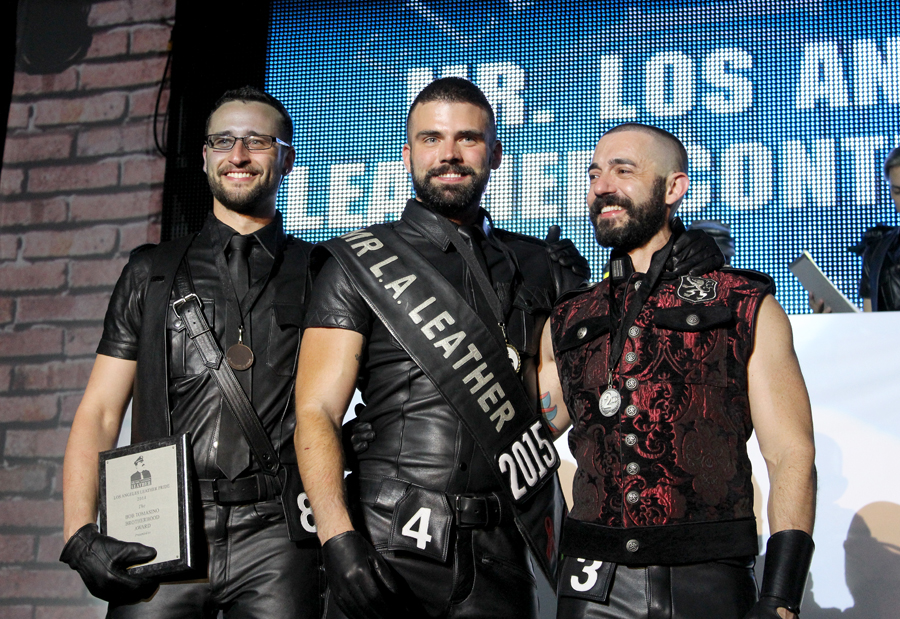 Photos & Text by Paulo Murillo –
Los Angeles Leather Pride 2015 brought together ten leathermen to the stage to compete for the title of Mr. LA Leather, which would take home a leather sash, medallion and a chance to compete at the International Mr. Leather contest in Chicago later this Spring.
After an intense, excruciating, nail-biting night full of anticipation, contestant Patrick Smith, Eagle LA Mr. Leather 2015, was awarded the title of Mr. Los Angeles Leather 2015.
Smith sat with THE FIGHT moments after his big win for a brief interview to discuss what it felt like to hear his name be called as the winner, the path he plans to follow to fight for his own causes, and who he plans to take with him to Chicago for this year's IML.
What are you feeling right now? What are the first words that come to mind?
My mind is blown. I can't believe I'm sitting here right now. You know, everyone I've met along the way on this amazing experience has been so fantastic and I cannot be more happy to have this gigantic family behind me.
Was winning something you ever expected?
I didn't know what to expect. I was optimistic. I was hoping I would place, so I started getting a little more excited when the winner's spot was still vacant and yeah, so you could never ready for something like that. It's just a complete shock to me that it actually happened. And you have visions of it when you're running for the title, but you never know what's going to happen.
Was there one thing that you were most afraid of?
I just wanted to be myself all the way through. I just wanted to break the walls down and really convey to the judges who I am. I thought in my mind and a lot of people told me that If I just convey deep down to the judges who I am then I'd be fine.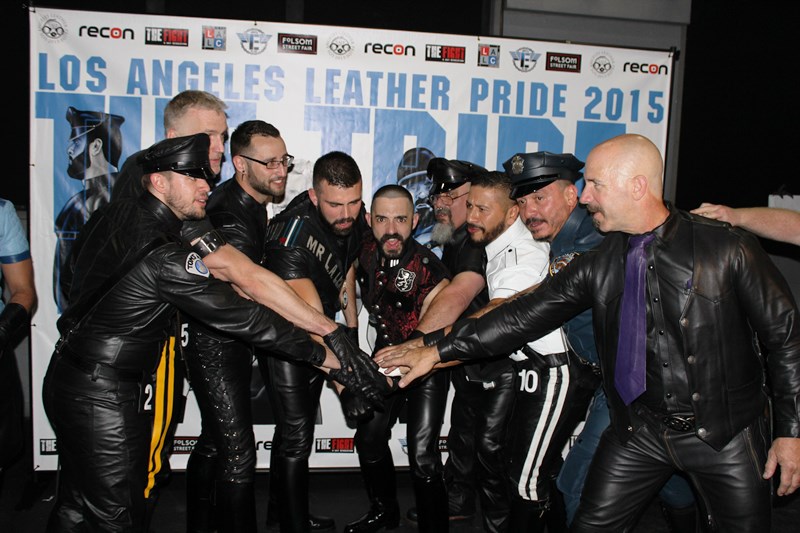 Did you feel the crowd reacted to certain contestants more enthusiastically than others?
No, I think it was a great crowd. I think it was supportive crowd. I think that everybody got a lot of support, which was fantastic. I don't think there was one person who got more cheers than everybody else. It's a testament to this community; we all support each other.
Removing yourself from the competition, who do you think would've won?
You know, I can't…[laughs]. My brothers are so inspirational. I can see any single one of those [nine] people taking this title and doing something great with it, so there's no one single person who comes to mind. I think that they're all fantastic.
Eric Paul Leue has big shoes—or heels to fill, how do you feel about that, being that he's such a big personality.
He is a big personality. I would like to emulate his passion and his work ethic, but in terms of the issues that I'm going to address, I'm going to make my own path. I'm going to work just as hard as Eric. I'm going to be just as visible and just as much out there, but I'm going to talk about my issues.
What are your issues?
One of the big issues for me is Measure B, which is the law that mandates condoms in porn in LA County. It's a reprehensible law. It violates our free speech rights, it's driven the porn industry out of LA. I have friends who lost their jobs because of Measure B. I believe it is completely unconstitutional, so whatever I can do and however I can lend my voice to get that taken off books, I'm going to do it.
There's something that AHF will love you for.
AHF will not love me [laughs]. AHF was the chief sponsor, so this is the second Mr LA Leather who's going to pick a fight with AHF, but I'm willing to pick that fight.
Did Eric give you an advice in the competition?
Eric being head judge of this contest, he really had to step back, which was a challenge for me, because he's my title dad, but he was able to help with Eagle duties and things like that, like planning a fundraiser at the Eagle, but when it came to this competition, he really had to remove himself, so I look forward to finally being able to text him and be friends again.
How many boys would you say you kissed tonight?
Thousands [laughs]? I'd done a lot of kissing tonight and over the past weeks, but it's all great. Everyone is beautiful and I couldn't be happier.
Having your photo taken to that extreme, was that a lot for you?
Oh my God, yes. I don't think I've ever smiled so much in my life. It was crazy and intense, but it was really nice to see all the faces of the people that supported me all this way. To get to take pictures with them–it was fantastic.
So you're from Canada and you came to the US four years ago, right? When you came here did you say I'm going to win Mr. LA Leather?
I wish I had it planned out that far in advance. I'm from a fairly small place in Canada and the gay scene is very small—we have one gay bar, it's pretty much like The Abbey. There is no leather bar there, but I knew that sexually, I've always related to the leather community. When I came to LA, The Eagle is one of the first bars that I went to, so obviously that was a title that I wanted to run for. I loved going to Folsom Street Fair and play parties and that was really what I wanted to do, but I was busy going to school and now that I'm done, and I found a job and now that I'm married, I wanted to give back to the community.
How long have you been married?
For a year and a half now, but we've been dating for over four years though. We met at business school at UCLA.
Is your family supportive?
My family is the most supportive in the world. I could not be happier. My mom just texted me. She is so excited and she's been begging me to [take her] to IML. She says if you win, I want to go to IML, so it looks like we're all going.
Was there a moment when you felt like you would burst into tears?
Yeah. My friends joke with me that I never cry. Play the saddest movie for me and I never cry. When Eric put the medal around my neck I welled up. I could've broke down right there.