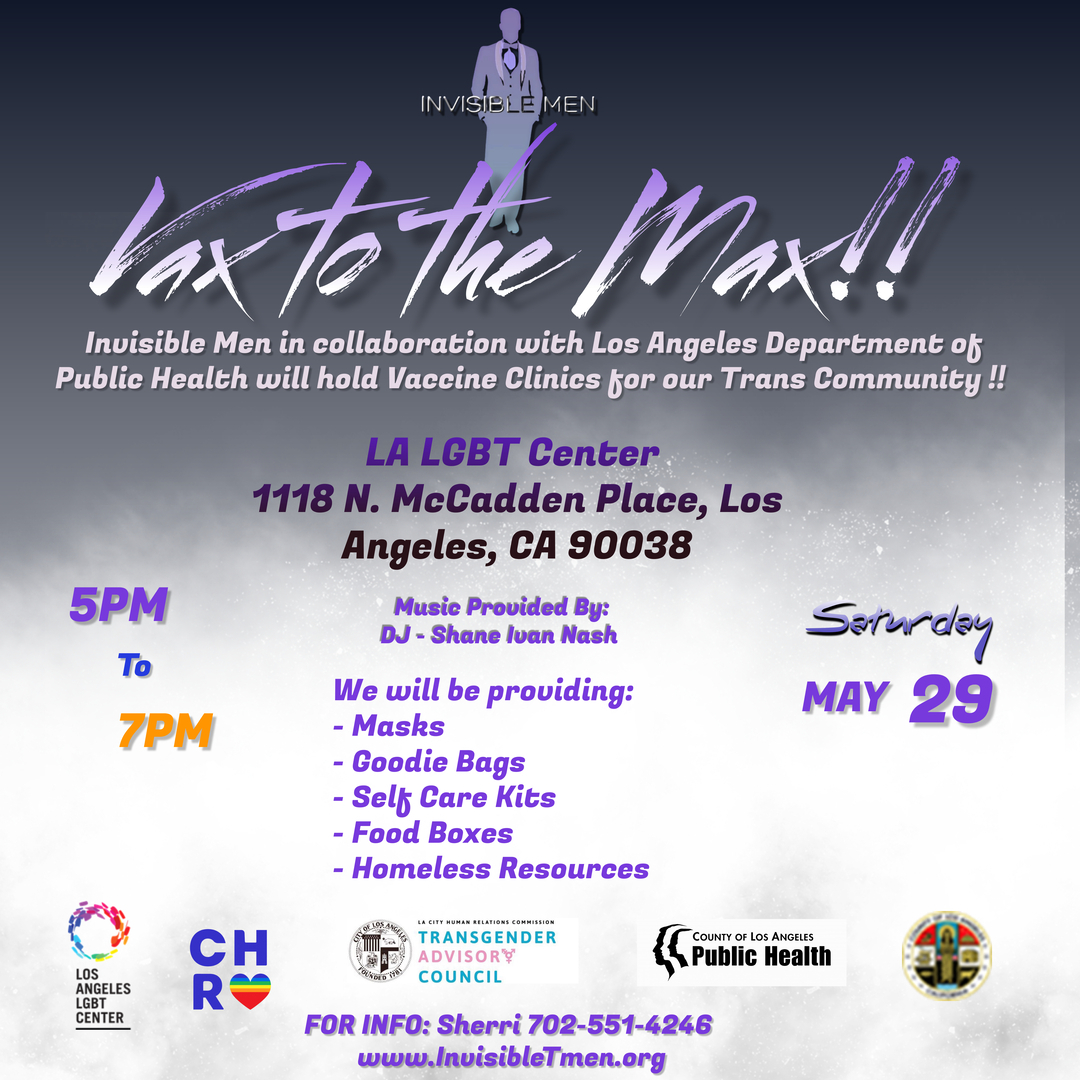 In a collaborative effort to protect transgender and non-binary people from the ongoing COVID-19 pandemic, the Los Angeles LGBT Center's Senior Services will host a pair of walk-in vaccine clinics on Saturday, May 29, and Saturday, June 5, from 5–7 p.m. at the Center's flagship Anita May Rosenstein Campus in the Bayard Rustin Plaza.
Known as the Vax to the Max initiative, the clinics are being held in partnership with the Los Angeles County Department of Public Health and Invisible Men, an organization that provides resources and support specifically for transmasculine individuals. Staff members and volunteers of the vaccine clinics will provide community members with access to vital programs and services, including PrEP (pre-exposure prophylaxis) education, housing resources, substance abuse support, youth services, and more.

Community members who get vaccinated at the Campus on a first-come, first-served basis during Vax to the Max also will receive a self-care kit, bottle of hand sanitizer, face mask, and a box of food. Their second doses of the vaccine will be scheduled automatically, unless they receive the Johnson & Johnson vaccine, which requires only one dose.

"Older adults and members of the trans and non-binary community are some of the most vulnerable people at risk for COVID-19," said the Center's Director of Senior Services Kiera Pollock, M.S.W. "They have limited access to quality health care, including access to the vaccine, so it is crucial to keep them safe and healthy. We are proud to join forces with our partnering organization for Vax to the Max. If we can vaccinate as many people as possible, we may see light at the end of the tunnel."

For community members unable to attend either of the Center's two walk-in vaccine clinics, a third vaccine clinic will be held on Saturday, June 12, in MacArthur Park at the southeast corner of Wilshire Boulevard and South Alvarado Street.
No pre-registration or appointment necessary to receive the vaccine.
WHEN:    
Saturday, May 29
5–7 p.m.

Saturday, June 5
5–7 p.m.
WHERE:                  
Los Angeles LGBT Center
Anita May Rosenstein Campus – Bayard Rustin Plaza
1118 N. McCadden Place
Los Angeles 90038