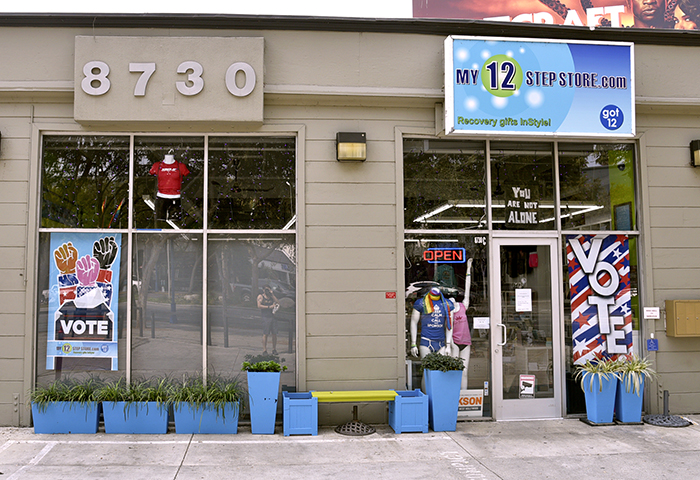 Getting the vote out. My 12 Step Store's owner and founder, RJ Holguin on the importance of civic duty
BY PAULO MURILLO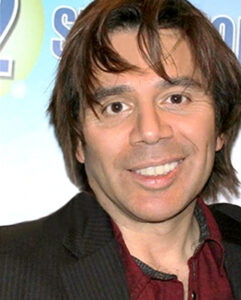 My 12 Step Store, the recovery gift and bookstore that specializes in 12-step literature, meeting Pride chips and medallions, racy clothing, 12-step jewelry including the Surrender collection, along with prayer bookmarks, and other self-improvement gift items, is getting the word out to Vote this November 3rd. 
The store, located at 8730 Santa Monica Boulevard in West Hollywood is using its store front to remind everyone the importance of voting on a local and national level. Two colorful banners have been installed at either end of the store ahead of these upcoming elections facing Santa Monica Boulevard.
"We want to remind the community to not just register to vote, but to actually get out there and do your civic duty by casting your vote," said My 12 Step Store owner and founder, RJ Holguin.
---
"We continue our commitment to serving our community with any essential needs to maintain recovery. We continue to send a message that you are not alone."
---
"We have a responsibility to suit up and show up to make sure our voices are heard and making our vote count. You are either part of the solution or part of the problem. We are located at a very focal point in the city of West Hollywood on Santa Monica Boulevard on historical Route 66. We wanted create something impactful that will serve as a reminder or inspire people to remind those around them to register and vote."
"The deadline to register and vote for the General Municipal Election is Monday, October 19, 2020," Holguin added. "Election Day will be Tuesday, November 3, 2020. We hope everyone is informed that there are many ways to vote early. Whether it's by postal mail-in and ballot-drop-off, voting will begin on Monday, October 5, 2020. Also, many LA County Vote Centers will begin operating on Saturday, October 24, 2020."
My 12 Step Store remains open during the coronavirus pandemic with safety COVID guidelines in place (visit the store's Facebook page @my12stepstoreofficialpage).
Holguin feels now is more important than ever to celebrate recovery, and to focus in a person's spiritual wellbeing during moments of continued isolation. Whether it's buying a self-help book to pass the time at home, getting step work literature, or simply purchasing a medallion for yourself, or someone you love, Holguin wants to remind the community that My 12 Step Store is open online 24-Hours a day, 7 days a week to meet the community's recovery needs. In store shopping following all guidelines is 10a to 4p. An appointment is preferred or call upon arrival.
"Most parts of the country are still holding 12 step meetings online as precautions against the COVID-19 pandemic," he said. "Therefore, we continue our commitment to serving our community with any essential needs to maintain recovery. We continue to send a message that you are not alone."
The Vote banners at my My 12 Step Store went up prior to September 22, which is recognized as National Voter Registration Day. The store encourages local community members in the Greater Los Angeles Area to check their registration status at www.lavote.net/vrstatus to make sure they are able to cast their vote.