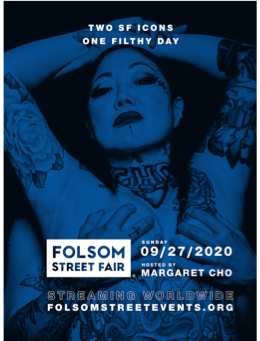 A message from our friends at Folsom Street Events:
Folsom Street Events is excited to announce that our virtual Folsom Street Fair on September 27, 2020 will be hosted by the fabulously talented Margaret Cho! The virtual event will feature the usual amazing musical acts, performance artists, merchandise and artisans that our fairgoers know and love. In addition, new interactive community content and leather/kink/alt sex history and education will allow our community to come together and stay vibrant in a time when we can't gather in-person.
Joining Margaret in hosting our kinky extravaganza are Alotta Boutté and Lance Holman.
Folsom Street Events can't wait to welcome viewers from all over the world to experience a showcase of the talent, resilience and creativity of the leather/kink/alt sex communities at a time when sexual liberation and joy are more important than ever.
This year, Folsom Street Events will continue to ask for a $15 donation at the "fair gates" to support our non-profit organization in surviving the COVID-19 pandemic and returning the fair to the streets as soon as it's safe to do so.
If you want to sustain the work that FSE has done and continues to do for our community, become a sustaining member at patreon.com/folsomstreetevents.