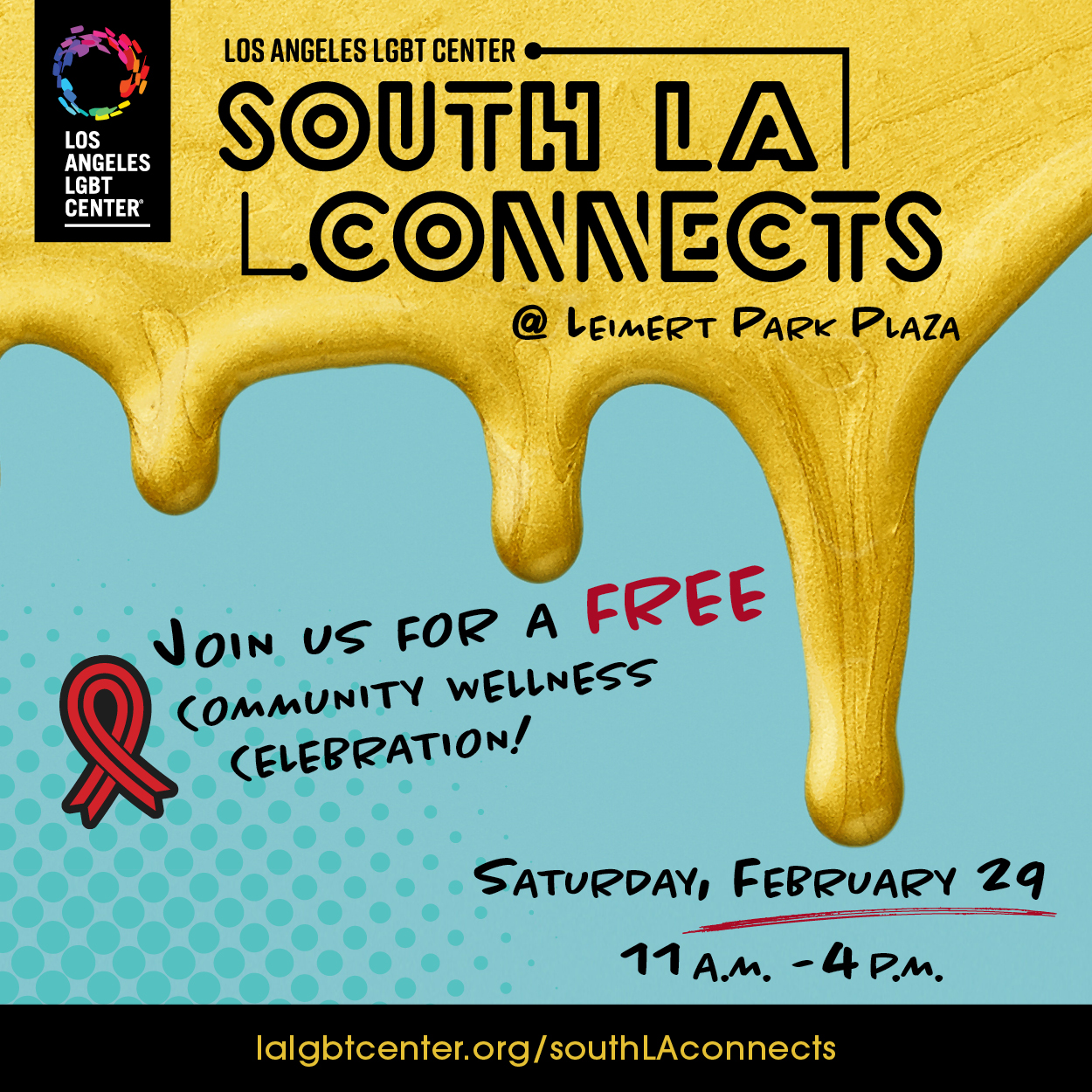 The Los Angeles LGBT Center will host an outdoor community wellness celebration in South Los Angeles on Saturday, February 29, at Leimert Park Plaza from 11 a.m.–4 p.m. in partnership with the Los Angeles County Department of Mental Health, Watts Healthcare, Children's Hospital Los Angeles, and 60 additional local service agencies.
The daylong event, known as South LA Connects, will provide free HIV testings and STI screenings; resources and information about local programs and services related to mental health, medical, housing, employment, and food subsidies; free yoga and Zumba sessions; and more.
A live music concert featuring local artists will begin at 1p.m.

"We are thrilled to partner with other local agencies and organizations serving South Los Angeles for this day of community, celebration, and education. South Los Angeles is home to two of the most vulnerable populations at highest risk for contracting HIV. If the transmission rates don't change, one in two Black gay and bisexual men—as well as one in four Latino gay and bi men—will test positive for the disease sometime in their lives," said Center Health Services Program Coodinator Blair Ralston. "We must tackle the rising number of HIV incidences with education and compassion."

South LA Connects also serves to enhance the Center's burgeoning presence in the area. In January the organization opened its newest facility known as Center South, a 5,500-square-foot community space focused on the societal and health needs of LGBT people of color living in South Los Angeles, particularly young gay and bisexual Black and Latino men and transgender women of color.
Located at 2313 W. Martin Luther King Jr. Blvd., Center South includes access to PrEP and PEP services; housing case management; drop-in safe space; and computer lab.

For more information about South LA Connects, visit lalgbtcenter.org/southlaconnects.