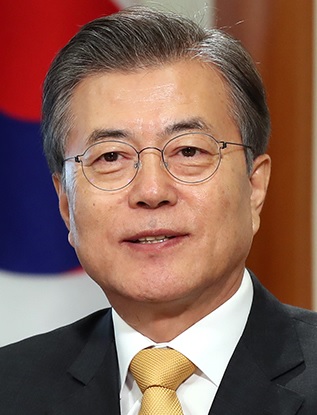 (Photo: President Moon Jae-in)
Discrimination against members of South Korea's lesbian, gay, bisexual and transgender communities should not be tolerated, President Moon Jae-in said Monday, reports UPI.
Moon, a Roman Catholic who has said little on the rights of sexual minorities since assuming office in 2017, told a gathering of South Korean religious leaders a nationwide agreement on same-sex marriage comes first, News 1 reported.
But even as same-sex marriages are not legally recognized, social discrimination targeting the LGBT community should not be acceptable, Moon said.
"A national consensus should be the priority for same-sex marriage," Moon told Christian and Buddhist leaders. "However, regarding the human rights of sexual minorities, they should not be socially persecuted or discriminated against."
READ MORE HERE:
https://www.upi.com/Top_News/World-News/2019/10/21/Moon-Jae-in-Anti-LGBT-discrimination-not-acceptable-in-South-Korea/1041571673042/