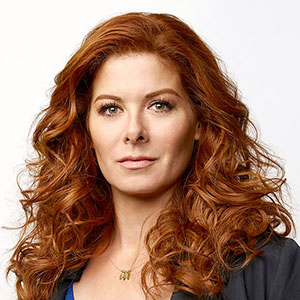 Two events will converge on Hollywood during the same week in September: the 71st annual Emmys and a fundraiser for Donald Trump, according to The Hollywood Reporter.
When actress Debra Messing publicly asked the outlet to release a list of fundraiser attendees, she inadvertently started a feud with the president, reports CBS News.
"Please print a list of all attendees please. The public has a right to know," the Will and Grace star tweeted Saturday, sharing the article. Messing's Will and Grace costar Eric McCormack also tweeted to THR to release the attendee list.
Messing's call for the list gained widespread attention line and was met with both support and criticism.
Whoopi Goldberg, on The View, said that "the last time people did this" it did not end well, reports The Hollywood Reporter.
"People ended up killing themselves. This is not a good idea," she said, in reference to the infamous Hollywood blacklist. "We had something called a blacklist, and a lot of really good people were accused of stuff. Nobody cared whether it was true or not. They were accused. And they lost their right to work. … In this country, people can vote for who they want to. That is one of the great rights of this country. You don't have to like it, but we don't go after people because we don't like who they voted for. We don't go after them that way. We can talk about issues and stuff, but we don't print out lists. I'm sure you guys misspoke when you said that because it sounded like a good idea. Think about it. Read about it. Remember what the blacklist actually meant to people and don't encourage anyone, anyone, to do it."
Joy Behar quipped that such a list of attendees should not be called a blacklist in Trump's case, rather "a white list." She added that she agreed with Goldberg that individual names not be printed but the same concession should not be given to corporations. Sunny Hostin noted that such political contributions are always released to the public. "I do believe that you should know if a company gave a lot of money to Trump," Behar said. "When it's individuals, it's stalking and you're starting to endanger that person's life."
The president will stop in both San Francisco and then Los Angeles.
On September 17, he will attend an even event in Beverly Hills, hosted by Republican National Committee chairwoman Ronna McDaniel, RNC co-chairman Tommy Hicks Jr., campaign manager Brad Parscale and Trump Victory finance chairman Todd Ricketts, according THR. The location has yet to be revealed and fundraiser tickets will cost between $1,000 and $100,000. The $100,000 ticket includes a photo opportunity with the president and VIP reception.