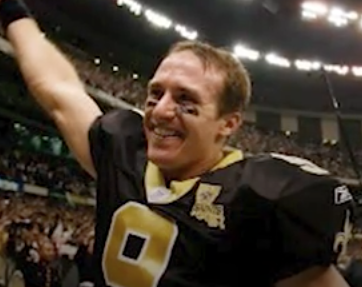 (Photo: Drew Brees)
New Orleans Saints quarterback Drew Brees says he wasn't aware when he shot a video promoting "Take Your Bible to School Day" that the organization behind it was known for its anti-LGBTQ stance or discrimination of any kind, reports CBS New Orleans affiliate WWL-TV.
"I was not aware of any of the things they said about them lobbying for anti-gay, any type of messaging for inequality of any type of hate-type related stuff. I was not aware of that at all,"  Brees said to reporters after practice Thursday, reports
CBS News
.
The video was posted by Focus on the Family, a group known, among other things, for promoting gay conversion therapy,
"The only thing I was promoting was Bring Your Bible to School Day," he said.