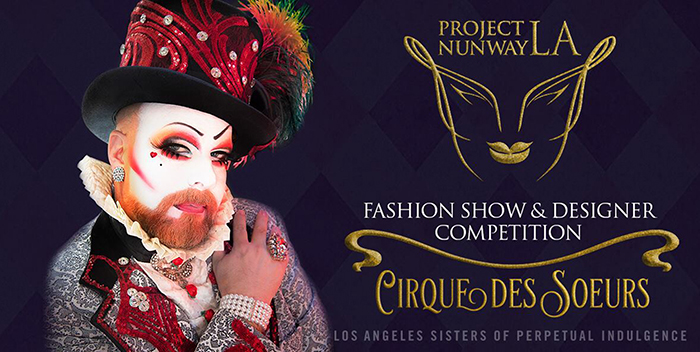 THROUGH JANUARY 27
MICHAEL CHILDERS: DISTORTIONS
ONE Gallery, West Hollywood, 626 North Robertson Boulevard, West Hollywood, CA 90069. Guest curated by Joseph Daniel Valencia. The exhibition is organized by the ONE Archives Foundation, Inc.
THROUGH MARCH 17
OUTLIERS AND AMERICAN VANGUARD ART
LACMA, 5905 Wilshire Blvd, Los Angeles, CA 90036. The first major exhibition to explore key moments in American art history when avant-garde artists and outliers intersected, and how their interchanges ushered in new paradigms based on inclusion, integration, and assimilation.
FRIDAY, JANUARY 4
RUPAUL'S DRAG RACE ALL STARS VIEWING PARTY 8:00PM
Precinct DTLA, 357 S Broadway, Los Angeles. They  are viewing the show at 8pm before QUEEN KOKG.
SATURDAY, JANUARY 5
ANTIPATRIARCHAL MASCULINITIES OPENING! 1PM–4PM
Cuties Coffee, 710 N. Heliotrope Dr, Los Angeles, California 90029. Kikuye Sugiyama's "AntiPatriarchal Masculinities" photography show gracing the walls of Cuties. 
---
STONEWALL DEMOCRATIC CLUB HOLIDAY PARTY 8PM–12AM
V Wine Room, 903 Westbourne Dr, West Hollywood 90069. Join Stonewall Democratic Club for their annual winter holiday soiree, where you can enjoy good food, spirits, and camaraderie.
---
ADVANCED G-SPOTTING 8PM–10PM
The Pleasure Chest, 7733 Santa Monica Blvd, West Hollywood, 90046.Already found your G-spot? Wondering what else it can do? This class will help you take G-spotting to the next level!
THURSDAY, JANUARY 10
MOVIE CLUB AT MI CENTRO!—MI CENTRO LGBTQ BOYLE HEIGHTS 2PM–4PM
Mi Centro, 553 S. Clarence St, Los Angeles, 90033. Join Senior Service staff for a different movie every month. Mi Centro is a partnership between the Los Angeles LGBT Center and Latino Equality Alliance.
FRIDAY, JANUARY 11
ADULT SLUMBER PARTY 9PM–2AM
Bullet Bar, 10522 Burbank Blvd, North Hollywood, 91601. A nostalgic look back on some of the crazy, cool, and terrible cartoons we used to watch in the 60s/70s and largely in the 80/90s. 
SATURDAY, JANUARY 12
HEART2HEART TOUCH WORKSHOPS 1PM–4PM
The Village at Ed Gould Plaza, Los Angeles LGBT Center, 1125 N McCadden Pl, Los Angeles, 90038. For gay and bisexual men, fully clothed participants explore safe, supportive and nourishing non-sexual touch activities. 
SUNDAY, JANUARY 13
JOSH PAUL THOMAS: REINTENTIONS
Museum of Retail Space, 649 S Anderson St, Los Angeles 90023. Tuesday–Saturday, 12PM–7PM, through March 13. The exhibition shows photographic, drawing, painting, and video work. Inspired by the power dynamics of the phallus, and being equally responsive to thought as to feeling, Josh Paul Thomas explores the violent and healing inertias of indefinable intention—both intentionally and unintentionally.
WEDNESDAY, JANUARY 16
WEHO READS: THE LIBERATION OF IVY BOTTINI—A MEMOIR OF LOVE AND ACTIVISM 7PM–8:30PM
West Hollywood City Council Chambers, 625 North San Vicente Boulevard, West Hollywood, 90069. Highlighting the new book, the event features a conversation between feminist, LGBTQ activist, and West Hollywood icon Ivy Bottini and her biographer Judith V. Branzberg.
THURSDAY, JANUARY 17
MR LA LEATHER BEAR 2019 MEET AND GREET
Eagle LA, 4219 Santa Monica Blvd, Los Angeles. Visit www.eaglela.com for more info.
SATURDAY, JANUARY 19
3RD ANNUAL WOMEN'S MARCH LA: TRUTH TO POWER 10:00AM-2:00PM
Pershing Square, 532 S Olive St, Los Angeles, 90013. Join the 2019 Women's March in Los Angeles. 
---
COLOR BONITA 7:00PM – 10:00PM
Los Angeles LGBT Center,1125 N McCadden Pl, Los Angeles, 90038. A new media art performance piece intimately connecting audiences with the queer Latino experience around family, religion, machismo and homophobia. 
---
DILF LOS ANGELES "DAMN DADDY" JOCK/UNDERWEAR PARTY—10PM–3AM
Los Globos, 3040 Sunset Blvd, Los Angeles, 90026. Joe Whitaker & the DILF Party Present: DILF LOS ANGELES JOCK/UNDERWEAR PARTY. Featuring Dirty House Music Beats By: DJ XAVIER ALVARDO of Mexico City, DJ MAX BRUCE of Los Angeles.
---
GPS NINAQUARIUM 10:00PM – 4:00AM
Globe Theatre, 740 S Broadway, Los Angeles, 90014. Paul Nicholls & Justin David present: An Underwater Adventure with DAN SLATER & NINA FLOWERS + THE GPS DANCERS, EPIC PRODUCTION & SHOWS! Support your GPS (Gay Party Saturday).
SUNDAY, JANUARY 20
PALM SPRINGS ART MUSEUM PRESENTS MICHAEL CHILDERS: HAVING A BALL
Palm Springs Art Museum, 101 N Museum Dr, Palm Springs, 92262.In tandem with the exhibition Andy Warhol: Prints from the Collections of Jordan D. Schnitzer and his Family Foundation. Runs through May 28, 2018.
SATURDAY, JANUARY 26
PROJECT NUNWAY LA: CIRQUE DES SOEURS 8:00PM-11:00PM
Vertigo Event Venue, 400 W Glenoaks Blvd, Glendale, 91202. The Los Angeles Sisters of Perpetual Indulgence are proud to announce the resurrection of Project Nunway LA after a three year hiatus, their over the top designer competition and fashion show returns. For 2019, they present to you: Cirque Des Soeurs  (Circus of Sisters).
SUNDAY, JANUARY 27
FAB FEMMES FRATERNIZING 2PM–5PM
Cuties Coffee, 710 N. Heliotrope Dr, Los Angeles, 90029.Cuties is looking to push back against femme-invisibility and femme-phobia by creating space! Come out and bask in the warmth of other fab femmes like you. Trade compliments, make-up tips, and more. They'll have a social hour followed by resource sharing. The day will wrap up with support circle.