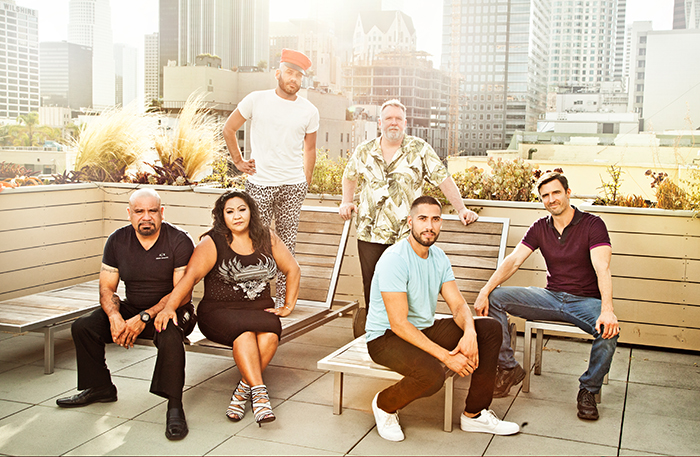 (L-R) SERGIO HERNANDEZ, NEW JALISCO; ROSA MARIA GARCIA, NEW JALISCO; ANDRES RIGAL, SUMMERTRAMP; BRIAN MCINTIRE, PRECINCT; OLIVER APUCHE, REDLINE; GARRETT MCKECHNIE, DUTCH COURAGE CONSULTING.
DTLA Proud, the popular 3-day festival celebrating diversity, inclusiveness, and local talent, takes place this month,
August 24-26. The business owners behind the successful
venture reveal what it takes to create a true
community based experience.
BY PICKLE  |  PHOTO BY DUSTI CUNNINGHAM 
DTLA Proud, "by the community, for the community," the ambitious dream of LGBTQ business-owners trying to highlight the vibrant queer community in Downtown Los Angeles, has bloomed into a three-day festival celebrating diversity, inclusiveness, and local talent. 
The festival is a powerhouse of fun, information, and small businesses. Local talent takes the stage while LGBTQ+ personalities such as Andres Rigal, the creator of Summertramp, provide parties and curates atmosphere. Garrett McKechnie of Dutch Courage Consulting brings a frolicking faerie oasis. Altogether a highly queer affair. Thank goodness. 
I spoke with Oliver Alpuche, founder and president of DTLA Proud (a 501(c)(3) non-profit organization), about his  personal connection to Downtown, the festival, and the venture of his own LGBTQ bar, Redline, which Apuche owns.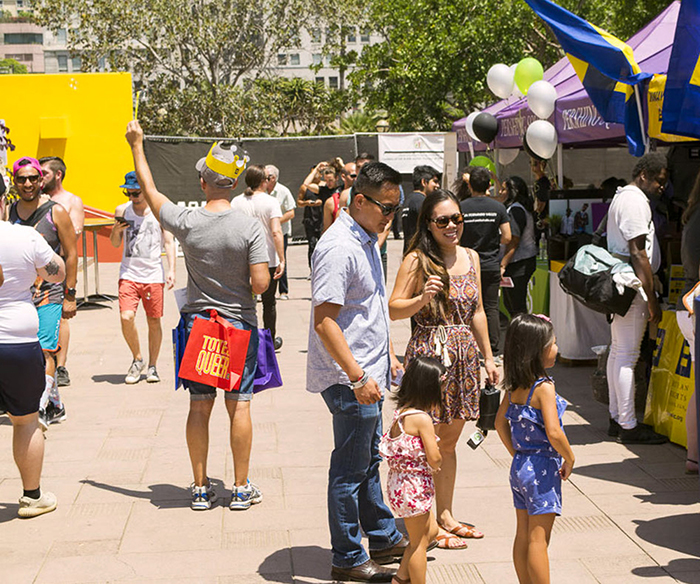 What is your history with DTLA, on a personal level?
Apuche: I used to come to DTLA as a little boy with my mom. She would buy jewelry down here to send to her family in Belize so we would come with her when I was like 5. And I always remember coming downtown and being mesmerized by the architecture and the hustle and bustle and even growing up in LA downtown was always the center-in high school we would come to the downtown library and do research for papers. 
Oliver opening up a Gay Bar in Downtown. What's that story?
I'd always been fascinated with Downtown and finally moved here in 2008. Just living down here and watching how free it is and how comfortable everyone was with lifestyle choices and seeing guys holding guys hands and girls holding girls hands, but where do you meet other people who are a part of the LGBT community? So finally I was like, well if no one else is going to open up a gay bar, I guess I'll do it!
Has that always been the dream?
I never thought in my past that I would be a gay bar owner. What really fueled the decision was that I grew up in retail and ended up running a store for Nike. A lot of what I did was engage with the community, the running community. And building community there, building free half-marathons and starting a run club at the homeless youth center on highland and hollywood-I found my passion in that community-building setting. So when I opened a gay bar it was really about opening a community meeting place, whether it's with non-profit events or things like that. 
We want to give a platform for local members of the LGBTQ community to showcase their talent. It's 100% volunteer born, we don't have any paid positions."
Was opening the same year as Precinct a coincidence?
We signed a lease in March and found out about Precinct the first week of April. We had no idea, but as soon as we found out we had dinner and it was the beginning of a beautiful friendship. We were able to rely on each other and ask each other questions to really help each other.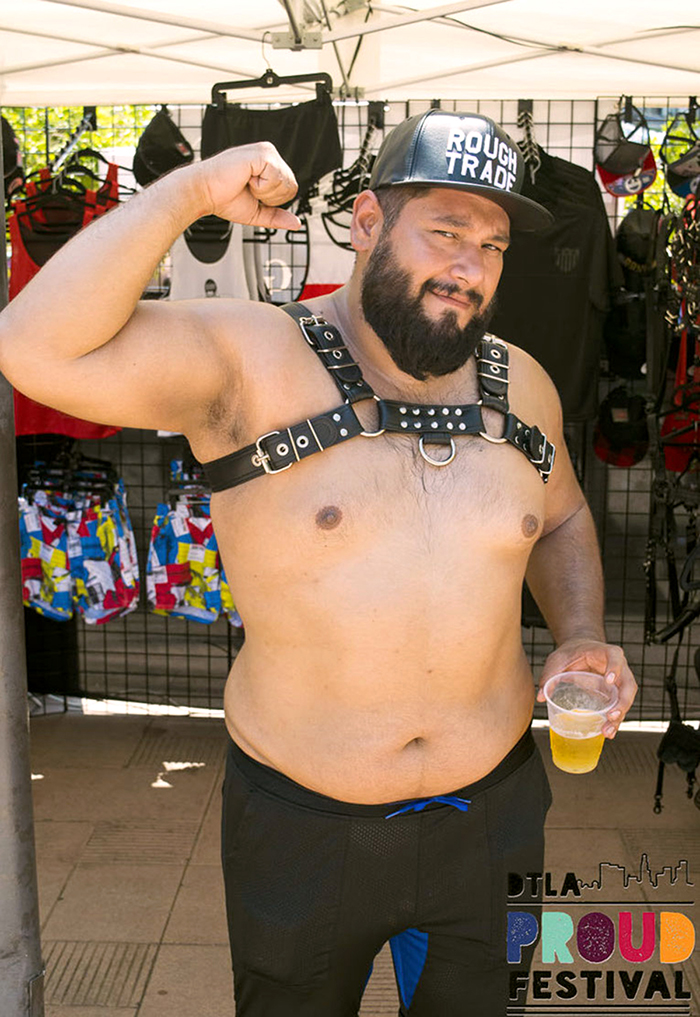 DTLA Proud: Who's head did that pop into?
It truly was a snowball effect. When we were opening up Redline, we wanted to do a block party but with opening things got chaotic. Then a few months went by, and being already connected to businesses downtown, we went to a marketing meeting and pitched the idea of a block party and they were in and it snowballed from there. It was a community effort because nothing was set in stone. We wanted to showcase the LGBT community downtown and it really gained momentum and we knew that downtown was special; no matter where you live, a downtown center plays a role in your life. We wanted to be as inclusive as possible so we held a community forum and invited the non-profits to get involved. With everyone's input it transformed from a little block party into a community festival that is trying to represent an inclusive community. Every year we try to add something new to improve on that. 
How do you manage the growth of a festival like this while maintaining grassroots values? 
 It's in the bylaws to preserve the main stage for local community talent. There's a cap on what we can pay artists so that even if we move on from this, it stays community oriented, because it's a community event. We want to give a platform for local members of the LGBTQ community to showcase their talent. It's 100% volunteer born, we don't have any paid positions. We don't give corporate sponsors the option to banner everything. If they want to support us they can, but this is not a platform for their agenda.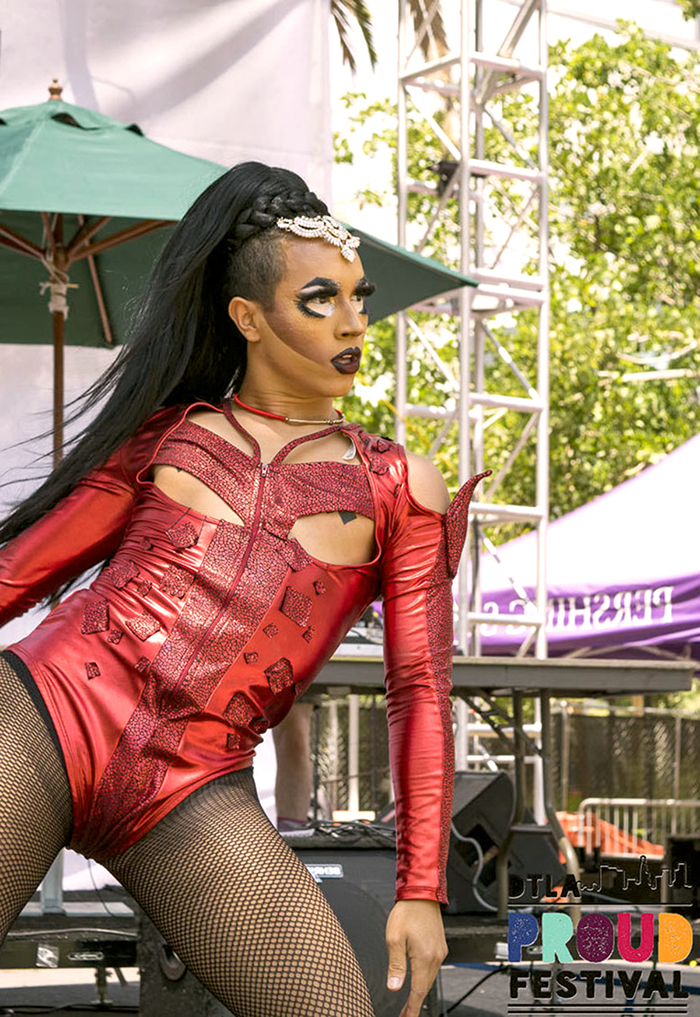 PRECINCT, NEW JALISCO
Brian McIntire, owner of Precinct (which he started with his late husband, Thor Stephens, in 2015) and Sergio Hernandez, manager of New Jalisco (owned by his wife, Rosa Maria Garcia), offered their experience running LGBTQ bars in DTLA as well as their contributions to DTLA Proud.
What are the biggest challenges of having an LGBTQ bar in DTLA? What are the biggest rewards?
Hernandez: The biggest challenge every day is make every customer happy. You know, with service, music, and the Drag show. With every single thing! And that is our reward—when people leave our venue saying "wow! this is a nice place. I love it."
McIntire: In the beginning, the biggest challenge was programming against the great unknown of who would actually trek downtown to go out. There were plenty of existing and reliable options in every direction of where we were, so a lot of risks taken in those first months, Many of these gambles paid off unbelievably well and we formed really strong relationships with some of the best promoters in Los Angeles. But when I scroll through our old Facebook photos and see the graveyard of parties/events that no longer exist, there is regret there. Some parties were amazingly wonderful, but just couldn't hold onto a sustainable audience. Of course, there are a few that just make me shake my head and laugh, wondering how we ever imagined we could pull them off.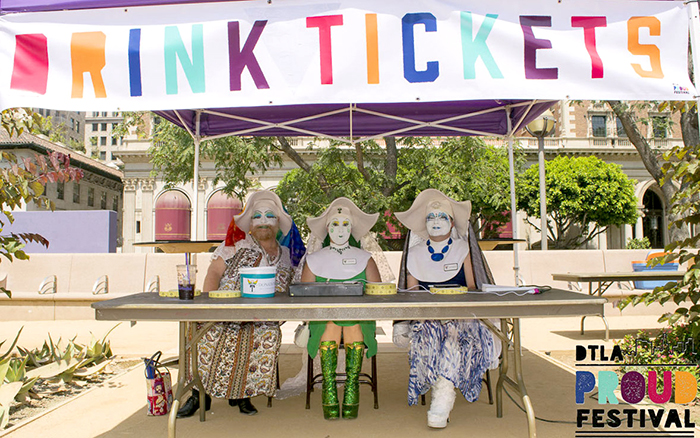 How have you seen DTLA Proud evolve since the first year? What do you hope of it in the future?
McIntire: The growing excitement and support from the city and the gay community has been the most exciting aspect of the evolution of DTLA Proud. Again, there was so much uncertainty in the beginning. The people that live and work down here were very excited for it, but we really had no idea how the rest of Los Angeles would react to it. It has been a thrilling response, and I can only hope it continues to grow.
Hernandez: Every year the event gets bigger and better and we are very honored to be a part of it.
Tell me one memorable story since your business opened that you feel captures the essence of Precinct.
McIntire: When Thor Stephens passed away this February, we decided the most fitting tribute to him would be to do something for him here, rather than making people get together at a church or banquet hall (which he would have HATED). The outpouring of love from so many people still gets to me. He would have alternately been embarrassed, uncomfortable and loved every second of it. It is the moment when the people that work at Precinct, as well as everyone who comes here to enjoy themselves and each other, felt the most like family to me, and I will always cherish it.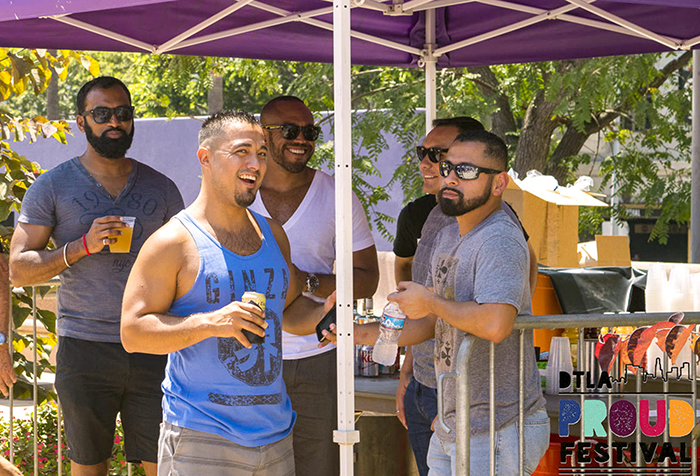 What was a night from New Jalisco that made you feel special?
Hernandez: There was one Sunday night when they held the Emmy Awards across the street and a bunch of celebrities showed up with their awards!
What has been the highlight of your year? What has been the darkest moment?
McIntire: Thor's death has really sort of eclipsed everything for me this year. We've had some very successful nights, there are a bunch of new parties happening that I am very excited for and I've met and befriended a lot of new folks, but without him, it all feels very incomplete.
What do you both bring to DTLA Proud that only you can provide?
McIntire: Unreliable air conditioning (my God, we really need at least two more AC units for the dance floor), but a patio that usually gets a decent breeze. And a really damned good steak!
Hernandez: We are going to bring a beer stand, and the best drag show ever. You'll see! DON'T MISS OUT!
---
DTLA Proud 2018 will take place in Pershing Square on August 24th, 25th, and 26th. August 24th will be all ages and feature family friendly programming (including Drag Queen Story Hour!) August 25th and 26th is ages 21+. Tickets are available from the website at www.dtlaproud.org.