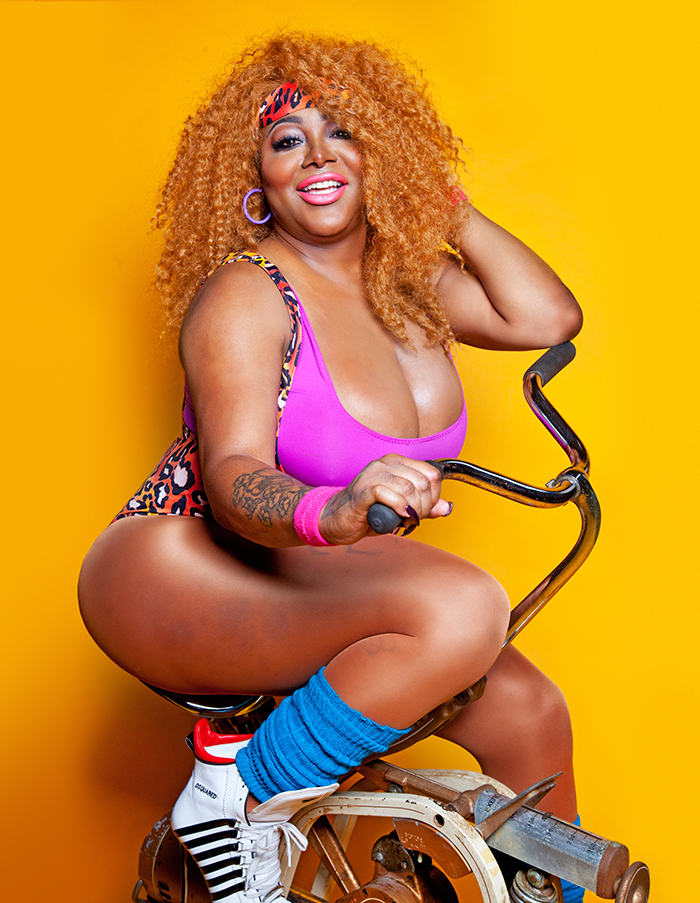 An advocate for social justice, viral sensation TS Madison on racial and sexual discrimination, staying visible as a trans woman and personal, spiritual transitions.
BY PICKLE  |  PHOTO BY DUSTI CUNNINGHAM
Social commentator and superstar performer TS Madison knows her priorities. Answering the phone, she huffed, "Well I'm on my way to check the mailbox to see if the good Lord done sent me a check!" 
"I know that walk," I laughed. 
TS Madison has found a well-deserved place in the queer community as an advocate for social justice, an entertainer, and a queer trans woman with a voice of pride, strength, and progress. Not to mention she's from Florida, so she'll tear some shit up if she needs to! 
So what are you up to now, what's on the agenda?
Well, I'm always going to be an entertainer, and that's where I got my start. I'm always going to do something on the internet. Social media is the wave of things going on in the world so we have to be in tune to that. And I'm working on things to entertain people and make them laugh!
Have you always enjoyed making people laugh?
Yes! I think that's a gift that was naturally given to me. I love it—I think it's therapeutic to make people laugh and I believe it's part of my purpose on this earth! To make people laugh and smile and most importantly to make them happy!
What do you think about that's going on in the world?
There's so much inequality to do with racial and sexual discrimination and I feel that we are divided. I personally think that it's important that we put a lot of things out on social media—people are getting their education from social media. This stuff isn't new, it's just that social media has brought it to the forefront. It is imperative that we stay social, that we stay current. It's extremely important that as a trans woman I stay visible, for people who may not want to have a conversation with a trans person, but they come across a video of me and it makes them laugh or piques their interest, and maybe they'll want to learn more about us!
Before I am anything, I am black. I do have to say that. I know what's going on in America. I identify as black first, but second I am a queer trans."
Is there anything that you identify as first before all others?
Before I am anything, I am black. I do have to say that. I know what's going on in America. I identify as black first, but second I am a queer trans. And I learned that when I was working in Australia with Willam [Belli] and Aja the Queen. We got to know each other on a personal level and through our conversations on the back of the bus, on the way to the gig, I was like "Oh, so that's what I am! I'm a queer trans!" I hope they know when I hug them it's genuine, because we were all people from different backgrounds but when we talked it helped me understand something about myself, at 40 years old!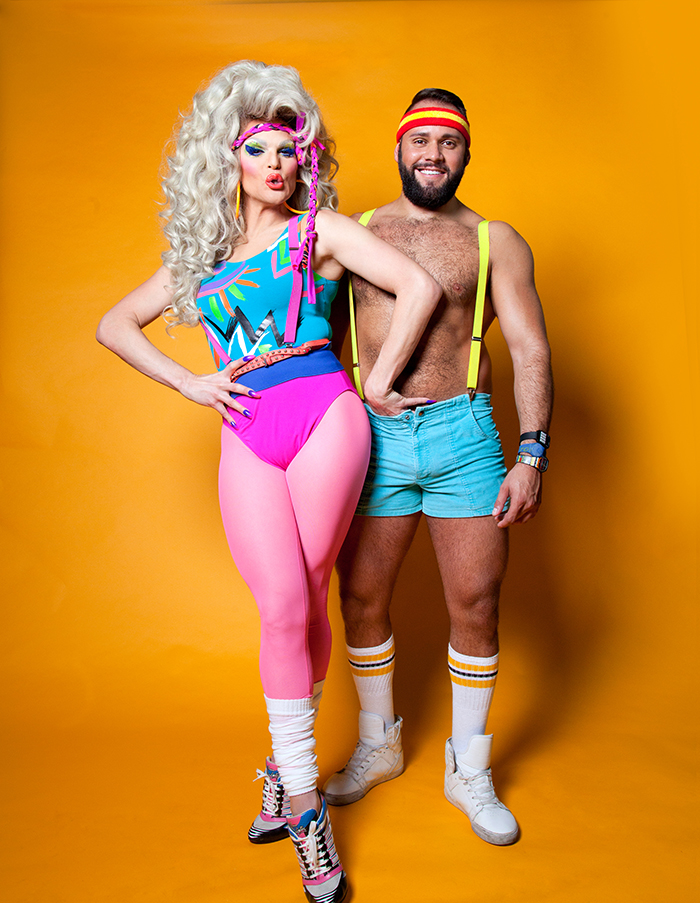 Speaking of Drag Race Queens, what are your thoughts on season two winner Tyra Sanchez being banned from Drag Con and then warning attendees not to come?
I love Tyra, and she's young and she will learn. I think what happens and where the trouble comes from is with the fans. When I talked to her she was frustrated, and I understand that. This is America, baby, and you can't dance around it—it is race. They only let a few of us queens through. Do I think the black queens on Drag Race are treated differently from the other girls? Yes. I am a part of that, I am a part of the WOW family and even though WOW does wonderful things for TS Madison with web shows and their support and love, and my personal relationship with them, sometimes we're angry because we get tired of getting the short end of the stick or being on the back burner. How are you going to skip me when I'm a better queen? Is it because I'm not marketable? Is it because you can't sell me? What is it? I get the frustration with Tyra. I get it. She's a Florida queen like me and we do not play. Bitch, we're used to Hurricanes; category 6 was discovered through that bitch and we will fuck some shit up!
To the people out there: no matter how many times you fall down—baby get up. Get up, honey. That's what I would really like people to understand. No matter how many times you fall down, bitch, get up! Get up and keep moving!"
You've said that life is a continual transition. I love that. What transition are you going through now?
I am going through a personal, spiritual transition right now. I'm learning how to lose gracefully. How to accept things that I cannot change gracefully. Like I said, I'm from Florida and we will fuck some shit up, but I can't retaliate to things the way I used to. I'm transitioning into a figure in my community. I'm in a spiritual place and a learning place. I'm learning self and having conversations with myself. Like I never knew I was a Queer Trans! I'm not concerned with labels but at 40 I can still learn about who I am and what I'm all about. 
At the end of your song, Step Ya Pussy Up, you say "Be sure to read good books and bad people." Can you give us an example of a good book and an example of a bad person? 
All of E Lynn Harris' books. Those are all good books. I discovered myself through E Lynn Harris. Bad people are people like Donald Trump. 
This is a Pride Issue so I wanted to ask you: What are you especially proud of yourself for?
I'm proud that after over 20 years of being trans, I am still able to discover who I am, and I am proud of myself for being open to learning about myself, and learning about my community and learning about the world and not shutting people out from teaching me. 
You're THE FIGHT covergirl this month! Have you always known you were a covergirl?
Oh yes honey! Put the bass in your walk! Covergirl, make your whole body talk. Yes, I have always known that. 
It was a pleasure talking with you! Anything you'd like to add?
To the people out there: no matter how many times you fall down—baby get up. Get up, honey. That's what I would really like people to understand. No matter how many times you fall down, bitch, get up! Get up and keep moving! 
---
Owning

 PRIDE
WILLAM BELLI
"After being disqualified from a crossdresser game show (RuPaul's Drag Race), Willam found success as a whorespondent anchoringshows for MTV, Logo & AOL while appearing as an American Apparel Ad girl, Sephora model for OCC Makeup and Magnum Ice Cream lady. He's performed sh*ts (RuPaulogize) & hits (Boy Is A Bottom) from his #1 Billboard charting comedy album on six continents, spent a few nights in jail and enjoys writing in the third person while rewatching old episodes of Nip/Tuck he was on. His first book SUCK LESS: Where There's a Willam, There's a Way missed the NY Times list by less than 100 copies so just go shoplift it or something. IDGAF. He's been on Comedy Central more times than he can count and won the internet on Chris Hardwick's @Midnight . You might have also seen Willam on YouTube cuz, who knows, maybe you're one of the 172,000,000 views? Willam can be found on twitter/instagram/facebook @willam and the upcoming film A Star Is Born opposite Lady Gaga."
R. ALEJANDRO BATAILLE
"Just think Sofia Vergara minus the long hair… keep the heels though. I can be perceived as a pretty stereotypical latin guy with the accent and the bold feelings, but what most people don't know is that even though I was born and raised in Venezuela I have a French-Lebanese heritage, hence my last name "Bataille" and my deep love for knafeh which is a typical Lebanese dessert. I have been in the U.S. for about eleven years now, and I could tell you it has definitely been a rollercoaster of experiences. One military enlistment, three relationships (of course I'm only counting the ones where we lived together) and a college degree, makes me feel like I have done a lot of great things. Also add dancing on the weekends for bear events and leather bars! You can usually catch me at your local Eagle or a few circuit parties here and there. So if you ever see me out don't hesitate to say hello, I'm pretty friendly (Unless I'm doing squads at the gym, I can be bitchy when I'm focused on ma fitness, It's ma weakness)." Instagram: alejandro.bataille.