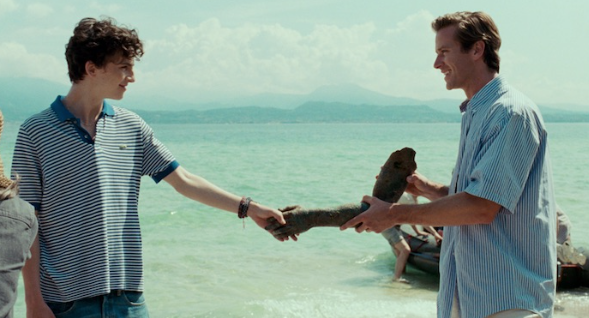 The City of West Hollywood celebrates the literary community year-round with its WeHo Reads program, an author series featuring both new and noteworthy authors at the West Hollywood Library.
The next WeHo Reads author series event will feature André Aciman, best-selling novelist of Call Me by Your Name, which was the basis of the critically acclaimed and Oscar-nominated film of the same name. The event will take place on Friday, February 23, 2018 at 7 p.m. at the City's Council Chambers/Public Meeting Room at West Hollywood Library, located at 625 N. San Vicente Boulevard.
Aciman is currently distinguished professor at the Graduate Center of City University of New York, where he teaches the history of literary theory and the works of Marcel Proust. He is the author of several novels, including Call Me by Your Name (winner, in the Gay Fiction category, of the 2007 Lambda Literary Award) and a 1995 memoir, Out of Egypt, which won a Whiting Award. He previously taught creative writing at New York University and French literature at Princeton and Bard College. In 2009 he was Visiting Distinguished Writer at Wesleyan University.
Call Me by Your Name was released as a book in 2007 and is about a love affair between an intellectually precocious 17-year-old American-Italian Jewish boy and a visiting 24-year-old American Jewish scholar in 1980s Italy. The novel chronicles their summer romance and the 20 years that follow.
Reviewing Call Me by Your Name for The New York Times, Stacey D'Erasmo called the novel "an exceptionally beautiful book." Writing in The New Yorker, Cynthia Zarin said, "Aciman's first novel shows him to be an acute grammarian of desire." In The Washington Post, Charles Kaiser said, "If you have ever been the willing victim of obsessive love — a force greater than yourself that pulls you inextricably toward the object of your desire — you will recognize every nuance of André Aciman's superb new novel, Call Me by Your Name."
This WeHo Reads author series event is presented by the City of West Hollywood's WeHo Arts program, Book Soup, and the West Hollywood Library. The event is free and open to the public; no RSVP is necessary. Validated parking will be available in the adjacent five-story parking structure. There will be a book sale and signing event, hosted by Book Soup, following the conversation.