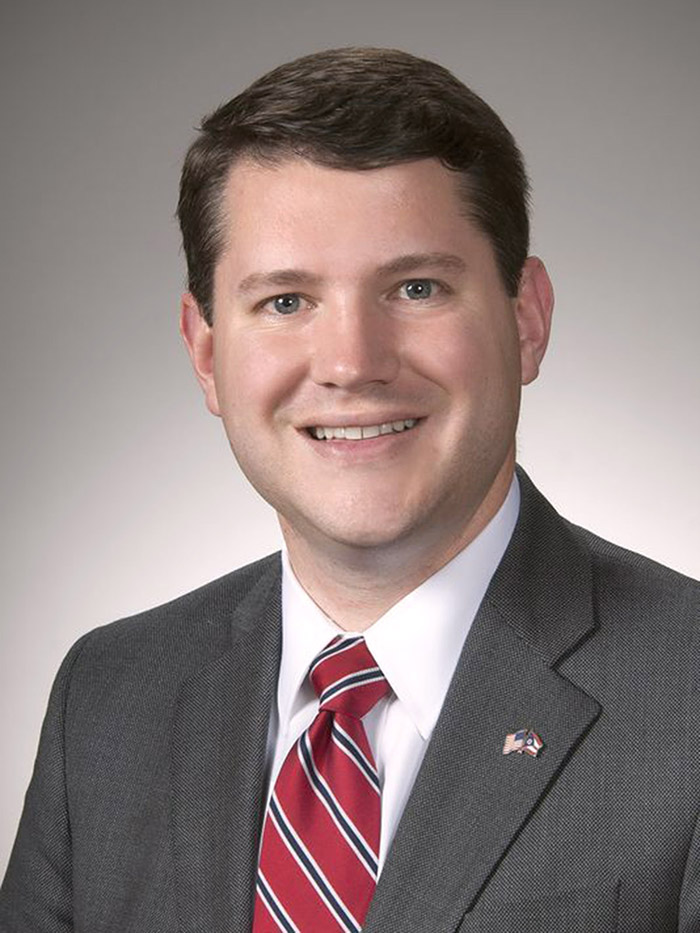 WES GOODMAN
Ohio state representative Wes Goodman, a 33-year-old Family Values Come to Jesus type who worked for the Conservative Action Project was caught having gay sex in his office… He resigned.
Great Victories At The Ballot Box
I was watching Jeff Sessions testify before the House the other day, and I couldn't help but picture Kate McKinnon's Saturday Night Live version of Sessions at the same time. I saw his hairless possum tail curling up, its little tip pausing above his elbow before drifting back out of sight. He twinkled in his insufferable manner, hedging his answers like a guilty ten-year-old with crumbs down the front of his shirt. Not only was he refusing to give a direct answer, but he was deliberately meandering in an effort to use up the time of Democratic members.
Oh how I hate the whole Trump cabal, the weaselly self-dealing seventy-something smug white men basking in their mastery of the world. Do I just imagine that they feel a faint unease, a sense of something rotting and failing deep within? Do they ever wonder if that something will collapse one day, out of the blue, and out of the blue everything they have done and built and bought will turn out to be worthless? Worthless, useless, empty, void of meaning, broken?
Don't worry, my rant is over. I just deleted the rest of it, because I'm making myself miserable focussing on the negative rather than the positive. And there is positive news, my friends.
Last month, we saw great victories at the ballot box where at least 35 LGBT candidates won their local races ranging from the new transgender Virginia Delegate, Danica Roem, to the lesbian mayor of Seattle, Jenny Durkan. In addition to Roem, six other transgender men and women won elections, including incoming Minneapolis City Council members  Philippe Cunningham and Andrea Jenkins. Talk about leading the way Minneapolis! What's in the water up there? Pour me a glass.
But it wasn't just our LGBT cohort collecting votes. In general, the experts saw the signs of an impending Democratic wave rolling in towards 2018 like a tropical storm gathering strength in the mid Atlantic. Please God, let it be so. By the way, did you know that Kate McKinnon is gay? It's true.
And I just learned that extra vote counting delivered Oklahoma's 37th senate district to a Democratic lesbian named Allison Ikley-Freeman. That's Tulsa! Hardly our bailiwick under normal circumstances. What's next? A U.S. Senate seat out of Alabama?
"I Want To See A Pug"
True story. My dogs died a few months ago. They were both old, it's okay. So, I suddenly missed them the other day and I typed "I want to see a pug" into Google. Sure enough, some pugs came up, including some youtube pug videos which made me feel better. Well that was two weeks ago and I now can't go anywhere on the Internet without being hounded by a $15.99 five-inch "Conversation Concepts" ceramic pug. It's everywhere. It even appears in the middle of a page from time to time and has to be physically clicked away. What would happen if I had typed something more provocative? "I want to see a (use your imagination here)?"
I'm guessing that I must have briefly clicked on the Conversation Concepts pug figurine by accident although I don't remember doing so. The ceramic pug appears on the sidebar, it pops up between paragraphs, and at times I find it side by side with a companion dog-related product, most recently the Cathedral Art Paw Print Memorial Ashes Locket. Do the people at chewy.com (apparently the vendors) know my dogs died? Do they really think I would cremate them, fill a locket with their remains and wear that around my neck? It's creepy, don't you think?
The Wizards Of Oz
I didn't mean to write a whole section on that subject. Indeed there's big news out there, the results of the non-binding postal vote on marriage in Australia, where the "yes" to marriage side won 61.6 percent to 38.4 percent.
I have been repeatedly burned by the delays, flip flops and circular firing squads that have characterized Australia's half-hearted efforts to deal with the pressing issue of marriage equality. I have even refused to report on "developments" Down Under after about five or six big "developments" developed into months of Aussie politicians and activists strutting for hours back and forth across the stage, full of the proverbial insignificant sound and fury. After several rides on the marry-go-round, I just had to jump off.
So now they're dancing in the streets in Sydney and Melbourne, even though nothing has changed. The country has just conducted a huge public opinion poll, and although now Parliament is supposed to run on back to Canberra and pass a marriage bill, I'll believe it when I see it.
Oh, I have no doubt that a bill will emerge. But how many loopholes will it have? How many religious exemptions? Will it perhaps allow wedding purveyors to opt out of serving gay couples? Will it limit same-sex marriages to alternate Tuesdays in February? How much do you want to bet on this?
Rule Of Law Still Works
There's a legal victory you probably noticed a few weeks ago. That was the decision by U.S. District Court Judge Colleen Kollar-Kotelly out of the D.C. area, who ruled that Trump's spur of the moment ban on military service by transgender men and women was likely unconstitutional and could not be enforced. So much for another one of Trump's random acts of cruelty.
I had the feeling Trump was not even aware at the time that several thousand transgender troops were already in uniform, serving openly in part thanks to Obama's trans-friendly executive order ending discrimination on that basis in the military. Obama had also ordered an extensive review of transgender service by the RAND Corporation, which was just winding up when Trump and company came into office.
After Trump's unexpected twitter announcement last July, the White House set a March 23, 2018, deadline for the orderly exit of transgender troops from the military. Defense Secretary Mattis seemed to buy some time, announcing that no ban would go into place before that deadline, and setting up a panel of some sort to look into the situation even though the RAND report was sitting on his desk.
Faced with at least two lawsuits, the government claimed that transgender plaintiffs had no standing to sue since they had yet to be kicked out of the service. Clearly, Judge Kollar-Ketelly did not buy this line of defense, and it's not likely to convince a federal judge in California who heard arguments in a similar case in late November. Since the government has yet to appeal Kollar-Ketelly's ruling, it's possible the whole transgender military ban will go away on its own.
It's nice to see the federal courts coming to our rescue when our hapless Chief Executive runs rampant. But if press reports are to be believed, Trump and the GOP Senate majority are ramming through federal judges at a tremendous pace. A cohort of inexperienced, untrained, far right conservative judges might be the worst aspect of the Trump legacy—assuming we get that far.
Conservative Action, Man To Man
Finally, did you catch Ohio state representative Wes Goodman, a 33-year-old Come to Jesus type who worked for the Conservative Action Project and campaigned on "constitutional, fiscally responsible pro-family polices?"
"Our heartland values are worth fighting for. Faith, family, service, stewardship, strong education, and investment in our local communities are what Ohioans value," Goodman wrote a couple years ago. "My wife Bethany and I value those same things and are ready to get to work to serve you."
That was the same man who was just caught having gay sex in his office. Someone saw Goodman and his "date" in action, and reported him to higher ups. He resigned.
---
Ann Rostow can be reached at arostow@aol.com.