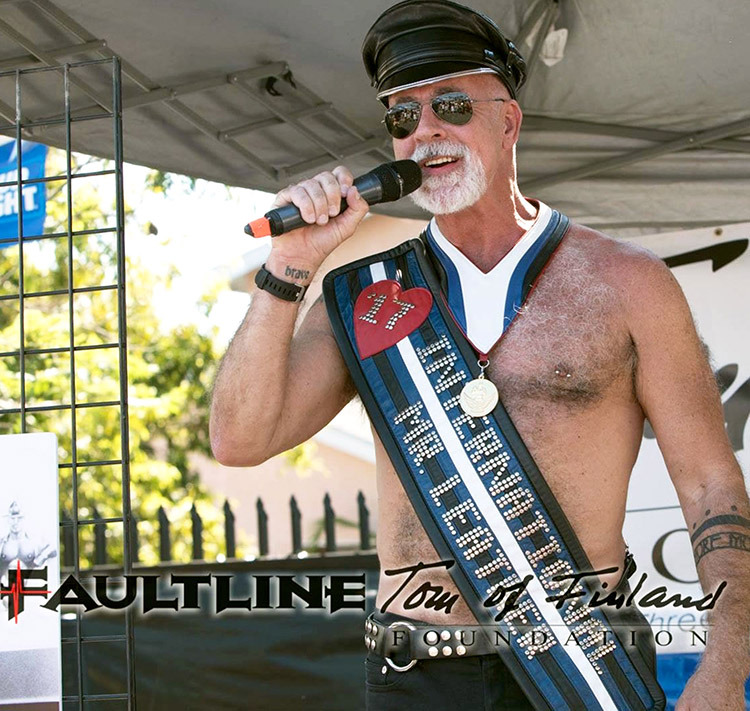 Excerpts from a conversation between International Mister Leather (IML) 1989 Guy Baldwin and IML 2017 Ralph Bruneau.
TRANSCRIBED BY SEAN GALUSZKA
Guy Baldwin: Hello Ralph. First off—can you tell us a little about yourself?
Ralph Bruneau: I'm a psychotherapist here in Los Angeles, been doing this for a little over 20 years. Originally I became an actor, but my impulse, more than being an actor, was finding a tribe. I knew that's what community was. I went to Notre Dame in Indiana and the one person I knew was the chairman of the theatre department. I found out very quickly that's where the gay boys were and I wanted community. In a school full of what I thought were all heterosexual men except for about six of us, I wanted to find the other five and I thought, "They must be in the theatre department." So I stayed, was very lucky and successful very quickly so I went to NY to continue working in the theatre. Did well there and I stayed in that community for a while. And then I came out to make television and film in Los Angeles. The second ten years were not with community because making television and film is so different. The AIDS crisis hit in the mid eighties and I lost the two loves of my life both to AIDS. I was feeling helpless and powerless and my work became somewhat meaningless to me. It didn't have the same appeal anymore. So I started working with the Shanti Foundation as an emotional support and hospice volunteer. They suggested I look into this as something I might be good at. And I listen to people when they tell me I'm good at things. So I went back, got my masters, got my doctorate and I've been practicing ever since. I see a wide variety of patients, a lot on sexual intimacy issues. It's what I used to teach in graduate school.
"… I'm involved with Born Perfect, a campaign to end conversion therapy… We have nine states that have outlawed conversion therapy and we have a great number left to go.  I'll be able to spend more time raising funds and being visible for them." 
Less than a month ago, at an annual event that takes place in Chicago, judges chose you from among sixty-three other contestants worldwide to become the 39th International Mister Leather (IML). Congratulations to you! (You are one of my successors because I won back during the Jurassic period). Presuming many, if not most, of those reading this may not know, please tell us what exactly is IML? Is it a cultural institution, is it an event, is it a contest?
I think it's all of those. It's the current iteration of what used to be a contest at a place called the Gold Coast in Chicago, run by a man who still runs IML Chuck Renslow. Remarkably, over all these years it has grown and become something that is sort of the flagship experience of our people. People come from all over the world to talk with each other, to party with each other, play with each other, and to participate in this contest where they pick International Mister Leather for that year… a remarkable, indescribable weekend with 20,000 people in Chicago and a theater that sat 4,000 for the actual contest. I'm very honored to have been invited and I'm thrilled to walk away with this.
Thirty-nine years, one of the few remaining cultural institutions that have survived in the leather world.  When you talk about "our people," what do you mean by that?
… There are new iterations of leather men that are puppies, that are bears, that are wearing latex and neoprene and naked. I'm a naturist, Mr. GNI Leather 2016, which is Gay Naturist International. So there are naturists, there are any kind of member of our community that define themselves by being sexually free, sexually disinhibited, sexually transgressive to the larger, popular culture, invited to come and experience in real time and in a real place, not on social media, not through books but in a real space, 20,000 people who have an affinity similar to yours. When I grew up in New York we had to find each other by what side our keys were on and if we were wearing 501s in the Village and if we had flagged the black bandana on the left or the right, or the blue, or the yellow… To me, I walk away invigorated by the idea there are countless others who feel what we feel, who do what we do, who live the lives that we live. And I'm a part of that. In some way, an emblem of that for people. As are you.
You've told us what you think IML is, but can you now tell us what it means? The meaning morphs over time. So your take on what it means today might be very different from what my take would be twenty-eight years ago when I won the same medal that you're wearing. 
I think people, and this isn't just me—it's the sixty-two other men who were onstage and the countless other men who competed in the competitions they won all over the world—our community selects leaders for whatever reasons, leaders in whatever way. They don't need to be social leaders, political leaders, physical or aesthetic leaders. They pick people to represent their interests. I studied Jungian work and Joseph Campbell's work when I was in graduate school and it still very much guides me. I think we need archetypal figures in our lives to help shape the way in which we move through our experiences. I think IML helps provide that for people.
Did you want to win?
… I had my hesitations. The difficulty and the sacrifices this would entail and whether or not I was willing at this point in my life to go through another crucible, or if I just wanted to participate and have that be enough. I've never served myself from backing down from an opportunity to challenge myself beyond my comfort levels. I knew it would do that but by the time we got to Chicago I turned to my husband and some of my people and said, "I do want to win. Just so you know." And I gave it my all.
How many people were in your support system?
My husband being the primary one, probably about a dozen. Starting with the guy who had my title before Dave Barnett—a loving wonderful man who from day one said, "I'm here for any thing you need." People in LA, Lou Romano, past IMLs, you, Patrick Smith, Michael Gerle, Tom Pardoe. People who just showed up to my house to go through whatever I needed to walk me through the process because it's a lot.
What are your personal goals for yourself during the coming year as the sitting IML?
To continue to grow. I'm a relationship expert, it's what I do. To build relationships with people in a way that I haven't been able to. I've spent so much of my life in this room talking to patients, it's time for me to get out and get back to more activist roots that I haven't been able to in the past twenty plus years. I was a member of ACT UP. I was a member of the NAMES Project. Now I'm involved with Born Perfect, which is the campaign to end conversion therapy. I've been involved with NCLR and Born Perfect since I was on the board of the American Association for Marriage and Family Therapy. We have now nine states that have outlawed conversion therapy and we have a great number left to go. I'll be able to spend more time raising funds and being visible for them. As licensed mental health professionals, we are now barred from practicing conversion therapy. What we can do is influence the culture in that way.  What we can't do is dictate what people consider religious beliefs and pastoral counseling. What we can do is educate parents that it is a discredited science, which will hopefully change some minds.
How much traveling do you think you'll be doing in the coming year? I don't mean recreational, I mean the job. The IML job.
… I'm so lucky to have so many men willing to share their experience with me. Patrick Smith and I were talking about this. I want to go and I want to judge contests and I want to be a part of people's experience here. Patrick spent a great deal of his time engaging in political activism and also doing what traditional IMLs would do – which is to go to different cities around the world and participate in fetish and leather events and judge contests which are feeders to IML.  I want to do both. I want to spend as much time as possible working with the Mister Friendly Campaign, Born Perfect, trying to help people in Chechnya through Rainbow Railroad.
I stumbled across Rainbow Railroad. We need to get those people out of Russia and into some safer country.
Unfortunately the United States has not been very responsive as a safe harbor for them. But we can work with Canada to get people to safe places…
---
Watch the full interview with IML 2017 Ralph Bruneau online at www.thefightmag.com.