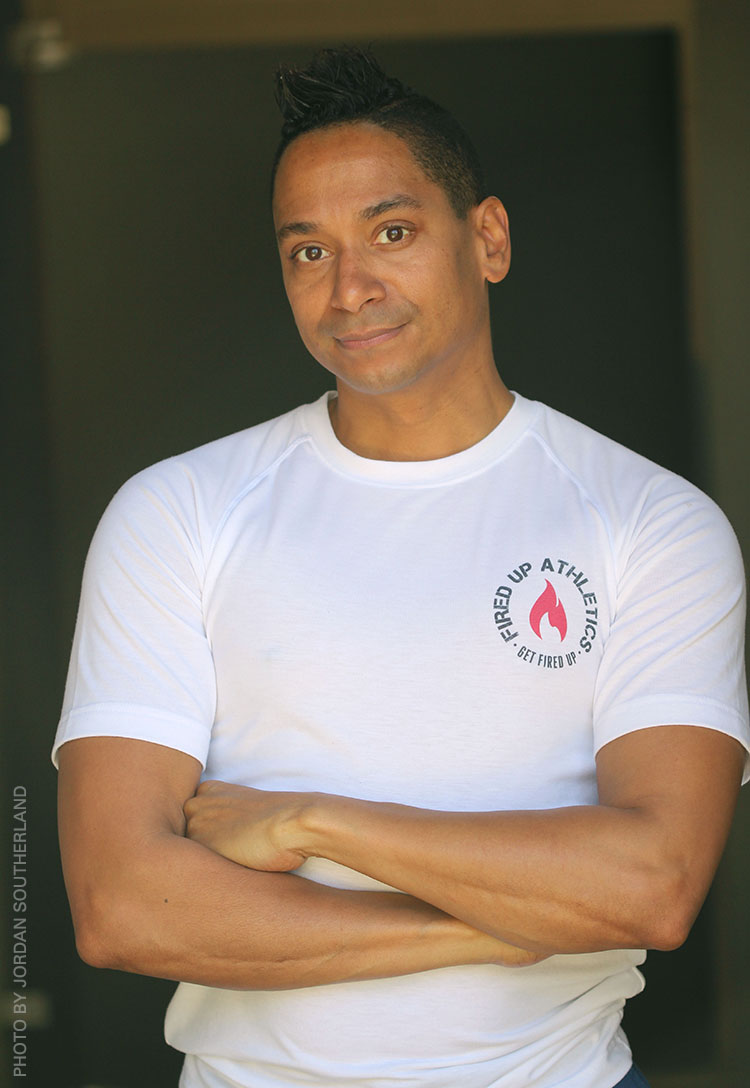 When his boyfriend of 20 years voted for Trump, Fired Up Athletics founder Eldon Hernandez didn't just get upset. He got physical.
BY SEAN GALUSZKA
Humans are negatively affected by break ups.  It's universal.  After all, hope and stability just "broke up" with America.  Now we face a slew of blind dates with insanity and prejudice.  It's naturally upsetting.  So when his boyfriend of 20 years voted for Trump, Fired Up Athletics founder Eldon Hernandez didn't just get upset. He got physical.
"I'm turning that into a positive by focusing on my business and bringing you the best year of health and fitness," says Hernandez in an interview with THE FIGHT.
Taking physical action encourages and fosters the change we seek mentally, spiritually, and even socially. When so much feels out of our control, we can at least control our physical state.  So how do we mend our collective broken hearts and guard against the Trump Era?  We get stronger, now! With adorable, charismatic Eldon Hernandez at the helm, there are no more "EX"cuses:
Bad Mood? Depression, anxiety, and fear are all normal responses to a break up (or the incoming administration).  Working out is clinically proven to reduce stress and anxiety and help you look your best.
"Looking good and feeling great about yourself helps current relationships and even helps you find your soul mate," Hernandez offers. Improve physical stamina for those long protest marches and you may end up walking alongside your next date. Also, running into your ex while you happen to look amazing can be…  empowering.
Not FIT Enough? As a gay man, I'm especially hard on myself for not having enough muscle, comparing and despairing at body builders grunting out sets of impossible weights like towering Hulks.  But as Hernandez explains, "We're not your standard corporate-run gym.  We're a studio. We don't have those fancy machines or heavy weights you can't pick up. Our goal is to improve your overall performance by increasing your body's fat burning potential and boosting your metabolism. You want results, and you want to be fit and healthy." Research shows building muscle bulk alone is not the key to a healthier body.
As a certified P90X instructor, Hernandez "changes lives by changing the way people think about fitness; removing the fear, intimidation, and pressure of working out." If we could only remove the fear, intimidation, and pressure from our government, but, baby steps. Change starts within.  Working out is a great way to feel strong against any bullying system, internal or external.
Don't Have Time  Lunch Time Boot Camp classes are only 30 minutes. "If your boss doesn't allow 30 minutes for lunch, you should quit," Hernandez advises. "Lunch Time Boot Camp uses the Tabata principle: 20 seconds movement, 10 seconds rest. Each Tabata is 4 minutes long with 4 Tabata intervals per class. It combines a team atmosphere, intense full-body cardio workouts, and fitness education that transforms your body into that lean, fat-burning machine you've always wanted."  Besides, you can always schedule lunch later with that hottie from class.  Better yet, dinner.  Just don't mention the "ex."
Feeling Alone? Hernandez suggests you "join a group of motivated people like yourself, bust through personal plateaus, rock out to hardcore music, and give it your all encouraging each other to get in the best shape of your lives." P90X is a group-focused, total-body strength and cardio class that incorporates proven principles from functional strength coaching. Plus, group classes offer an accountability factor no personal commitment can match.
Finally, any positive group consciousness helps dispel feelings of loneliness and hopelessness. These feelings will arise the next four years. It's going to be a long fight. You'll want to be in the best shape possible.
---
For more info visit: FiredUpAthletics.com.