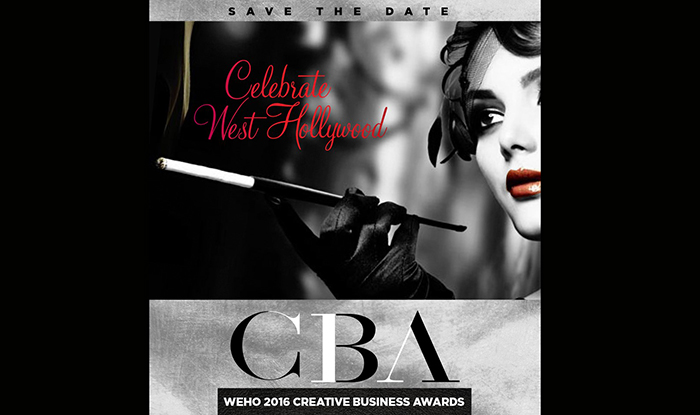 SAVE THE DATE! The West HOLLYWOOD CHAMBER OF COMMERCE is set to host the 33rd Annual West Hollywood Creative Business Awards 2016, on Wednesday, November 16, at The W Hotel Hollywood, at 6250 Hollywood Blvd.
The event presented by Wells Fargo is billed as West Hollywood Chamber's most prestigious and longest-running event. It is now in its 33rd year celebrating innovative and creative businesses. The Red Carpet event will begin with a Silent Auction Reception sponsored by Beverly Center followed by Dinner and Awards Presentation.  The evening will conclude with an after-hour desert reception taking place pool-side on The W Hotel rooftop.
The gala will be hosted by NBC's America's Got Talent finalist, the Standup Magician Derek Hughes and live entertainment produced by Chris Isaacson Presents and a 7-piece band featuring acclaimed guitarist Kay-Ta Matsuno and special guest Verve Records recording artist Brenna Whitaker wearing an original gown designed by Designer Lorena Sarbu.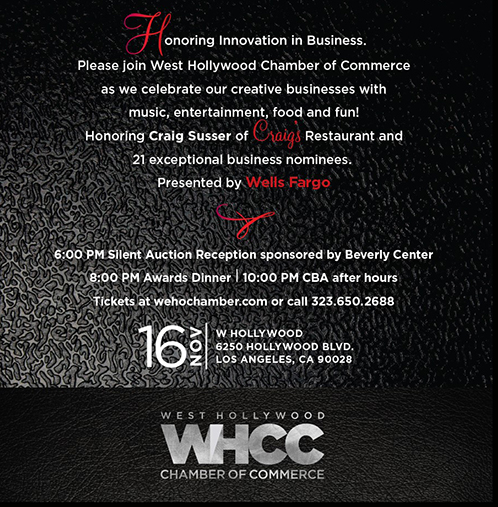 The Creative Business Awards (CBA) is the most important fundraiser for WHCC, a 501c6 non-profit organization. Funds raised from this event help to contribute to programming and promotions for the business community. The twenty-one (21) nominees in seven (7) categories were chosen for their innovative approach to business and/or creative merits in product and service by the WHCC Membership, its Board of Directors and the Special Events Committee. The criterion for selection was that the business be a WHCC Member and have made significant contributions to the West Hollywood business community. Members vote for their favorite nominees via an online ballot and the winners are announced at the event. This year, WHCC added an Innovative Sustainability Award to its awards line up to pay tribute to those businesses playing a role in global green initiatives and sustainability.
This year's Thomas Crail Lifetime Achievement Award will be presented to Craig Susser. Craig Susser is the owner and operator of Craig's Restaurant on Melrose Avenue. The restaurant, opened on January 12, 2011 and was quickly adopted as "The New Institution." Susser believes that inspired hospitality, matched with outstanding food, is a winning combination. With over 29 years of experience in the business, Susser understands this and all aspects of restaurant operations.
The 2016 CBA nominees by category are: Creative Concept (awarded to a business that is an innovator of a cool new concept, product or service), The City of West Hollywood, Heery International and Unitronics for the City Hall Automated Garage Project, E.P.&L.P. and Orange Theory Fitness; Corporate Innovation (awarded to a business that has shown creative innovation in their corporate business model), Harmony Solutions International LLC, OWN: Oprah Winfrey Network and WeWork on LaBrea; John Chase Art & Design Award (awarded to a business that falls into the categories of art, performance art, fashion, design, architecture or any other creative arts realm) -Michael Habicht of iii designs, Mont Blanc and Vanity Girl Hollywood; Creative Communications (awarded to a business within public relations, marketing, outdoor media, branding, televisual arts, copyrighting, technology, social media, graphic design, writing etc.) –Clear Channel Outdoor Americas, Off World Enterprise and West Hollywood Lifestyle Magazine; WeHo Attraction Award (awarded to a business that attracts visitors to West Hollywood or caters to the visitor and tourism market) – The Comedy Store, kitchen24 and Shake Shack; Creative Community Service – Project Angel Food, Covenant House and West Hollywood Gateway; Innovative Sustainability Award – Green Garmento, Levin Morris Architects for 1232-36 Kings Road and Snaidero USA.
Founded in 1921, the West Hollywood Chamber of Commerce is a 501(c)6, non-profit organization which supports and promotes a community environment where commerce can flourish. The Chamber fosters prosperity and champions local business by providing resources and leadership to advance activity through economic development. We advocate and represent business interests to government, while enhancing the quality of community life and promoting the uniqueness of West Hollywood.
For more event information, or to purchase tickets, visit: wehochamber.com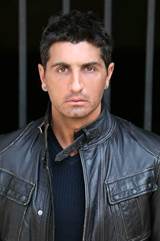 Or contact Vic Gerami, Manager of Events, at 310.880.8563 or vgerami@wehochamber.com.