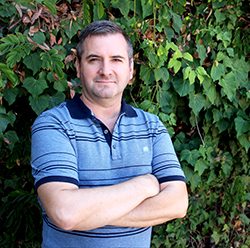 HELPING OTHERS
David Neuendorff
Videographer David Neuendorff, has been sober since August 16, 2002. Helping others has helped him maintain his sobriety. Helping others also helped him direct his life from delivering food to building his own video editing business "1 Minute Reel" (1minutereel.com), where he recently created the training educational video called "Meth: Insight & Recovery" for LA Fuente Hollywood Treatment Center.
"I was the kind of guy that put fun before everything else. What escalated my bottom, was when I messed up a career opportunity that I thought was going to fix me. That's when I realized partying was the problem, so I decided to get sober.
In sobriety, I got and lost a job I liked due to the economic crash. My friend Hermes was starting his Love Catering company and he offered me work. There is something interesting and humbling in the process of delivering food. I looked around at the world and thought, if I don't do something, I'm going to be stuck. I'm forever grateful to that friend for building that space for me, because I found myself through that space.
I had been to film school because I thought I wanted to get into video editing. I saved some money and bought a camera and started doing things like helping people with their wedding videos.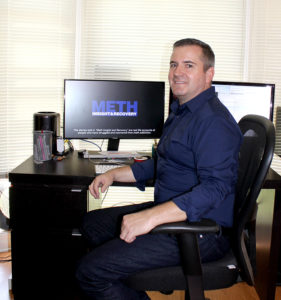 Then came the moment when I was doing 12-steps work with a sponsee, and I read a passage that says you always get more when you help others. That passage inspired me and eventually led to me being of service and shooting The Best in Drag Show—a benefits for Aid for AIDS. There, I met a guy named Anil Patel who worked for Jeffrey Sanker, which led to me filming the White Party. Now 5, 6 years later the majority of the business I do is educational video content and small business profile videos. I also create content within the sober community. I recently partnered with Manny Rodriguez at La Fuente Hollywood Treatment Center to do a training video called Meth: Insight & Recovery. I've done video content for Breathe Life Healing Centers, Blue Tiger Recovery in Palm Springs, and on the opposite side of that, I shoot the White Party. I also specialize in shooting gay weddings.
I'm not that guy who says if I didn't get sober I'd be dead, but I would probably be at the Abby drinking apple martinis and wondering why life was passing me by. I remember in my first 90 days of sobriety, my favorite passage was: If you want different results in your life, then you have to take different action. Fourteen years later, it's the one thing that goes through my mind. If I'm here, and I don't like where I'm at, let's try something different."