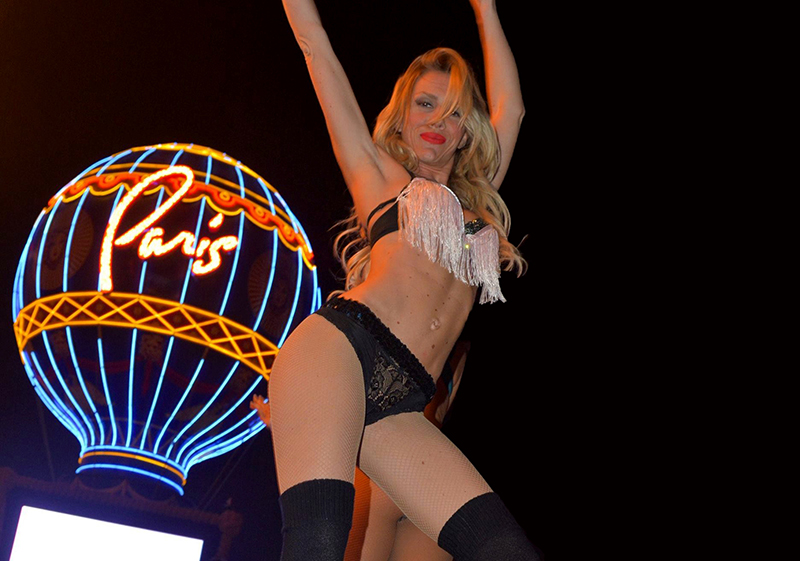 The hottest women in the world are hitting the Vegas Strip for Dinah Vegas 2016.
Girl Bar, in association with Total Rewards by Caesars Entertainment, ignites Sin City with the ultimate lesbian weekend as DINAH Vegas sizzles April 28-May 1, 2016 in fabulous Las Vegas, Nevada.
Host hotels for 2016 are the Flamingo Resort and the newly remodeled and contemporary LINQ Hotel. Both are located in the NEW LINQ corridor, perfect for shopping, socializing, dining and gambling, next to the fabulous LINQ pod Ferris wheel.
Dinah Vegas has become the "must attend" event of lesbians from around the globe. In 2016, women from everywhere – including Australia, Brazil, Canada, England, France, Germany, Mexico and New Zealand, will enjoy all the non-stop entertainment, world-class dining, 24/7 gaming and fantastic weather that only Dinah Vegas offers in "the City that never sleeps" and where there is no "last call!"
"Las Vegas has more to offer visitors than ever before, and so does Dinah Vegas," said Dinah Vegas Producer Sandy Sachs. "Through our fabulous long-term partnership with Caesars Entertainment, our patrons can always enjoy Vegas' newest hotels and hottest locations. Year in and year out, they keep coming back for more and bringing their friends."
Once again, Dinah Vegas takes over some of Caesars' exclusive and most sought-after venues for its world famous events, created by lesbians specifically for lesbians. New for 2016: Thursday's OPENING PARTY happens at Flamingo Hotel's Beach Club Pool. The VIP COCKTAIL PARTY followed by the much anticipated GLITTER II event both happen Friday at the world-famous VOODOO Lounge at Rio Las Vegas. Weekend Package guests and VIPs join hosts Sandy Sachs and Robin Gans for cocktails on the 51st floor. Then the night comes alive for GLITTER II as the women of DINAH VEGAS take over both decks of the club for dancing, socializing and enjoying breathtaking views of Las Vegas.
The Flamingo Hotel's sprawling GO Pool will be the setting for Saturday's INFINITY POOL PARTY, featuring VIP cabanas, canopy beds, daybeds and over 300 pool chairs. West Hollywood Lifestyle Magazine will present a poolside fashion show and former Pussycat Dolls member KAYA JONES performs live.
On Saturday night, our spectacular Vegas White Party has an all-new location at The Havana Room & Sky Beach Club at Tropicana Resort Hotel.
Cutting edge DJ roster this year includes DJ Whitney Day NY/LA; Dawna Montell, resident DJ at The Abbey LA; DJ Kurty, resident DJ at Rich's in San Diego & San Francisco and international DJ DuJour from Sydney, Australia.
Check out www.dinahshoreweekend.com for all the latest updates, full Dinah Vegas 2016 schedules, tickets, hotels and Weekend Package options.
THURSDAY APRIL 28
WELCOME PARTY at Flamingo Hotel Beach Club Pool
9 p.m. to 2 a.m.
New location for 2016! Get the weekend off to a great Las Vegas start at the Beach Club Pool. Meet up and mingle with cocktails and music from DJ DuJour – direct from Sydney, Australia.
FRIDAY APRIL 29
COCKTAIL PARTY for Weekend Package guests at VOODOO Lounge atop Rio Las Vegas Hotel, 51st Floor
9 p.m. to 10:30 p.m.
NEW for 2016 – Weekend Package guests join hosts Sandy Sachs and Robin Gans up on the Rio's 51st floor for cocktails and breathtaking scenic views. This is an experience you will never forget!
GLITTER II at VOODOO Lounge and Nightclub atop RIO Las Vegas Hotel – both decks
10 p.m. to 4 a.m.
Back by popular demand, on two decks! Be there for an evening of the best views overlooking the fabulous Las Vegas night skyline. Live DJs pump out red-hot tunes on the dance floor and Go-Go Girls will be shaking it all night.
SATURDAY APRIL 30
INFINITY POOL PARTY at the Flamingo Hotel GO Pool
9 a.m. to 7 p.m.
Once again the Flamingo Hotel's sprawling GO Pool is all ours, all day long. Hang out, catch some rays, enjoy a cocktail or take a refreshing dip in the crystal clear water! DJs spin the sounds on our new, expanded sound system as Girl Bar's Go-Go's rock your world. West Hollywood Lifestyle Magazine will present a sexy fashion show. In addition, Kaya Jones (formerly of Pussycat Dolls) will perform live. Gaming tables, full bar and menu are all available poolside. Cabanas and daybeds sell out fast, so make reservations now.
VEGAS WHITE PARTY at The Havana Room & Sky Beach Club at Tropicana Resort Hotel
10 p.m. to 4 a.m.
Be a part of the weekend's most dazzling event filled with gorgeous women and white-hot style. Now at an all new location! This is the time to sparkle with red carpet photo opportunities, performance art installations, non-stop burlesque performances, Go-Go girls and dancing under the stars with our best DJ's. The party goes until the early morning hours as there is NO last call in VEGAS! This is the must-attend event everyone will be talking about.
SUNDAY FUNDAY POOL PARTY at The Luxor North Pool
10 a.m. to 6 p.m.
Finish off the weekend in sexy style as we do Sunday the fun way…in Vegas, baby! Join us at The Luxor North Pool for an unforgettable party featuring hot music from DJs Whitney Day, Dawna Montell, DuJour and Kurty, plus sexy Go-Go dancers all day long and, of course, girls from all over the world!
Specially priced Weekend Passes are always the best value. You get priority admission, and even if you can't attend every event, you still save money.