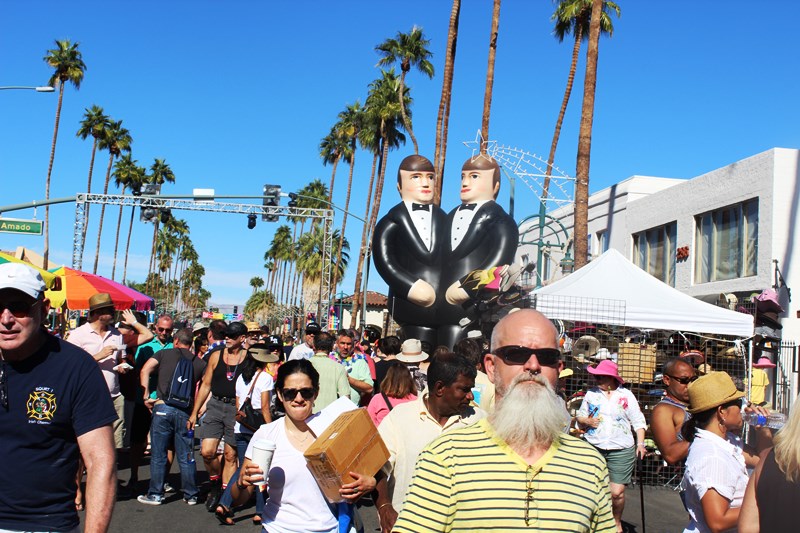 Text and photos by Paulo Murillo
Thousands of people hit the streets of Downtown Palm Springs for the 28th Annual Palm Springs Pride on Sunday, November 9.
"I Am Pride: Stonewall 45" was the theme for this year's Palm Springs Pride in recognition of the 45th anniversary of the Stonewall Riots in New York's Greenwich Village, on June 28, 1969, which sparked the LGBT civil rights movement. "I am Pride," is an affirmation of an individual's stance against discrimination and support of equal rights, sexual diversity and gender variance.
The Greater Palms Pride parade saw its fair share of pride flags streaking the rainbow colors at its new location in the heart of the city, from Tachevah to Amado Road, on North Palm Canyon Drive, in downtown Palm Springs. Organizers projected up to 5,000 participants at the parade with more than 50,000 onlookers.
Pop singing bombshell, Amanda Lapore, was the parade grand marshal this year. She did not disappoint with her traditional wink to Hollywood's Golden Age in a glamorous slinky teal dress as she waived to the crowd. Lapore joined local organizations, businesses, public agencies, politicians, police officers, drag queens, cheerleaders, and local high school bands on the parade route. Residents from all over Southern California of all shapes, sizes, and ages showed up at the desert that weekend to support the LGBT community.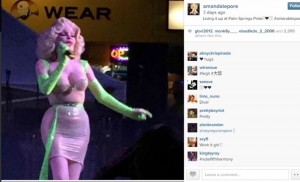 The two-day festival lineup included live performances by The Psychedelic Furs, Amanda Lepore, hip hop lesbian Irawniq, Icelandic musical group Steed Lord, Blake Lansing, Jesika Von Rabbit and New Jersey's out rock musician Josh Zuckerman. Special appearances include pop artist Lisa D'Amato, who won the all-star cycle of America's Next Top Model in 2011, and Quatrele Da'an, X Factor season 2's gender bending revolutionary pop stand out.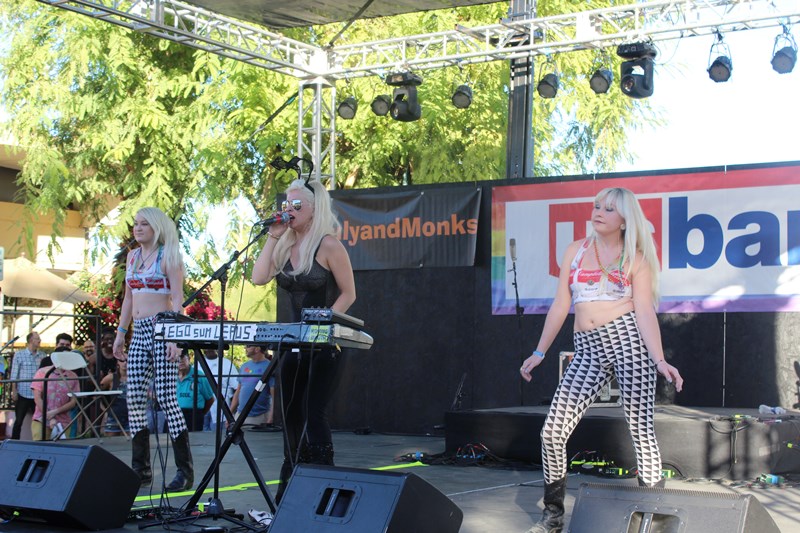 THE FIGHT Magazine continues to be a media sponsor of Greater Palm Springs Pride. Swag bags were distributed at THE FIGHT booth in the pride festival, located by the main stage in front of Hunters Nightclub. Giveaways included, the latest issue of THE FIGHT, condoms, lube, motorized fans, candy and other promotional items from our sponsors and list of advertisers.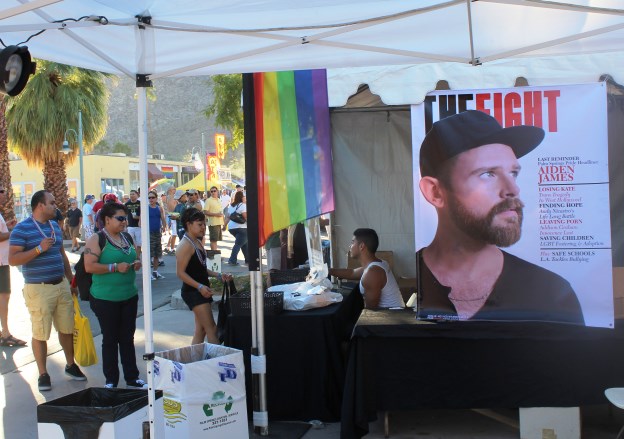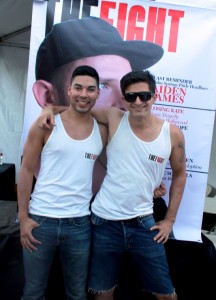 "The Palm Springs Pride Parade and Festival is one the biggest and fastest growing in the United States," openly gay mayor of Palm Springs, Steve Pougnet, told THE FIGHT. "When it comes to celebrating PRIDE, Palm Springs truly is like no place else."
For more information on Palm Springs Pride, visit pspride.org.