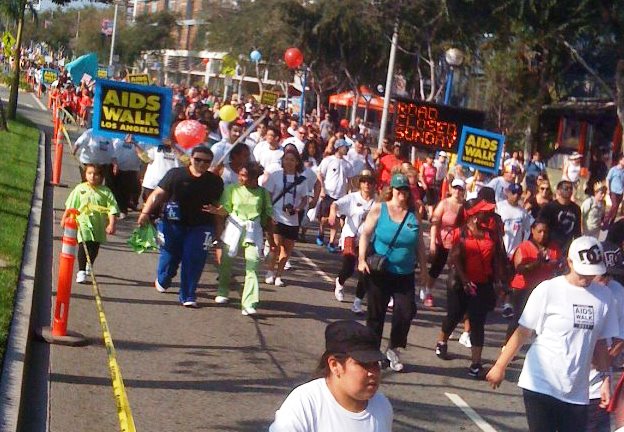 Photo and text by Paulo Murillo
Over 25,000 people participated in the 30th Annual AIDS Walk Los Angeles this year. The 10 kilometers walk through West Hollywood and Los Angeles raised $2.26 million to benefit AIDS Project Los Angeles and more than 20 other Los Angeles County-based AIDS service organizations.
"We are proud of the thousands of supporters of APLA who have year-after-year, raised life-changing funds for people living with HIV/AIDS in our hardest hit communities," said Chief Executive Officer of AIDS Project Los Angeles, Craig E. Thompson, in a press release. "On behalf the 6,000 clients who rely on APLA's services and the thousands more who benefit from our prevention and testing efforts, I want to thank everyone involved.  With funds raised through the AIDS Walk, we are able to provide more programs that serve more people in more locations throughout Los Angeles County, ensuring that no one endures their fight against HIV without the support they need."
Los Angeles Mayor Eric Garcetti and West Hollywood Mayor John D'Amico were joined by singer Paula Abdul, "The Price is Right" host Drew Carey, "Glee" star Alex Newell, celebrity stylist and TV personality Carson Kressley, "Orange is the New Black" star Michael Herney, and others at this year's fundraiser.  Reality TV star and WeHo business woman Lisa Vanderpump was also on hand to cut the ribbon and give the massive crowd the green light to start walking.
"We come back here single year because we love. We come back here because we believe. We believe in a moment in which AIDS and HIV is no longer part of our vocabulary," said LA Mayor, Garcetti.
AIDS Walk Los Angeles has raised more than $79 million for APLA and other HIV/AIDS service organizations in throughout the Los Angeles County, since ts inception 30 years ago.
For more information, visit www.aidswalk.net/losangeles