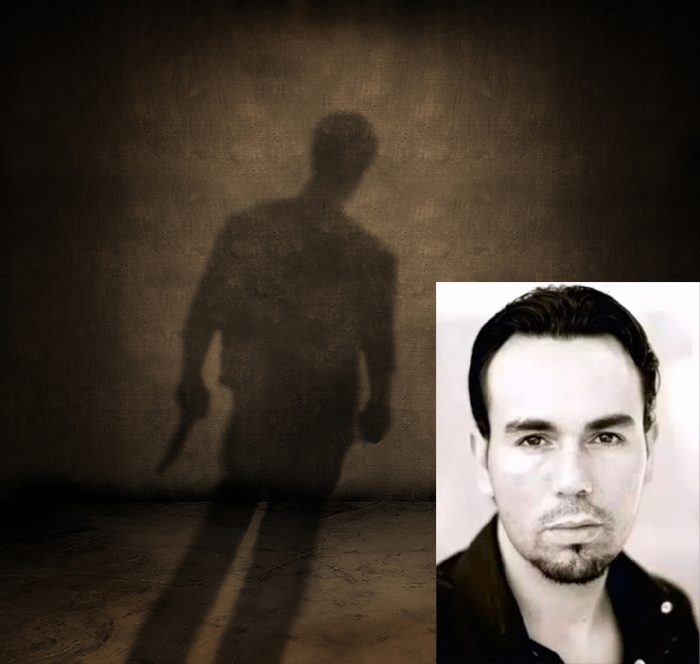 The LAPD is offering a $50,000 reward for information on the gruesome fatal beating of Ramon Estrada.
BY JAMES MILLS
In the early morning hours of July 7, Ramon Estrada phoned his boyfriend of 13 years, Michael Shutt, saying he'd just left the Gold Coast, a bar in West Hollywood where he was a regular, that he would be home soon and to leave the door unlocked because he had forgotten his keys.
But the 36-year-old Inglewood native never made it home. Estrada was found beaten and lying unconscious, his wallet and phone missing, between two cars parked on Santa Monica Boulevard, near Mansfield Avenue, just two blocks from his apartment at Lexington and Citrus avenues.
Estrada was taken to Cedars Sinai Medical Center where he was a coma for almost a month before dying on August 5.
"I'd give anything to know what happened between 1:45 (when Estrada called Shutt) and 2:02 (when he was found)," says the grieving Shutt. "Those mysterious seventeen minutes."
POSSIBLE HATE CRIME
The Los Angeles Police Department wants to know too. They have deemed Estrada's death a homicide and are offering a $50,000 reward for information about Estrada's attacker(s).
According to Det. Scott Masterson of the LAPD's West Bureau homicide division, they are looking for a light-colored car, possibly silver or beige, likely a small SUV or a car with a hatchback. They think the car in question was a Lexus SUV RX-350. They are also looking for three black men, around ages 18 to 25, who were seen running from the area. It is not known whether they were involved in the attack or were witnesses who were fleeing.
"We will follow every lead to the fullest," promises Masterson, adding that people should call 213-382-9470 if they have information about the crime.
The police have not yet determined whether his attack was a mugging or a hate crime. "The hate crime aspect doesn't come into play until we're meeting with the district attorney," explains Masterson. "A hate crime is determined by the evidence. It's what we can prove, not what we think."
LIFE SUPPORT
Shutt says his life has been a nightmare since July 7. With no identification and his hands too bruised and swollen to get clear finger prints, Estrada was admitted to Cedars as a "John Doe."
Meanwhile, Shutt began searching for Estrada and filed a missing persons report. A week later, when Shutt and a friend stopped by the LAPD's Hollywood division to ask about updates and to leave a missing person flier, they accidentally learned where Estrada was.
By chance, the officer they were talking to said the photo of Estrada looked a lot like a man at Cedars he had tried to fingerprint. They rushed to Cedars where they identified the comatose man as Estrada.
"We couldn't get there fast enough. We were screaming and crying. We wished we had a helicopter," recalls Shutt. "It was a relief to have found him, but a nightmare seeing what had happened to him."
Estrada never regained consciousness. In addition to head trauma from the beating, Estrada developed pneumonia and his lungs collapsed on Aug. 2. The family kept him on life support until Aug. 5.
"When his lungs collapsed, that's really when he died," reports Shutt. "Even though there was no chance of him recovering, pulling the plug was the hardest thing I've ever done."
GETTING MARRIED
Estrada and Shutt met at Ozz, a now-defunct gay bar in Buena Park, in Sept. 2001. Shutt, who grew up outside of Durango, Colorado, says that Estrada "instantly grabbed my heart." By December, they were officially a couple and by May 2002, they were living together in Shutt's West Covina apartment.
After moving to Las Vegas for a few years, the two came to Hollywood in 2005, where Estrada worked as a banquet server at the Renaissance Hotel (now the Loew's Hollywood Hotel) at the Hollywood and Highland complex. Their life together was happy; they even adopted a small terrier dog named Tiko.
The couple was registered as domestic partners and was talking about getting married.
"There wasn't any rush to get married. We knew we'd do it eventually," says Shutt who works as an account manager for a limousine service. "I'd sure rather be planning a wedding than a funeral."
BIG BROTHER 
Friends describe Estrada as "always smiling," "protective," and "warm hearted." Wendy Mairena, who went to high school with Estrada, thought of him as a "big brother." "He was always looking out for me," says Mairena. "He was so happy go lucky, but he always wanted to know how I was, always doing things for me."
Kenslea Sohl, a flight attendant who lived near Estrada and Shutt, says she'd frequently ask him to check on her teenage daughter while she was away.
"I always trusted him, "Sohl says. "I always knew he'd take care of things if there was a problem."
Friends at the Gold Coast also described him as "easy going" and "well liked." "There wasn't anyone here [of the regulars] who wouldn't sit beside him," says Matthew Lynch, a Gold Coast regular. "He was always happy and relaxed."
REMAIN VIGILANT
Cleve Jones, a longtime gay rights activist based in San Francisco, was among the people who attended Estrada's memorial service held on Aug. 26.
Jones, who is involved with the hospitality workers union of which Estrada was also a member, called his death a "tragedy." However, he warned the LGBT people must remain vigilant.
"The sad reality is that everywhere we go, even in West Hollywood or the Castro, there remains the distinct possibility that we will be attacked, assaulted or even murdered solely because of our sexual orientation," says Jones.
"It underscores the importance of confronting the haters and the religious bigots who put out these hateful messages masquerading as religion."
Shutt is taking that message to heart. "Always forgive, never hold grudges, Ramon taught me that," says Shutt. "But I'm going to fight for the rest of my life to make sure this doesn't happen to anyone else. No one should ever go through what I'm going through."
---
If you have any information about this crime, call Det. Scott Masterson at 213-382-9470.