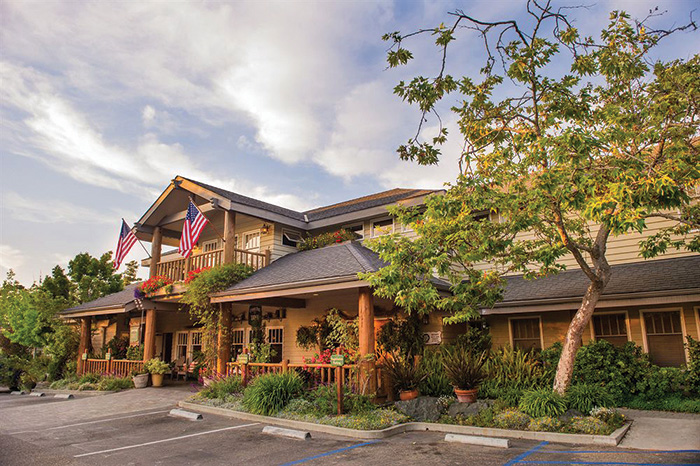 Cambria Pines Lodge: a destination wedding facility like no other.
BY ORLY LYONNE
The beautifully majestic Cambria Pines Lodge, located in Cambria, ten minutes south of Hearst Castle, midway between San Francisco and Los Angeles, has the feel of a mountain lodge, the look of a garden, and a five-minute proximity to the ocean.
As a destination wedding facility, the Lodge features beautiful outdoor and indoor event venues of varying sizes to accommodate 15-250 guests. "The wedding pictures we have seen come out of our gardens over the years are awesome—a unique photographic setting is one of the stand-out reasons to choose the Lodge as a wedding venue," says Becky Evans, Director of Sales and Marketing, in an interview with THE FIGHT.
Cambria Pines Lodge hosted its first gay wedding in 2007, recalls Evans. "In those days, it was still called a commitment ceremony… It was a gorgeous, sunny day in the Gazebo Garden. John and David were happy and smiling the whole afternoon, surrounded by loving friends and family. There was such joy in the air. Everyone was carried along on a tide of love, hope, and optimism. The cake was one-of-a-kind, with sugar sea shells and a cake topper of two scuba divers opening a trunk full of treasure—a perfect metaphor for personal discovery and sharing the adventure of life."
"An LGBTQ couple should prepare to be treated with all the care and consideration which we show to every couple who chooses to have their wedding at the Lodge," states Evans. "Our experienced sales and catering staff will take care of room blocks, event set-up, menu, etc., leaving the couple to relax and enjoy the wedding experience fully."
"We have welcomed the LGBTQ community to our property for many years, actively seeking to grow this segment of our market," says Evans. "Now that marriage equality is becoming a reality in more and more states, we are honored to be part of the celebration!"
---
For more info on Cambria Pines Lodge visit www.cambriapineslodge.com.