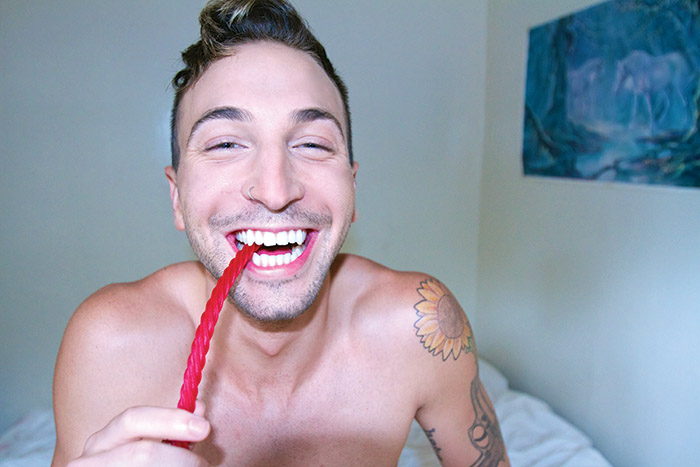 "Growing up—I leaned on comedy for everything," says stand-up comedian and author Jordan Pease. "It got me through my parent's divorce, my father's death, drug addiction—it's a cure all."
BY MARK ARIEL
Born and raised in New Jersey into an Italian-American family that has embraced his adult identity ("When I came out to my grandparents, their only comment was that they hoped I married an Italian man"), stand-up comedian and author Jordan Pease mines the sometimes painful and more difficult avenues of life in order to fashion self-deprecating jokes that render him equal parts endearing and outrageous.
The same tone can be found in his memoir, "Accidentally Okay," which recalls his extended stay in Verona, Italy, with an acute sense of observation and self-awareness. Pease has also contributed columns to Huffington Post and maintains an active presences on his website, thejordanpease.com.
Citing Chelsea Handler and David Sedaris as two of his role models, Pease has found great success even though he's been doing stand-up professionally for less than three years; he's already been named "Funniest New Comic in LA" and appears regularly at the Comedy Store and the Laugh Factory, sometimes sharing stage time with idols like Sarah Silverman and Steve Trevino.
"Standup comedy was always a major thought in my mind," reveals Pease in an interview with THE FIGHT. "While living in San Francisco I dabbled upon a few open mics, but never took it seriously until moving to Los Angeles in 2011. Growing up I leaned on comedy for everything. It got me through my parent's divorce, my father's death, drug addiction—it's a cure all. I strive on taking nothing seriously… Being a member of 'The Spice Girls' was always my honest goal, but they split up, so standup comedy was the next best thing."
In some ways, says Pease, opening yourself up to an audience can be theraputic. "Standup comedy makes you step outside yourself often, and sort of take a walk in other people's shoes. I don't know if I would say it helped me 'come out,' but it totally helped me cut all the bullshit out of my life. It's made become a more positive, carefree—yet driven person. Although, since moving from New Jersey 5 years ago I have become hands-down 2000 times gayer."
Depending on the audience, says Pease, "about 1/4 of my material includes gay puns, making fun of myself for being gay, how ridiculous our community can be, and making a straight older man feel uncomfortable by sitting on his lap."
"My big secret is that I picture everyone in the audience as my friends," Pease reveals. "Before the show, after the show, I treat them like my friends…I make eye contact, and I figure, my friends are going to laugh at the same things I do."
---
For more about Jordan Pease, and upcoming tour dates, visit: Thejordanpease.com.