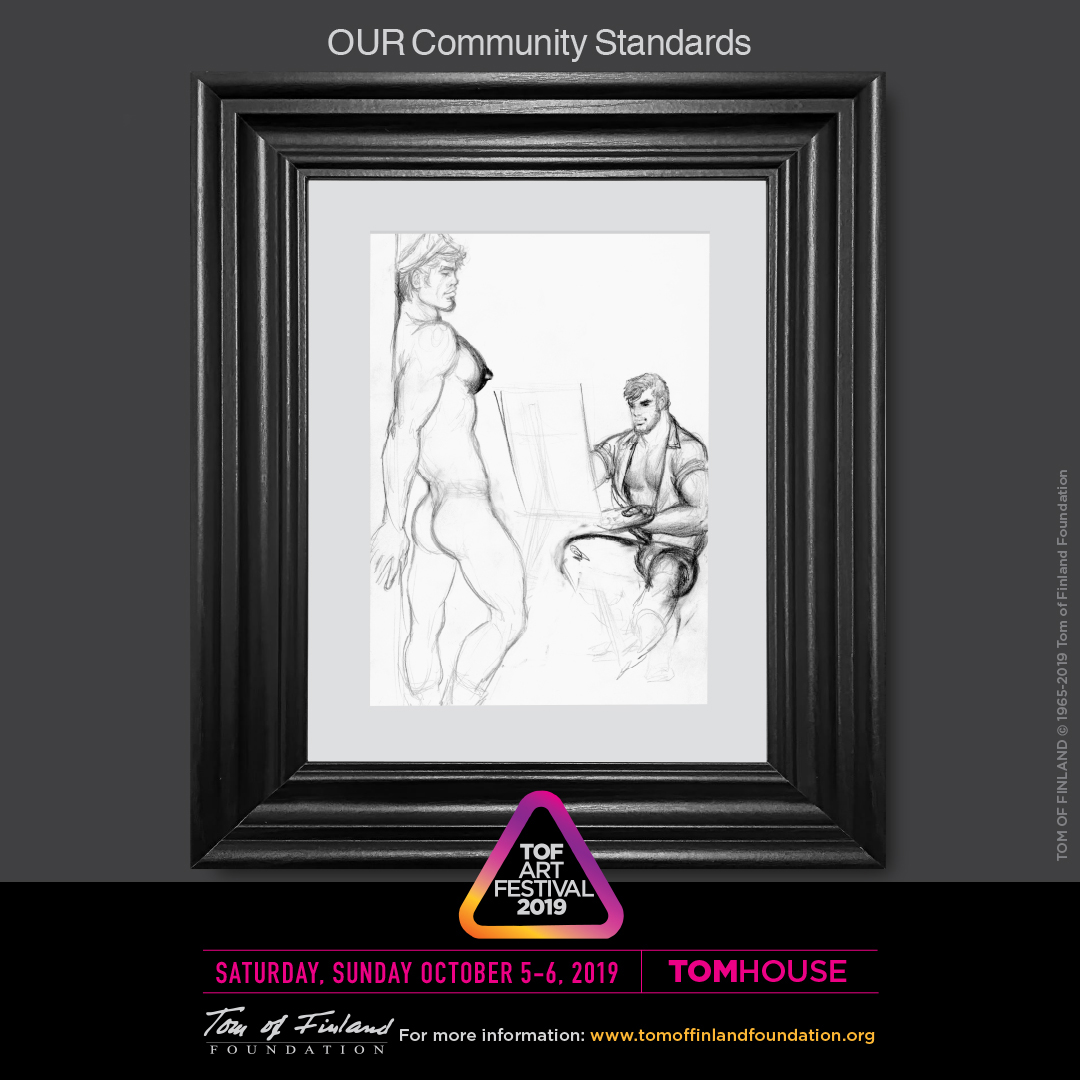 For nearly a quarter century Tom of Finland Foundation has hosted an annual Art and Culture Festival celebrating all things LGBT, erotic, beautiful, taboo and fringe.
The 2019's Art and Culture Festival: Our Community Standards, is set for October 5th and 6th 2019.
The Festival will look at censorship in art, and provide a safe, positive and inclusive environment for both artists and the general public to see, feel and engage with art of all types, in a historic location that has played host to such luminaries as John Waters, Margret Cho and Mr. Stefan Lindström, Finish Consul General in Los Angeles.  
"Tom of Finland Foundation, The Advocate, myself, and numerous other artists and institutions are older than Social Media; when they say 'Community Standards,' WE are the community standards," said Rick Castro, in response to the continued editing of Queer imagery on Social Media. 
Our Community Standards the 2019 Arts and Culture Festival will showcase both existing and emerging artists including Ruben Esparza, Rick Castro and Miguel Angel Reyes; the opportunity for  visitors to make art themselves during the life drawing sessions with live models both days, film screenings Saturday evening, a live auction and the annual presentation of Tom of Finland Awards – to artists, supporters, and those who make a difference. 
"The Foundation has always been a haven for so many, and continues to be so today, with an ever expanding audience, attracting young, Queer, and non-conforming people, truly representing our diverse and evolving community," said Durk Dehner, Tom of Finland Foundation Cofounder and President. "We are excited to be able to introduce the next generation to erotic art and engage them in the continued fight for our visibility. This year's theme is incredibly relevant and important, and I look forward to continuing to share all that the Foundation has to offer to both long established and new friends a like at our annual Arts and Culture Festival."
For more info visit: www.tomoffinlandfoundation.org