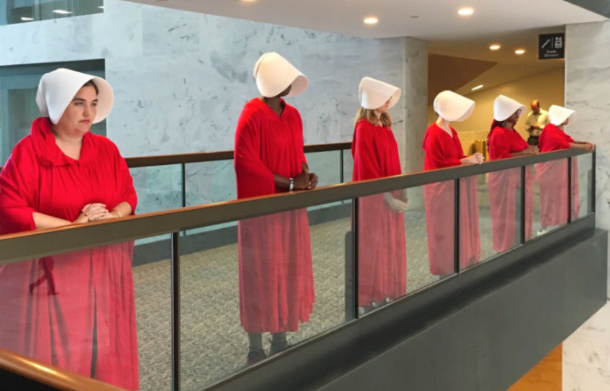 ( In the corridor outside the Brett Kavanaugh confirmation hearings, "The Handmaid's Tale." Photo:Laura Litvan / Twitter)
Protestors gathered at the Hart Senate Office Building in Washington today for the Supreme Court confirmation hearing of Brett Kavanaugh, reports Gay Star News.
When Justice Anthony Kennedy announced his retirement in June, President Donal Trump nominated Kavanaugh to replace him.
There is one chief justice and eight associate justices. But currently, there are four Democrat-leaning justices and four Republican-leaning justices.
Trump's pick of Kavanaugh would give the Republicans an edge in the highest court of the United States.
While Kavanaugh does not have a clear cut position on LGBTI issues, LGBTI and women's advocacy groups united to condemn him.
READ MORE HERE:
Protests at Brett Kavanaugh Supreme Court confirmation hearing, 22 arrested