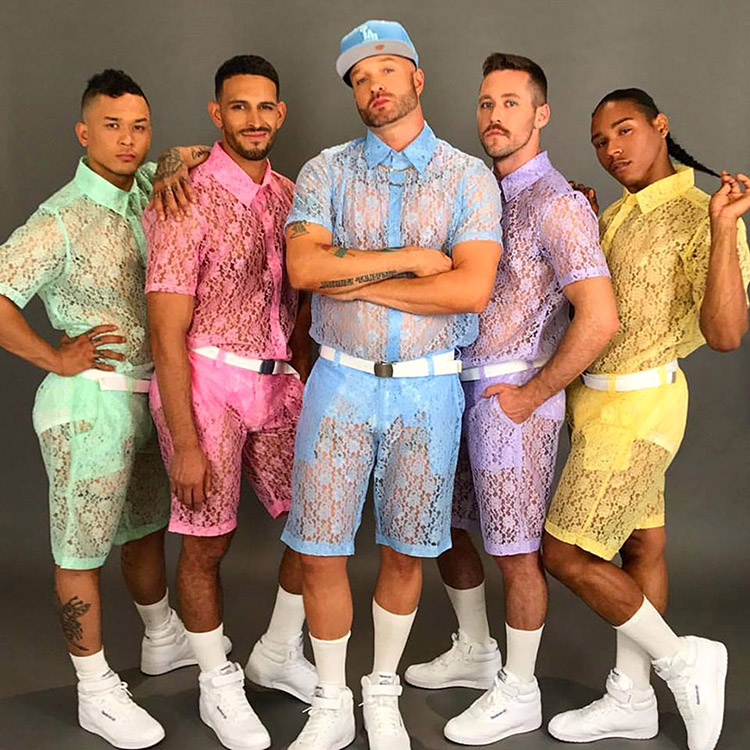 Rapper Cazwell aims to make America femme again through music and fashion.
BY ORLY LYONNE
Cazwell's Loose Wrists, the first single off his new music label Snow Cone, is old-school hip-hop with a beat that is purposely simple and bass driven.
"I moved to Los Angeles a year ago and I wanted to make a song that people could drop their convertible tops down to and head bang along with," explains the artist.
Along with the track, Cazwell is releasing a highly anticipated music video featuring the rapper and his male dancers in pastel colored lace shorts by designer Hoza Rodriguez of Hologram City.
"I noticed a real femme pride movement brewing on social media a few years ago," says Cazwell, discussing the inspiration for the song. "I love that it is so visible right now.  It's about time we all embrace femme.  Whether we are gay or straight, when men get in touch with their feminine sides, it gives a real sense of empowerment."
Described as 'what would have happened if Eminem had grown up on Madonna's front lawn," Cazwell has over 10 million You Tube / VEVO views for such tentpole videos as "Ice Cream Truck," "I Seen Beyoncé At Burger King," "Get My Money Back," "No Selfie Control" and "Rice & Beans."
---
Cazwell's "Loose Wrists" is available on iTunes now.  For more information, visit Cazwell.com and PeaceBisquit.com.