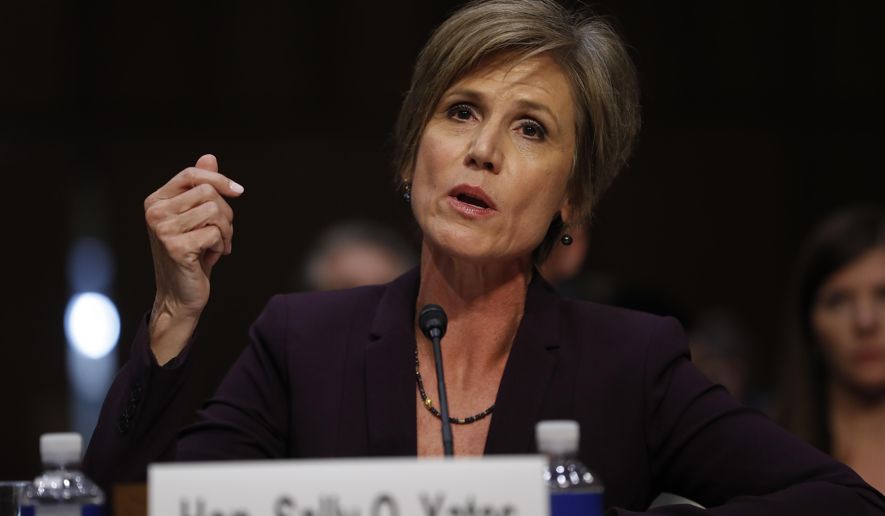 Sally Q. Yates, the former Acting Attorney General for the Trump Administration, testified yesterday before the Senate panel investigating Russia's efforts to influence the American political system alongside former Director of National Intelligence James Clapper. Yates, who became a hero to the #Resistance for refusing to defend Donald Trump's unconstitutional Muslim in the early days of his presidency, told the Senate committee that she had warned the Trump Administration that national security advisor Michael Flynn was potentially compromised by the Russians—a full 18 days before Flynn was asked to resign.
For their part, Senate Republicans seem less interested in the potential subversion of democracy in the United States by Vladimir Putin than they were in figuring out who leaked that subversion to the American people, and several seemed intent on painting Yates as hyper-partisian—or even criminal—for refusing to defend the Muslim Ban, including Sen. Ted Cruz who implied Yates broke the law. Yates pushed back, reminding the Senator from Texas that the ban had ultimately been struck down by the courts and that she had sworn a duty to uphold the Constitution.
Meanwhile, hours before the testimony Donald Trump unleashed a tweet-storm implying that Yates was guilty of leaking Flynn's lies about meeting with Russian agents to the media (a move that many legal scholars believe to be felony witness tampering), and laying the blame for Michael Flynn's hiring at the feet of Barack Obama. But today it was revealed the Obama specifically warned Trump not to hire Flynn. A source close to the former President told CNN, "Flynn's name kept popping up," during the Russia investigation.
Keith Olbermann lays out the timeline of Trump-Russia-Flynn scandal and makes an damning case that Trump is either dangerously incompetent being controlled by the Russians. #Resist.