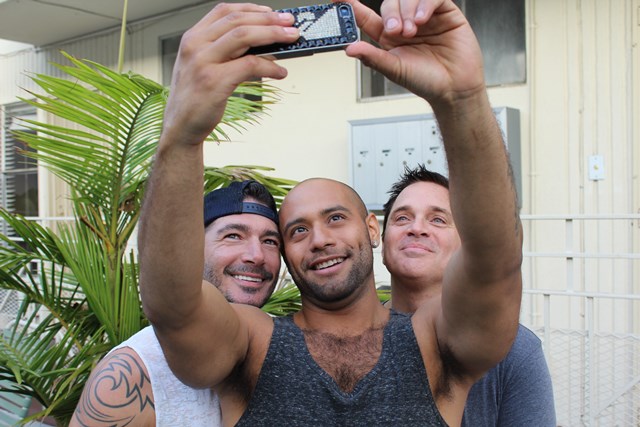 Text & Photos by Paulo Murillo
THE FIGHT caught a behind-the-scenes look at the shooting of popular gay web series, Child of the 70's.
Now in its third season, the show stars Michael Vaccaro (who also wrote the show), Ann Walker, Bruce Vilanch, Leo Forte, Terry Ray, David Zimmerman, Carole Ita White, Chuck Saculla, Sebastian LaCause & Geri Jewell. The web series follows Carlo Perdente–a struggling actor in New York, who loses his survival job, gets thrown out of his apartment, is dumped by his boyfriend, mistreated by his overbearing Italian mother, and is about to throw in the towel, when he has a chance encounter with his favorite '70s star KiKi Lawrence, that changes his life. Will he move to LA? Will his life be any better there? Will he find love? Career success? But most importantly, what will his mother say?
The scene took place poolside in an apartment complex located in the heart of West Hollywood. Without revealing too much, Director Tom Pardoe orchestrated a claws-out/drag-out cat fight that takes us back to the 80's show Dynasty. Let's just say Vaccaro and sexy adult entertainer Johnny Hazzard end up soaking wet.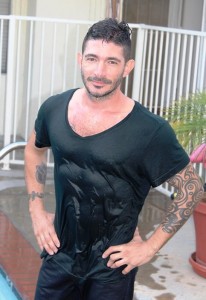 "This is the third season of our show and I've been waiting to do this scene for about three years now," Vaccaro told THE FIGHT. "I've had this story in mind for a long time. I didn't know how we were going to be able to do it and I was super nervous about it, but I think it turned out great. It was really, really fun."
According to Vaccaro, the show will hopefully premier at the end of March/early April of this year.
To check out previous episodes, visit theofficialchildofthe70s.com