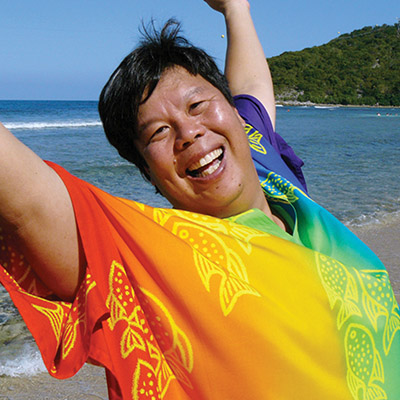 MATT YEE, SEE SATURDAY, MAY 10
WEDNESDAY, MAY 7
TINA AND GINA: KILLING US SOFTLY
West Hollywood Auditorium – 647 N. San Vicente Blvd, 7pm – 9pm. Community discussion on sex, meth and GHB in the gay community. Panel will include former users in recovery, medical information/updates and therapeutic interventions.
SATURDAY MAY 10
3RD ANNUAL DRAG QUEEN WORLD SERIES
Glendale Sports Complex, 2200 Fern Lane, Glendale 1pm-4pm, more info: DragQueenWorldSeries.com. Defending Champions, The LA Sisters of Perpetual Indulgence vs. The West Hollywood Cheerleaders! Proceeds benefit Life Group LA.
---
NOH8 CAMPAIGN OPEN PHOTO SHOOT
West Hollywood Elementary, 970 Hammond St, 1pm-4pm, more info: NOH8Campaign.com. In support of Relay for Life. Funds raised will also be used to continue promoting and raising awareness for marriage equality and anti-discrimination.
---
MATT YEE'S OUTRAGEOUS ADULT SING-ALONG
Don't Tell Mama, 8279 Santa Monica Blvd, WeHo, 8pm.  With Hawaiian funny man Matt Yee.
SUNDAY MAY 11
RAINBOW FISH #2: QUEER MIXER
Gal Palace, 131 S. Rampart St, 5pm-10pm. A safe space for LGBTQIA+ folks to meet and be themselves, whether it's to flirt, network, make friends, or just hang out and mingle.
MONDAY, MAY 12
BYOB GAY PAINT NIGHT
Paint & Sip Studio Los Angeles, 351 S. La Brea Ave #3 (Second Floor), Los Angeles, 8pm. Bring your favorite bottle of wine and come get your art on. A monthly gay paint night featuring the artwork of popular LGBT artists.
SATURDAY, MAY 17
LONG BEACH PRIDE FESTIVAL
Shoreline Drive, May 17 & May 18, 11am-11pm, for up-to-date info visit: www.longbeachpride.com. One of the premiere Pride events nationwide now attracting over 80,000 participants over the two-day celebration.
---
BACKTODISCO: 11 YEAR ANNIVERSARY PARTY
Circus Disco, 6655 Santa Monica Blvd, Hollywood, 8pm-11pm. Spinning all of your disco classics.
---
BEARS IN SPACE
Akbar, 4356 W Sunset Blvd, Los Angeles, 2pm. Get set for a terrestrial lot party / beer bust. Enjoy music, sunshine, food trucks, pop ups and intergalactic mayhem.
SATURDAY, MAY 25
MASTERBEAT PRESENTS XLSIOR MYKONOS MEMORIAL DAY
The Mayan, 1038 S. Hill Street, Los Angeles. 9pm-6am. Join thousands of men from around the world for the debut of XLSIOR, which promises to deliver the visuals, costumes and men of Mykonos Greece.
SATURDAY, MAY 31
PROM 2014
The Petersen Automotive Museum, 6060 Wilshire Blvd, Los Angeles, 8pm, more info: thetrevorproject.org. Celebrity hosts and musical performances. Proceeds benefit The Trevor Project.
---
CAZWELL AT TRANNYSHACK LA
The Dragonfly, 6510 Santa Monica Blvd, Los Angeles, 9pm. Also includes performances by Heklina, Love Connie, Killer, Ambrosia Salad, Cupcake Canne, Toxic Waist, Wendy Ho, Devan M., Sue Casa, Sugah Betes and Paulie Addams.