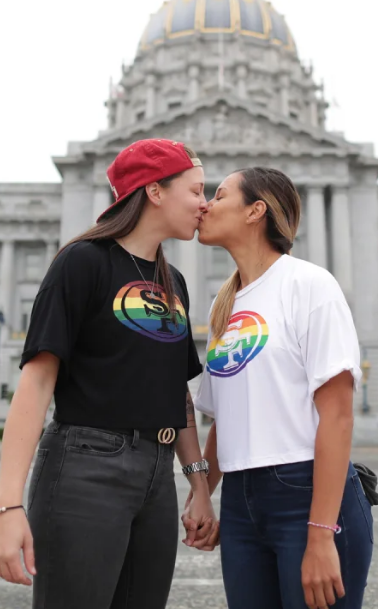 The San Francisco 49ers have announced month-long plans for the organization's annual celebration of June LGBTQ+ Pride month.
Led by 49ers PRIDE, the official fan club of 49ers Faithful who identify as LGBTQ+ and allies, the 2021 celebration will be highlighted by the 2021 49ers PRIDE Collection, the first-ever gender-neutral retail line released by an NFL team. Additionally, 49ers PRIDE will soon launch a new video content series and host a panel conversation on LGBTQ+ activism in sports.
2021 49ers PRIDE Collection: The brand-new 2021 49ers PRIDE Collection is currently the only genderless retail line released by an NFL team. The line was created in partnership with Fanatics and is meant to make the already expansive 49ers retail offerings more inclusive. When wearing these items, the Faithful will not only be supporting the team but also several relevant beneficiaries who will receive 100% of the 49ers proceeds from collection sales: San Francisco LGBT Center, Oakland LGBTQ Center, and The LGBTQ Youth Space: San Jose.