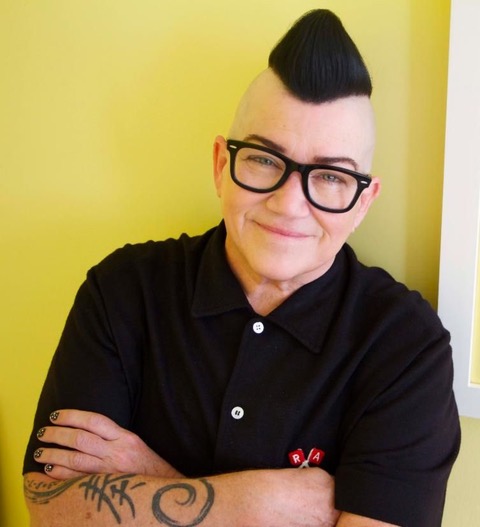 Lea DeLaria. Photo By Tina Turnbow
OUTshine Film Festival Miami will honor actress, comedian, and jazz singer Lea DeLaria with their Vanguard Award at their opening night ceremony, taking place Friday, April 23 at Dezerland Drive-In. 
The Vanguard Award recognizes notable individuals in entertainment for their contributions in helping to tell LGBTQ+ stories, as well as exemplifying outstanding leadership and support of community equality, representation, and education.  "It's an honor to finally be recognized for a long and illustrious career for muff diving," said the hilarious and often times audacious comedian from her home in Brooklyn, New York.  The award presentation will take place live, Friday, April 23, 2021 @ 7:00 PM at Dezerland Drive-In (14401 NE 19th Ave) in North Miami, as part of the opening night ceremony of The 23rd annual OUTshine Film Festival Miami.
"Lea DeLaria was the first openly gay comic on television in America and has enjoyed a multi-faceted, decades-long career as an actress, comedian and musician," says Victor Gimenez, Executive Director of OUTshine LGBTQ+ Film Festival.  "We're thrilled to honor and embrace her talent and support for the LGBTQ community with this Vanguard Award which we hope will inspire others to excel and achieve their dreams." 
In addition to her three-time, SAG Award winning, stand-out role as 'Carrie 'Big Boo' Black' in the Netflix hit series Orange is the New Black, Lea DeLaria has made memorable appearances in popular shows like Will and Grace, Friends, The Jim Gaffigan Show, and One Live to Live, among others.  Selected film credits include Cars 3, First Wives Club and Edge of Seventeen.
​​She received Obie & Theater World Awards, and a Drama Desk nomination for her portrayal as 'Hildy' in the Public Theatre's revival of On the Town, and played both Eddie and Dr. Scott in the gender-bending Broadway musical, The Rocky Horror Show.
​​Ms. DeLaria has released six jazz records on the Warner Jazz and Classics label and her book, "Lea's Book of Rules for the World," is in its third printing at Bantam Doubleday and Dell.
The 23rd annual OUTshine Film Festival Miami edition will take place April 23rd to May 2nd.  It will feature 80+ LGBTQ films from around the world beginning with the opening night presentation of Potato Dreams of America, a semi-autobiographical comedy film that follows director Wes Hurley growing up in Russia and coming to the United States with his mail-order bride mother.  Additional highlights for the week include The Triple Threat, A Good Man, the documentary Keyboard Fantasies and the Closing Night film Charlatan. 
Due to the ongoing COVID-19 pandemic, this year's Miami edition will be held predominantly online.  Tickets to all OUTshine Film Festival Miami edition films are on sale now at outshinefilm.com. 
Follow on Facebook @OUTshineFilmFestival, on Twitter @OUTshineFilm and on Instagram @OUTshineFilm.