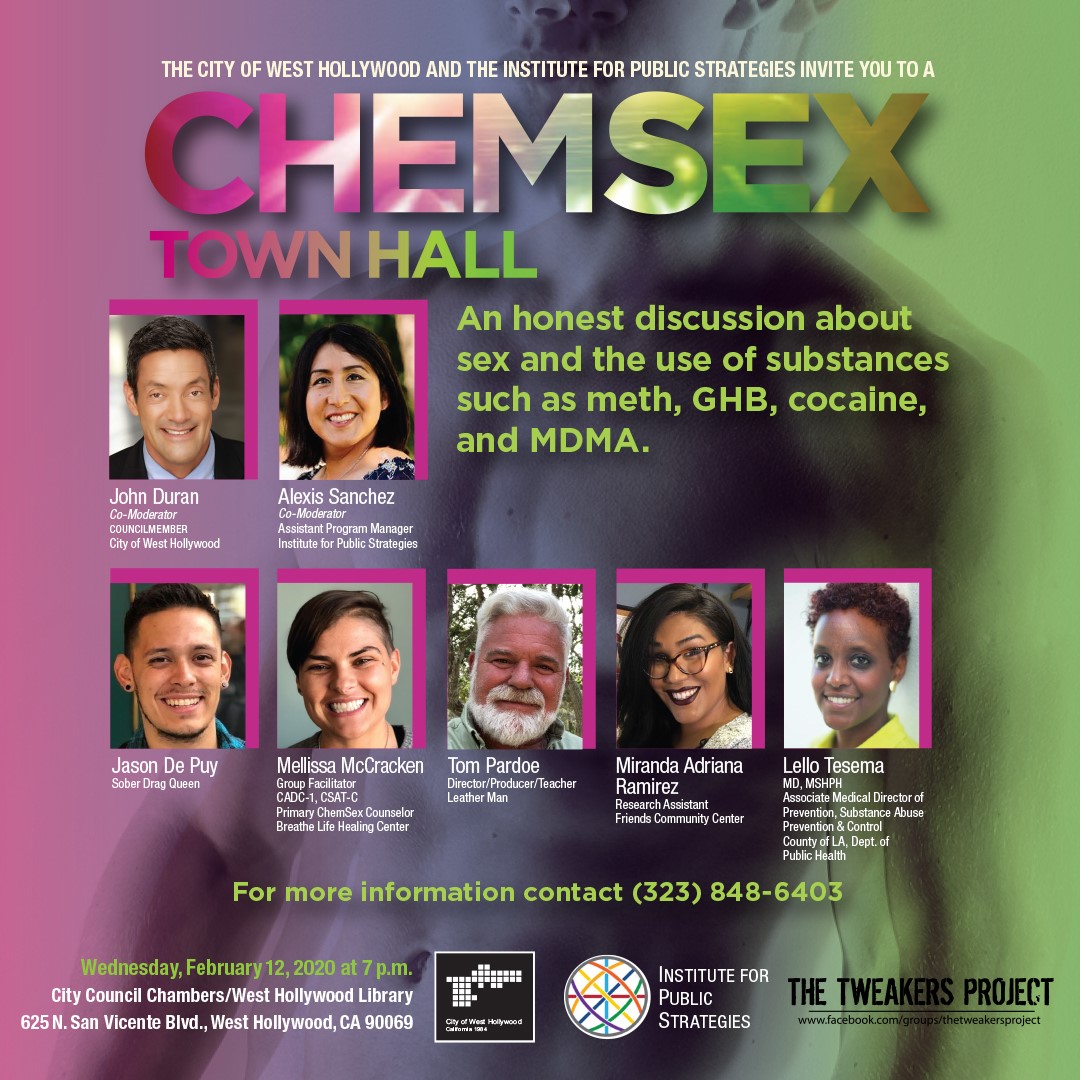 The City of West Hollywood will host a Chemsex town hall forum in partnership with the Institute for Public Strategies to provide information and raise awareness about chemical sex ("Chemsex") and to promote harm reduction and sober sex among community members, with a special emphasis with men who have sex with men (MSM) and sex workers.
The Chemsex town hall forum will take place on Wednesday, February 12, 2020 at 7pm at the City's Council Chambers/Public Meeting Room, located at 625 N. San Vicente Boulevard. 
Chemsex is the consumption of substances such as meth, GHB, cocaine, or MDMA, among other substances, to facilitate or enhance sexual activity. According to studies, men who have sex with men who consume drugs during sex may help them to manage negative feelings, such as lack of self-esteem and confidence, internalized homophobia, or stigma about HIV status. The Chemsex town hall forum will include a panel of experts, including former participants and will facilitate an honest discussion about sex and the use of substances.
"West Hollywood is more than 40 percent LGBTQ and we are a sex-positive community," said City of West Hollywood Councilmember John J. Duran. "The reality, though, is that Chemsex — the consumption of substances to facilitate or enhance sexual activity — comes with risks that can be deadly. We know that men who have sex with men are at disproportionate risk. The City of West Hollywood supports a wide array of direct services including substance use, recovery, and health and mental health services and we have a responsibility to engage in honest conversations about trends in our community that can lead to dangerous consequences. Talking with one another about Chemsex, reducing stigma, and raising awareness will help promote behavior change and harm reduction."
For additional information, please visit www.weho.org/wehocares.