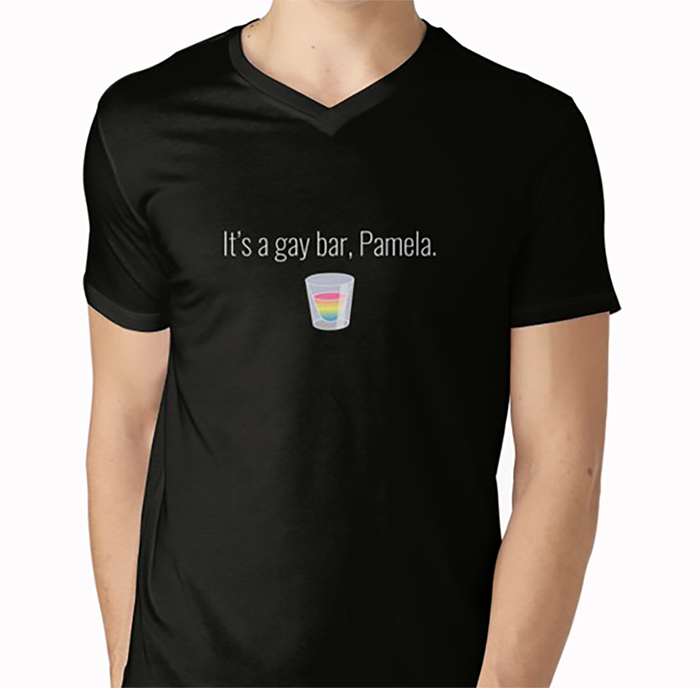 ---
A straight Trump supporter accidentally spawned a gay meme.
---
THE FACTS OF LIFE AND SILVER LININGS 
Proctor & Gamble subsidiary, Always, will change its packaging on feminine hygiene products to embrace those transmen and non-binary people who menstruate and might use their pads and tampons. This means they will remove the Venus female sign, the circle with a plus sign at the bottom, that recognizes that Always' main customers are women. 
Yes, cisgender male readers of THE FIGHT, I have decided to lead this column with a few words on menstruation, your favorite subject. In a CBS report, one doctor also observed that "cis women who can't menstruate and trans women are harmed by the assumption that menstruation defines femininity. Less ink for printing, better for planet. This is a win all around."
Oh my God people! Menstruating is horrible and everyone hates it. I remember learning about it in a "facts of life" talk with my mother but for some reason coming to the conclusion that it would only last a few days. Later, I was informed that it would occur every month for many decades; one of the most appalling revelations of my young life. I mean WTF? These products should be packaged in black with a warning. Who cares about trans-inclusivity in this context, let alone cis women who might be offended by the tie-in between gender and this profoundly annoying biological process?
The only silver lining, so to speak, was the side effect that you could always suddenly walk out of class or out of a meeting with a look and a vague remark, and all the men would avoid your eyes and nod and forego any questions.
"I'm sorry Mr. Turner. Will you excuse me?"
"Oh, Ann. Yes, of course. Please. It's fine. Um, go ahead and um… Yes, fine."
Plenty of time for a cigarette, or even an hour in the bar.
---
JUDICIAL MODESTY AND DRASTIC CHANGES
The big news last month, of course, concerned the two hours of oral argument before the Supreme Court on two questions relating to Title VII of the Civil Rights Act of 1964, the federal law that outlaws  workplace discrimination on the basis of sex and other factors. Question one asked whether gays and lesbians were protected on this basis; question two asked the same about transgender men and women.
I listened to the proceedings, and indeed, if you're interested you can find the October 8 audio on SCOTUS blog. I suppose there's a chance we might prevail, but I'm sad to say I think the odds are against us. Much was made of the fact that Justice Gorsuch seemed sympathetic to the argument that the text of the law weighs in our favor, since sexual orientation and/or transgender status are inherently subsets of "sex" itself.
That said, Gorsuch also mused that "judicial modesty" might require the Court to take into account the "massive social upheaval" that such a "drastic change" would provoke. In fact, many courts, if not most courts, already believe that GLBT people are protected under Title VII, while the vast majority of major corporations voluntarily ban GLBT discrimination as do a couple dozen states. So what's Gorsuch talking about? Whatever it is, it does not bode well for us. His buddies, Thomas and Alito are certainly votes for the other side. Justice Kavanaugh said virtually nothing, while Roberts worried about religious freedom.
We'll see. A ruling is expected next spring. Lucky for you, I've written a lot about this subject lately and now find it a tedious topic. I can add that a Marquette Law School poll of 1,423 Americans just found that 61 percent believe we should indeed be protected under federal workplace standards, while 30 percent disagreed. So much for drastic social upheaval.
---
IT'S A GAY BAR, PAM
I love the social media meme that arose after Trump's Minneapolis rally last month. I guess the Trump Baby blimp was secured to the roof of the Saloon, a gay bar known for drag shows and the weekly "shower contest." 
After the Trump Baby news was linked to Facebook, a grey-haired woman from Olivia, Minnesota (population 2,500) named Pam Ogletree, texted: "The Saloon lost my business."
One of the first replies to Pam's announcement was: "It's a gay bar, Pam." A screen shot of that exchange went viral, leading to amusing memes and even a T-shirt with those words.
If I were Pam, and had the slightest sense of humor, I would grab fifteen minutes of fame by admitting some second thoughts and announcing that I would indeed drop by the Saloon for a drink on Saturday night. Perhaps Pam could take the stage after one of the drag shows and raise a glass to the assembled crowd. In my experience, the gang at a place like the Saloon would give her a rousing welcome under those circumstances.
---
THEY'LL ALWAYS HAVE PARIS
Speaking of non-binary people, I was reading about an enigmatic entity called the "blob," a large single-celled slime mass that just arrived at the Paris zoo. The yellow organism has almost 720 sexes, Reuters tells us, can heal itself and seems to manifest intelligence. It can digest food even with no stomach, and it can figure out how to go through a maze. When separated it can merge back, and when connected to a different blob, the merged result will have the knowledge of both original blobs. (Question, wouldn't the new blob be two-celled? If so, could you not create larger and larger multi-celled blobs?")
"The blob is a living being which belongs to one of nature's mysteries", said Bruno David, director of the Paris Museum of Natural History. To many of us, the creature brings to mind the Orville's assistant chief engineer, Yaphit.
I just checked, Orville fans, and season three is going to be on Hulu next year. Apparently, Seth McFarland needed more leeway and a bigger budget, so it sounds like it will be worth the wait. That said, how many extra streaming subscriptions are we in for at this rate? Netflix, Britbox, Acorn, CBS all access, and now Hulu? It's too much.
---
SEX, LIES, AND POLITICS 
Finally, what's the story with Congresswoman Katie Hill? The bisexual representative from Agua Dulce is involved in a messy divorce and has been hit with sexy same-sex online photos and texts. She is alleged to have had a three-way affair with a female staffer and the aforementioned husband, who presumably is to blame for the embarrassing postings. 
Hill, 32, is also accused of having an affair with her legislative director, Graham Kelly. She denies this, although she admits the story about the campaign staffer is true.
"During the final tumultuous years of my abusive marriage, I became involved in a relationship with someone on my campaign," she told constituents in a letter. "I know that even a consensual relationship with a subordinate is inappropriate, but I still allowed it to happen despite my better judgment. For that I apologize."
Hill is now the subject of a House ethics inquiry—I think because of the Graham Kelly allegations.
---