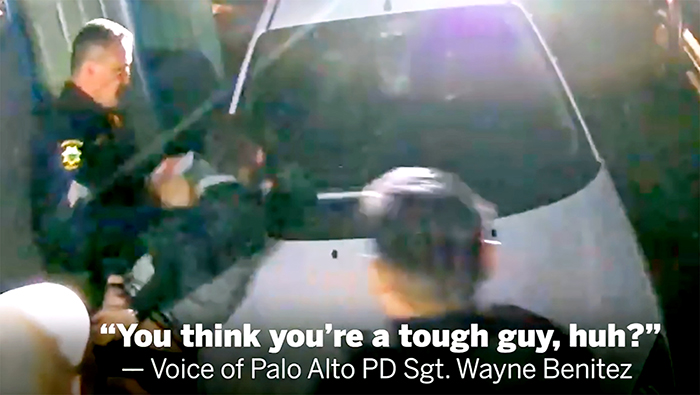 CA Police Officer Who Beat, Mocked Gay Man Gets $100K A Year
A California police officer was put on leave earlier this year after he was recorded hitting and berating a gay man. Now, he's retired and receiving a pension of over a hundred thousand dollars a year, reports LGBTQ Nation.
Gustavo Alvarez filed a federal lawsuit against the Palo Alto Police Department this past April, alleging that several officers—including Sgt. Wayne Benitez—used excessive force when he was pulled over and arrested in February 2018.
Sgt. Wayne Benitez and several other officers broke his door, arrested him, slammed him against a car and made him bleed, while making several homophobic comments.
The incident happened when Alvarez was being arrested for allegedly driving with a suspended license. Benitez and several other officers broke his door, arrested him, slammed him against a car and made him bleed. Benitez even threatened to make him bleed more if he continued to complain. He believes this happened partly because he is gay, as the officers made several homophobic comments about him during his arrest, reports LGBTQ Nation.
A judge later dropped the charges due to a lack of evidence, and after initially declining to release the video of the attack, Alvarez's lawyers were able to release it in July of this year.
The arrest was caught on a disturbing video from a camera that Alvarez had set up in front of his house. This serves as the only video recording of the incident, as the officers had removed their body cameras and parked their cars facing away from his house to prevent being on tape from their dash cameras.
They still had on mics however, which recorded their homophobic comments, reports LGBTQ Nation.
Sgt. Benitez was placed on administrative leave by the department, but was still allowed to officially retire after 19 years on the force. He is now receiving a $9,866 monthly pension payout, part of his $118,600 a year retirement package, according to the California Public Employees' Retirement System.
"Obviously the police department and the city of Palo Alto thus far have failed to step up and condemn the actions of these officers," Alvarez's attorney Cody Salfen told Mercury News. "To think that taxpayers are still rewarding him is incomprehensible at this point in time and history."
"This speaks volumes to our claims that the agency suffers from a culture of violence, a culture of covering things up, a culture of failing to adhere to their constitutional duties as police officers to the point that they are breaking their own policies and therefore, the law," Salfen said.
Alvarez's suit also says that Benitez did not file a use of force report, even though he hit and slammed Alvarez against the car windshield.
"It's disgusting and symptomatic of a department that tolerates its employees breaking the law," he added.