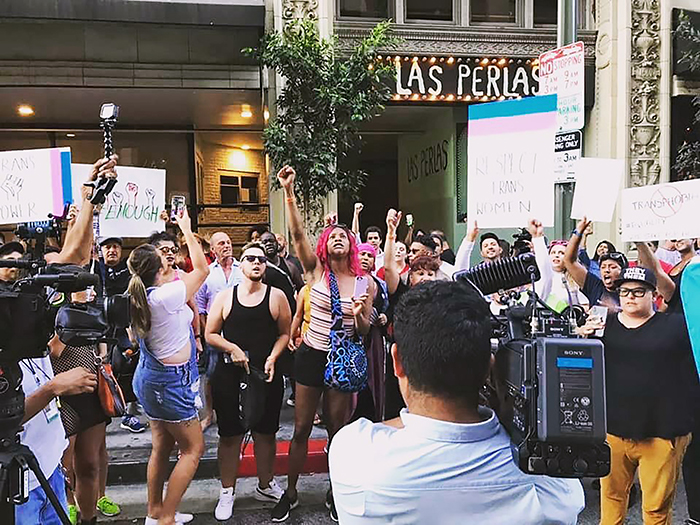 A rally in support of trans women forcibly removed from a DTLA bar after a straight couple attacked them.
BY VICTOR MELAMED
Several transgender women were aggressively and forcibly removed from a downtown Los Angeles bar-restaurant last month during DTLA Proud weekend—after they were attacked by a straight couple.
The transgender group, along with several gay men, said they were grabbed and made to leave the bar Las Perlas.
Cellphone video of the incident, widely shared on social media, shows Jennifer Bianchi, one of the women, repeatedly saying, "Don't touch me like that."
A friend of hers is shown being violently pulled off a chair and carried out the door, in a chokehold.
The group at the bar was comprised of staff and volunteers from a local nonprofit, Bienestar Human Services who were there to support DTLA Proud, the annual two-day festival held in Pershing Square.
Khloe Rios, the manager of Transgeneros Unidas, told CNN that they were celebrating at Las Perlas bar after the first day of the festival when a couple began directing "transphobic slurs" at their table.
Rios said that at first, she and her group, which included transgender women of color, gay men of color and a gender non-conforming person, told the couple to leave them alone. The two seemed drunk, Rios said, so her group didn't take them very seriously.
Then, Rios said, the man became physically aggressive toward one of her coworkers. She said her group immediately tried to protect their coworker from being harmed.
"We just wanted to protect each other," Rios said. "We were trying to get them off our backs. We didn't want confrontation but they were being very violent."
Rios said the bar's manager and security personnel soon arrived and tried to de-escalate the situation. She said they asked the couple to leave and started "gently" escorting them outside, but handled her group forcefully.
"They never asked us to leave. They asked us to leave when we were being pushed out."
The next day hundreds from the LGBTQ community protested outside the bar. The demonstrators chanted "Trans lives matter."
Bienestar Human Services posted on Facebook: "Thanks for showing your support and for standing with our Trans Sisters tonight. We'll continue to fight for respect and equity for all."
The LAPD, in a tweet last month, said: "Whether in public, or inside of a private establishment, all Angelenos deserve the freedom to coexist in harmony. Although we cannot comment on an ongoing investigation, rest assured the LAPD will thoroughly investigate the incident at Las Perlas."
LA Mayor Eric Garretti also addressed the issue, tweeting:
"Los Angeles is a place where hate against any person, regardless of gender identity, is not tolerated. My office is in communication with @LAPDHQ about the incident at Las Perlas, and will ensure a proper investigation is completed."