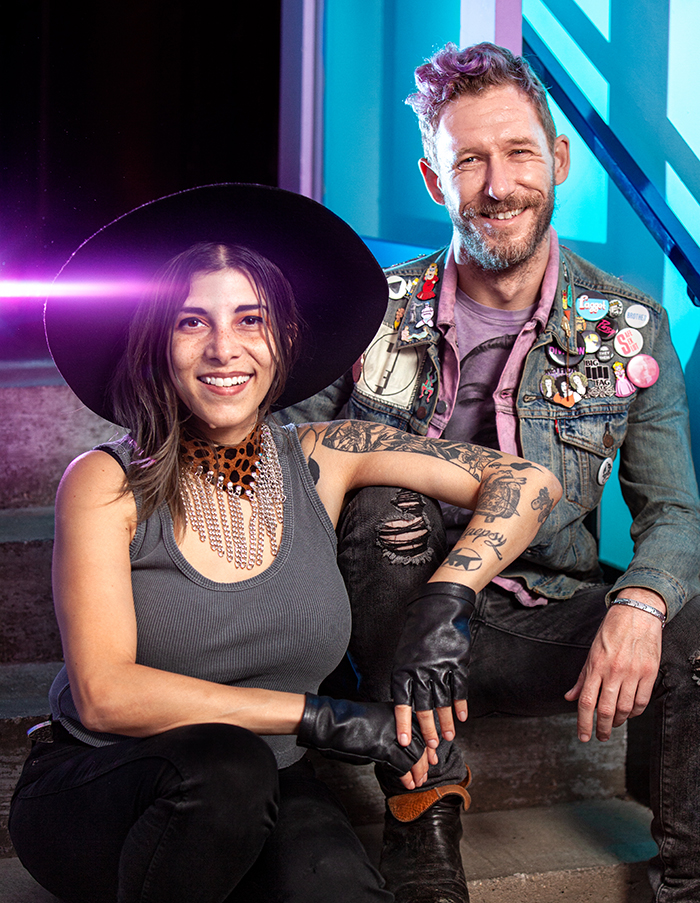 Nathan Rapport and Suzy Mae, co-owners of downtown LA's "A Love Bizarre" and "Neon Altar" on queer art, magic and community.
BY MARK ARIEL  |  PHOTO BY DUSTI CUNNINGHAM
A Los Angeles based queer focused fine art gallery and gift shop—A LOVE BIZARRE is a brick and mortar neon and glitter fantasy shopping experience.
The shop also incorporates Neon Altar—a modern metaphysical marketplace for intuitives, witches, and tarot readers.
The masterminds behind this downtown piece of heaven are Nathan Rapport, a "24 year old artfag from the midwest" and Suzy Mae, a "mixed queer artist who makes magic."
"We met in 2001, as teenagers working at a dusty and trendy vintage retail store called Ragstock, located on Chicago's at-the-time very hip Belmont street, a block from Boystown," reveals Rapport in an interview with THE FIGHT. 
"We bonded instantly and spent our nights together watching Showgirls and old John Waters films, sharing music, and connecting over our high school experiences… We had the same sick sense of humor, desire to imagine and create fantasy, and intense, unstoppable, pathological artistic drive."
Years later, after they both found themselves in LA, their collaboration process was "super-intuitive," confides Mae.
"We have a great respect for each other, and a similar work ethic. Though we had seen each other a handful of times throughout the years we lived in different cities, and kept up through social media, we truly reconnected when Nathan moved back to LA. We live fifteen minutes apart, and after a few weeks, ended up hanging out nearly every day, inspiring and motivating each other in what we called our 'work sessions.'   
"Nathan had been nurturing his art and wearables line after wrapping a successful tour supporting his coloring book, Last Night I Dreamt That Somebody Loved Me and moving back to California from Austin. I had created my online metaphysical shop, Neon Altar, during breaks from freelance advertising work. We both found ourselves completely invested and devoted to our creative projects, and became major support systems for one another. Collaboration began to happen organically as we continued to create work, build our brands, and worked together producing a series of pop-up events."
"As a 24 year old artfag in the midwest I ached to spread my wings and engage in my broader community," says Rapport. "In 2005, I moved with a couple suitcases to San Francisco, and within two weeks of arriving, I found myself out late on a Tuesday night at Trannyshack. This night changed my course in more ways than I could predict at the time. In this community I saw collaboration, respect, and a group of truly brilliant, wildly sharp creatives playing with music, staging, fine art and drag, combining these elements to tell stories and create heightened experiences. I quickly fell madly in love with this motley crew, and jumped right in with the big girls. Nikki Sixx Mile was born, and I found myself a strong voice and loving place within the SF drag and art community. My near decade in the city was a time of creating, exploring, growing family, and intense collaboration. I made art non-stop on and off the stage, collected my stories, and honed my craft…
I moved back to LA just over two years ago… I knew I was experiencing a moment of high visibility with my art, so I plunged full time into creating work for gallery shows and nurturing my line. I've wanted to create a queer gallery space for years, and as I immersed myself in the booming LA queer art scene, I quickly felt this was the right place for me to execute this vision."   
"My identity lives at the intersection of multiple tensions, says Mae. "I'm biracial and bisexual. I'm an indie artist who paints and performs, but also a professional advertising strategist. I call myself a queer witch because it's the simplest term to describe what drives me: art, ritual, research, and community. There has never been a path laid out for me to follow. I wasn't raised with much expectation of a future—I grew up in a religion that believes Armageddon is a certainty, with little money or familial support. So I had to create myself, and I appreciate that freedom. I believe that queer people and witches are similar in that both groups believe that who feel they truly are on the inside, is who they deserve to be on the outside, and they actively engage in creating their personal stories. We have stopped hiding from ourselves."
"A Love Bizarre serves two purposes, a platform for queer artists to show work and represent the creative queer community, and a metaphysical marketplace to discover tools for personal practice and self discovery," states Rapport. "Although our store holds two individual concepts, our visions are so complementary, most people don't feel any division. Nathan Rapport Art and Neon Altar have existed as our two separate online brands, and as we continued to grow them side by side, we began to pick up on shared themes and common threads. Both of us firmly believe in the parallels of magic and the queer experience, so our individual visions were harmonious from the start."
"We've had mutual desire for some time now to create a brick and mortar experience for our visions to live and breathe more permanently," reveals Mae. "We began to talk casually about this idea last year, and just before Christmas an opportunity to open up a space behind our new favorite hangout, Bar Franca, in downtown LA, presented itself. We weren't really prepared, both financially and mentally. But the fit was too perfect, and the warmth and support Bar Franca's owner, Rachel Thomas, was offering us was inarguable. This new venture would be a permanent home for our visions, and create much needed physical space in our city for our queer community. Community is crucial to our vision, so we collaborate on events together, and work with people in our world to create shows, openings, and product releases that resonate with our downtown, east-side, queer and curious audience." 
---
A Love Bizarre is located at 438 S Main St,
Los Angeles, CA 90013. Follow them at @alovebizarrestore.