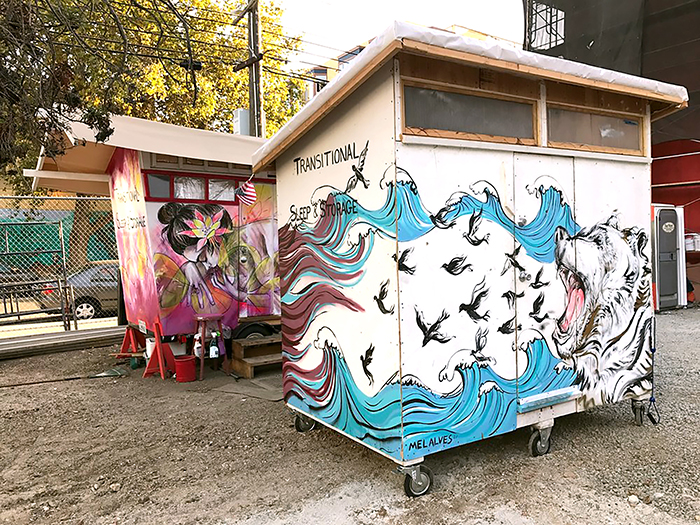 The founder of the Saint Francis Homelessness Challenge, Amy Farah Weiss, on sheltering unhoused SF residents and reintegrating them into the community.
BY BRENDEN SHUCART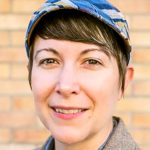 Amy Farah Weiss is the founder of the Saint Francis Homelessness Challenge, and has twice campaigned for Mayor of San Francisco on a platform of solving the City's homelessness crisis.
She has a plan to create "Safe, Organized Spaces," essentially small villages of "tiny homes" on unused public land to help shelter unhoused SF residents, re-integrate them into the community—and heal some of our most traumatized neighborhoods.
Could you begin by describing the state of San Francisco's homelessness crisis? How many SF residents are unhoused, and what is the City doing to shelter them?
The estimate is something around 3,500 people that are living on the streets. The estimate of the total amount of homeless population is something around 7,500 people, and there are about 2,300 shelter beds. The city estimates that they currently have somewhere around 7,700 supported housing units, and a good percentage of those are rent subsidies. There's maybe somewhere around 3,000 that are actually city-owned buildings.
So, there are definitely more than a thousand people living on our streets and sidewalks, and I think we can safely determine that it's at crisis level if you have more than a thousand people living on the streets in your community.
---
If you have people that are given a place to belong and not only that, but told "We need you. We need stewards to help with healing in this area." That translates, and can have an exponential value for the community.

---
So far, Mayor London Breed, since she came into office, has added a net gain of something around 200 shelter beds. This new Embarcadero center would add another 125 to 225. That's the goal, and we're seeing how much challenge we're having with that specific location to add those beds. That means that, if those 200 beds are added, there's another 600 that Mayor Breed has pledged to add over the following year.
We see that, in 2019, we're still going to have thousands of people living on the streets. We're still going to have somewhere between 1,200 and 1,400 people on a shelter waiting list. Best-case scenario we only take a few hundred off of that shelter wait list. We still have thousands of people living in crisis, on the streets.
What are Safe and Organized Spaces, and how would they work to address the crisis?
I've been working the last three years to figure out how do we put together a code-compliant way to activate under-utilized land with emergency shelter response that's truly community-integrated, which means that people are living in a Safe Organized Spaces that meet California state code and have all the bells and whistles of what you would need for good property management: license agreements, insurance, baseline health and safety standards, best practices, guided operations, a built-in process for multi-stakeholder input and evaluation, and site-specific operations and participation agreements.
So, the goal is to activate these spaces with Safe Organized Spaces that are essentially the transitional village model, which we have really good data and best practices model, the one that I like the best is in Seattle.
What does the Seattle model look like? What's a day in a life in one of these transitional villages?
It really depends upon the needs of the particular group how much external support that is provided with on-site staffing because imagine this: you can have a group of people that is able to operate within a small, off-grid village. Let's say there were 75 people on a site. You would break it up into groups of 20, or smaller groups so that every group has its own nucleus, kind of like a Burning Man camp: smaller groupings that are operating things and having things function.
Let's say you, I, and 18 other people were living in a small, off-grid village. We knew that there's trash services that need to be taken care of. We know that there's toilets. We know that there's a safety and security plan that we need. You could figure out within those 20 people everybody has certain contributions that they're making, and responsibilities. I'm responsible for ten hours of doing this a week, while you're responsible for ten hours of doing that. That could include being the person who's on shift for security. What happens in these villages in Seattle is that, if you walk up, there's a gate, and it's locked overnight. It's open during the day, but there's someone who's on shift to be on the lookout for if people are coming in and greet them, and at night, the same type of thing…
There would be access to a transitional vocational coach. If you've already gone through the navigation center or the shelter and you've done your assessments. You know what your path is. Even so, you should be checking in with someone at least once a month on those goals, and you could have access to them more than that, if you wanted to, because the goal is not that you're staying in this transitional village indefinitely—it's transition. But it's helping you either get from the street or a more restrictive shelter setting, it's a stop along the way to permanent housing.
Then there would be a "community integration manager." They would be responsible for helping integrate the village within the larger community,
How do you integrate these villages into the larger community?
Seattle created an ordinance that said, "We're going to create an interim permitting set of guidelines so that, if you can check all these boxes—you have a license agreement, you have insurance, you have a management plan, you have a fire risk mitigation, all these things for a good property management—then you can get this interim permit. You don't need to get a conditional use permit because that would mean you'd have to go to all the neighbors and ask for permission to do this.
We're not asking for permission from the neighbors to do this, we're asking for participation from the neighbors to do this… The beauty of a community advisory committee is you're saying "We're going to get three neighbors who live in the area, the three service providers, and three representatives from the village residents and they are going to be the group that comes together and deals with issues that come up."
So, you have three village residents, three neighbors, three service providers, and it's the nine of you that are making decisions about things that affect the community.
What would it cost to house all of the SF residents currently living on the streets in Safe Organized Spaces? And what is your proposed model for paying for it?
The operating costs—if you include shower, food truck, and all these juicy things that I think make it a really good project—is $231,000 per year for 20 residents. If you had $20 million, you could create Safe Organized Spaces for a thousand people, and that's giving a $4 million buffer contingency fee. And remember, right now over $10 million is what we spend for DPW just cleaning up the encampments. Then, $20.6 million for SFPD, just for encampments. And, if you factor in Department of Public Health and you factor in other outreach services, we're spending over $50 million just to maintain encampments.
So these villages would essentially pay for themselves within the current budget.
You could have a community wellness hub, and the people who are living there will have as part of their operations and their agreement that they're going to give ten hours per week to support the neighborhood or the village. Imagine if that was a little hub where people could go in and get free acupuncture in the community wellness hub, or use the toilet, or there's a certain amount of free meals they give away at the food truck. There's so much need in this area that, when you say it would "pay for itself," I see these exponential benefits. If you have people that are given a place to belong and not only that, but told "We need you. We need stewards to help with healing in this area." That translates, and can have an exponential value for the community.