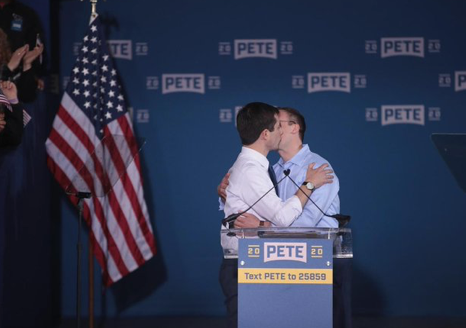 As you must already know – Mayor Pete Buttigieg ceremonially announced his campaign yesterday in the rain in South Bend, Indiana.
At the end of his speech he and his husband Chasten Buttigieg kissed, getting a thunderous round of applause, reports LGBTQ Nation.
Buttigieg is the first LGBTQ candidate in the Democratic presidential primary, and people noticed the historic moment when he kissed his husband on stage and posted an image of them holding hands on his campaign website, an act of defiance that results in harassment and violence for so many same-sex couples today, reports LGBTQ Nation.
READ MORE HERE:
https://www.lgbtqnation.com/2019/04/mayor-pete-kissed-husband-announced-campaign-brought-lgbtq-people-tears/?utm_source=LGBTQ+Nation+Subscribers&utm_campaign=34c66c0b24-EMAIL_CAMPAIGN_2019_04_15_03_33&utm_medium=email&utm_term=0_c4eab596bd-34c66c0b24-430297749