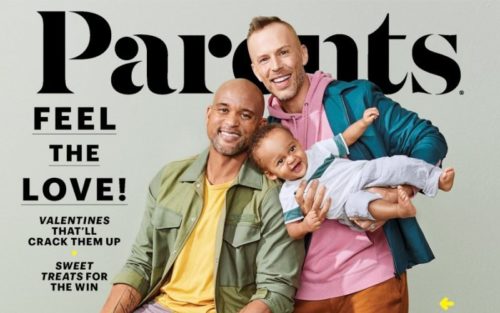 Christian conservatives are outraged at that the cover of Parents magazine this month will feature a gay couple and their children, reports LGBTQ Nation.
Shaun T. Fitness, a fitness motivational speaker, his husband Scott Blokker, and their twins, are on the cover of Parents magazine. The magazine is also running a feature piece about their many attempts to have kids through surrogates.
They are the first same-sex parents featured on the cover of a magazine that has been around for almost a century, reports LGBTQ Nation.
One Million Moms, a project of the SPLC designated hate group American Family Association, is horrified that a magazine about parents would feature a story about two parents and their attempt to become parents, saying that it promotes "the pro-homosexual lifestyle."
"It could be displayed in waiting rooms of dentist and doctor offices, where children could easily be subjected to the glorification of same-sex parents," the group said.
READ MORE HERE:
https://www.lgbtqnation.com/2019/01/conservatives-outraged-gay-couple-cover-parents-magazine/?utm_source=LGBTQ+Nation+Subscribers&utm_campaign=2ef23996ab-EMAIL_CAMPAIGN_2019_01_18_06_29&utm_medium=email&utm_term=0_c4eab596bd-2ef23996ab-430297749