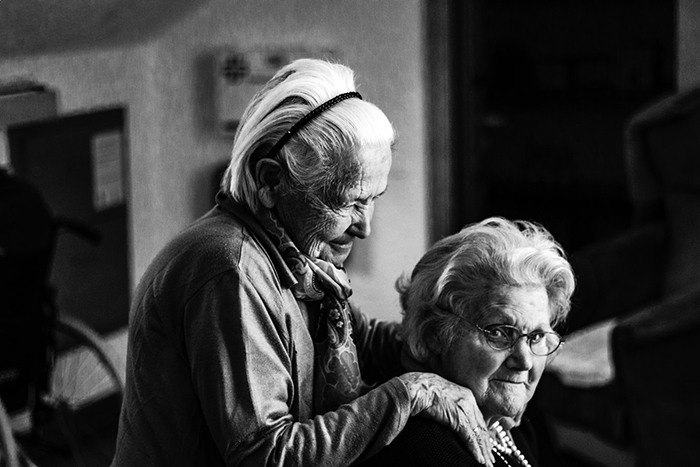 SACRAMENTO
New Bill Approved Supporting  LGBTQ Seniors
California Gov. Jerry Brown has signed a new bill into law that will support the inclusion of LGBTQ seniors in state-administered programs and services for the elderly, reports NewNowNext.
AB 2719, authored by Assemblymember Jacqui Irwin and co-sponsored by SAGE and Equality California, adds sexual orientation, gender identity, and gender expression to the definition of elderly communities that will receive priority for resources from California's Department of Aging. The department helps seniors across the state find employment opportunities, receive healthcare and support, and find community among other elders.
Previously, the bill passed unanimously through both chambers of California's state legislature earlier this year.
---
ORANGE COUNTY
Man Denies Hate Crime Was Motive For Killing gay Ex-Classmate
Samuel Woodward, 21, the man who was charged in the stabbing death of his former high school classmate Blaze Berstein, 19, denied an allegation in a sentencing enhancement that states hate crime was the motive behind the slaying, during his appearance at Orange County Superior Court last month.
Woodward is accused of stabbing Bernstein and burying him in a shallow grave at Borrego Park in Foothill Ranch. Woodward told investigators that Bernstein kissed him while they were sitting in a parked car, and that the kiss was unwanted and he pushed Bernstein away.  He and Woodward both had attended the Orange County School of the Arts in Santa Ana.
Prosecutors believe Woodward killed Bernstein because he was gay. Woodward could face life in prison without parole if convicted with the sentencing enhancement. 
---
LOS ANGELES
Ricky Martin To Be Honored At Center's Vanguard Awards
Ricky Martin is set to be honored at the 49th anniversary Gala Vanguard Awards, held annually by the Los Angeles LGBT Center. The charity event honors Los Angeles-based leaders and influencers for their LGBT advocacy. Previous recipients of the Vanguard Awards include the likes of Miley Cyrus, Jane Fonda, Elton John, George and Brad Takei, and Wanda Sykes.
Others to be honored at the Gala include producer, writer, director Greg Berlanti and his husband producer Robbie Rogers, and philanthropist Ariadne Getty at the 49th anniversary Gala Vanguard Awards on Saturday, September 22, at The Beverly Hilton.
For tickets and more info visit: www.lgbtvanguardawards.org.
---
SAN DIEGO
Hillcrest Area May Get Free Downtown Shuttle
The app-based free shuttle service known as FRED (Free Ride Everywhere Downtown) is being considered  to expand to Mission Hills, Hillcrest, University Heights and Barrio Logan areas in San Diego. The app launched throughout downtown two years ago, and has become very popular, reports San Diego Union-Tribune. 
What started out as a fleet of 15 has grown to 22 and will increase to 25 and then 30 by 2020.
FRED is funded by parking meter revenue and private advertising.
For more info visit www.thefreeride.com/fred.
---
PALM SPRINGS
Toucans' New Owners Vow To Stay True To Spirit Of Gay Nightclub
The new owners of the recently purchased Toucans say they will "stay true" to the spirit of beloved gay nightclub, which was recently purchased by chef, restaurateur and hotelier Tara Lazar, who founded hospitality company Foundation 10 Creative, along with F10 beverage director and partner Steen Bojsen-Moller and Dave Morgan, CEO of local marketing agency Reaction Marketing & Promotions.
"We are so excited to nurture Toucans in its new era, cultivating the best of it, while elevating the experience for locals and visitors alike," Morgan stated in a press release. "Live entertainment will continue to be at the forefront."
According to Morgan the city's longest continuously running drag show, Tommi Rose & The Playgirls, as well as popular after-parties for the Palm Springs International Film Festival and Cinema Diverse will continue at Toucans. The new owners plan to enhance the charm, but stay true to its familiar roots.