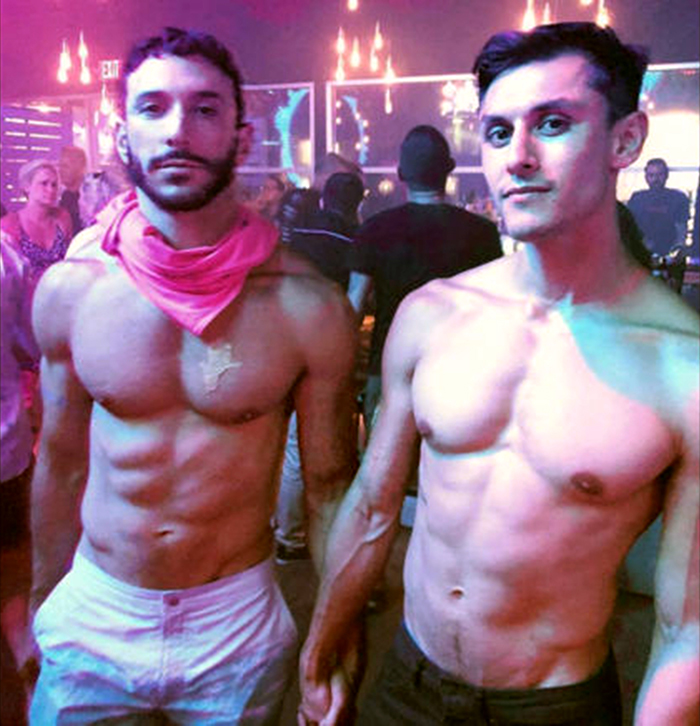 WEST HOLLYWOOD
Gay Couple Mugged At Gun Point
Boyfriends Jorge Muñoz and John Gavegnano, were mugged at gun point in West Hollywood on Saturday, July 21. The incident occurred at the intersection of Huntley and Sherwood, between Santa Monica Boulevard and Melrose Avenue at around 1:45am. The assailants walked away with the couple's wallets and cellphones, reports WeHo Times.
Muñoz described the assailants as "two African American men, both in their late 20s, or early 30s—wearing all black, baggy clothes. A second report was made by individuals who were mugged a few blocks away that night—also at gun point. The case has been assigned to a detective.
Anyone with information on the two suspects is encouraged to call "Crime Stoppers" by dialing (800) 222-TIPS (8477), or by visiting the website http://lacrimestoppers.org.
---
LOS ANGELES
Two Dads Stabbed By Adoptive Son
A man stabbed his two adoptive dads after an  argument at the family's home in Sherman Oaks last month.
Ken Coll and Tom Boulet landed at a local hospital with stabbing wounds and both underwent surgery. They were attacked with a pocket knife by their 21-year-old son, Matthew Boulet, who they adopted as a child. It is unclear what sparked the violence, but according reports, police are investigating whether mental illness was a factor.
Matthew Boulet, was home from college on summer break. He was apprehended by police at the house without incident. He could face attempted murder charges.
---
SAN DIEGO
Fund Established For LGBT Global Refugees
The San Diego Center of Survivors of Torture International established a special fund to help LGBT refugees and asylum-seekers in San Diego County. City Commissioner Nicole M. Ramirez and the Imperial Court de San Diego founded "The Bruce M. Abrams GLBT Torture Survivors Fund" with a $2,000 grant.
Attorney Bruce M. Abrams has been an activist for the Jewish and LGBT community and countless social justice causes for well over thirty years. Currently, Abrams is the Chair of City of San Diego's International Affairs Board and is formerly a chair of the Human Relations Commission. San Diego has been the destination of many LGBT immigrants seeking safety because in their countries being gay or trans can result in harsh punishments including torture and even death.
To donate to the fund call (619) 972-6369.
---
ORANGE COUNTY
OC LGBT Rights Activist Janet Avery Dies
LGBT activist Janet Avery passed away last month. According to a Facebook message posted by her friend Cindy Elliott, Avery died peacefully. The cause of her death is not yet known.
Avery was the president of Orange County Cultural Pride—the OC's first gay pride festival and parade. With lawyer John Duran (the current mayor of West Hollywood), Avery fought Santa Ana city hall for a pride parade permit. She sparred with anti-gay right winger Rev. Lou Sheldon and white supremacists in the mostly conservative area of Orange County during their efforts to try to revoke the pride permit. The first Orange County Gay Pride Festival was held in Santa Ana in 1989.
---
LONG BEACH
First Ever LGBTQ Arts Festival
"OUT LOUD: A Cultural Revolution," LGBTQ Arts Festival made its debut in the city of Long Beach, early last month, featuring 20-plus speakers and artists of the LGBTQ community, including poets, visual artists and performers. Dave Russo, the event's founder, kicked off the event.
Some of the queer festival performances included poet Clifton Snider, who read a poem dedicated to the victims of the Pulse nightclub mass shooting in Orlando two years ago and author Andrew Turner read from his book Heart, Mind, Blood, Skin. Singer-songwriter Lara Etzen, who is chronically ill took the stage just moments after being released by the hospital to perform  her quick, rhyming lyrics.
The first ever Lorde-Whitman Award, was awarded to Dr. Clifton Snider for his contribution and activism for the LGBTQ community.