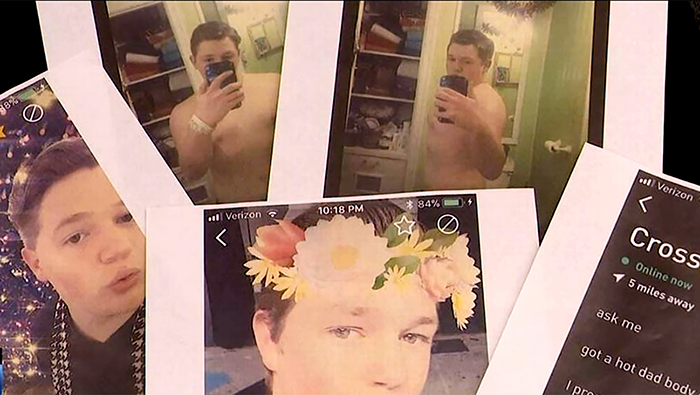 "You can't win elected office and then expect your public cyber sex-capades to remain private… if you don't like it, don't show your stuff all over the Internet for all to see. Go old school. Seduce someone face to face like the rest of us had to." 
The Brains Of A Dandelion
I see that Caitlyn Jenner, the Republican transwoman who supported Trump in 2016 and naively believed that he would help the LGBT community, has changed her tune. Back in the day, Jenner said she'd never vote for Hillary Clinton, the "liar," and mused that Trump would be "good for women." Now, she's calling Trump a disaster, saying he has set the transgender community back 20 years.
I was about to question in print why any of us even gives a damn about the opinion of this mindless idiot. I mean seriously, dear Readers. She's got the brains of a dandelion. I know she's a member of our colorful and charming LGBT community but still! Then I realized that I was the one who decided to begin my column with her revelations. So sue me, sue me, what can you do me. I love you!
Subsets Of Sex
Speaking of transwomen, we won a fantastic victory at the U.S. Court of Appeals for the Sixth Circuit the other day. On March 7, a three-judge panel ruled unanimously that a funeral parlor owner, who fired a director for planning to start her transition, had discriminated on the basis of sex in violation of Title VII of the Civil Rights Act of 1964.
I know we've talked about this before, but it's critical. If more and more federal courts continue to agree that gay and trans bias are subsets of sex discrimination, we will prevail in our civil rights goals much faster than we might otherwise. It could take forever to convince Congress to add sexual orientation and gender identity to Title VII protections against workplace bias and other civil rights statutes. But sex is already protected. Sex discrimination is already against the law in the workplace, in housing, in public education. Ergo, if LGBT discrimination is seen as falling under the general category of sex discrimination, our community would suddenly have the law on our side.
Last year, the full court of the Seventh Circuit ruled that gays can sue under Title VII's ban on sex discrimination, and in early March, the full Second Circuit ruled the same in a similar case. Here we have a Sixth Circuit panel, and we have recently launched a Title VII case for a gay Michigan man in the Eighth Circuit. Obviously, the ultimate decision rests with the Supreme Court, which ducked a case out of the Eleventh Circuit earlier this session. They might be asked to review the above mentioned Sixth Circuit litigation. We will see.
Go Slow Senate
Speaking of Title VII, I just have to note that we continue to enjoy the support of the Equal Employment Opportunity Commission (EEOC), the five-member federal commission in charge of enforcing the half-century old law against workplace discrimination (Title VII). The Commission cannot include more than three members of one political party, so we all assumed that the insidious Trump minions would balance the membership back towards the conservative side right away.
However, Trump has not managed to get his two nominees confirmed by the Senate, in part due to their "murky" attitude towards LGBT rights as one press report described it. I'm not sure what their status is at present, but for now, the EEOC is operating with one Republican, two GLBT-friendly Democrats, and two vacancies. As such, the EEOC just filed a friend-of-the-court brief in support of the gay Michigan man in the Eighth Circuit.
Thanks guys! I also see that Trump just named a conservative lawyer, Sharon Fast Gustafson, to be the EEOC's General Counsel, the main litigator for the agency. Gustafson will also have to be confirmed by the Senate, so that's something.
Bombers Away
You'll be sad to hear that the mid-March Austin bomber, Mark Conditt, apparently did not think much of gay relationships, calling them "not natural" in a blog post or something. The 24-year-old white guy was the disaffected school shooter-type, so puffed up with nothing to show for himself (even though he was so incredible!) that all he could think to do was to kill a few innocent people.
Conditt favored the death penalty, pointing out that if you leave a killer alive, he could kill more people. On the other hand, he had a soft spot for sex offenders and sex offender registries. "You have to really hate the guy to make him suffer for the rest of his life, even when his prison time is up," he observed. "Will putting [a sex offender] on a list make it better? Wouldn't this only make people shun him, keep him from getting a job, and making friends? Just for a crime that he may have committed over 15 years ago as a adolescent?"
Gosh, food for thought n'est-ce pas? Hey, I live here in Austin, so I was on the ground to witness many of my fellow citizens going nuts over standard Amazon deliveries miles and miles away from any of the handful of bomb sites. Still, I was glad to learn that this fruitcake was gone for good, black-listed on the great register of Eternity.
Lone Star Dimmits
While we're in Texas, what do you think of the 19-year-old gay city councilman from Groves, Texas, Mr. Cross Coburn? The other day, an anonymous informant sent some Grindr screen shots of Coburn to the local TV news gang, asking whether this is the way a city councilman should present himself online. The images included naked selfies, shot Craigslist-style in the bathroom mirror (Guys, really? This is not attractive—take it from a middle aged lesbian) along with dick pics and discussions of how horny he was.
I first saw this story on the gay blog Towleroad, under a headline that accused the press of gay shaming young Cross. But please. You can't win elected office and then expect your public cyber sex-capades to remain private. Who knows? Maybe the citizens of Groves, Texas, will enjoy the studly council-teen and reelect him when his term expires. Maybe not. That's politics, and if you don't like it, don't show your stuff all over the Internet for all to see. Go old school. Seduce someone face to face like the rest of us had to.
And what the hell, y'awl. I have one more Texas tale for your consideration, this one out of Orton, Texas, a panhandle town just two shakes of a bunny's tail from Muleshoe and Dimmit. When Dallas resident Brenda Light, formerly of Olton, died at 77, her son Barry put an obituary in the Olton Enterprise. Under survivors, he listed himself and his husband—a partner of over thirty years, John Gambill. As you might imagine, Gambill and Brenda Light had been family for decades.
The publisher of this rag, Phillip Hamilton, deleted the reference to Gambill "because I wanted to," he explained later. Hamilton pointed out that since the Bible didn't envision same-sex marriages, mentioning a same-sex husband would be a "lie."
It's just, I don't know. I think it was one of the post-Millennial gun control activists who pointed out that it's a matter of time until certain antediluvian old timers will be dead, while he and his cohort will be around to change the world. God speed to that.
Except not God speed to my own death, of course. I want to stick around and watch the fireworks.
---
Ann Rostow can be reached at arostow@aol.com.