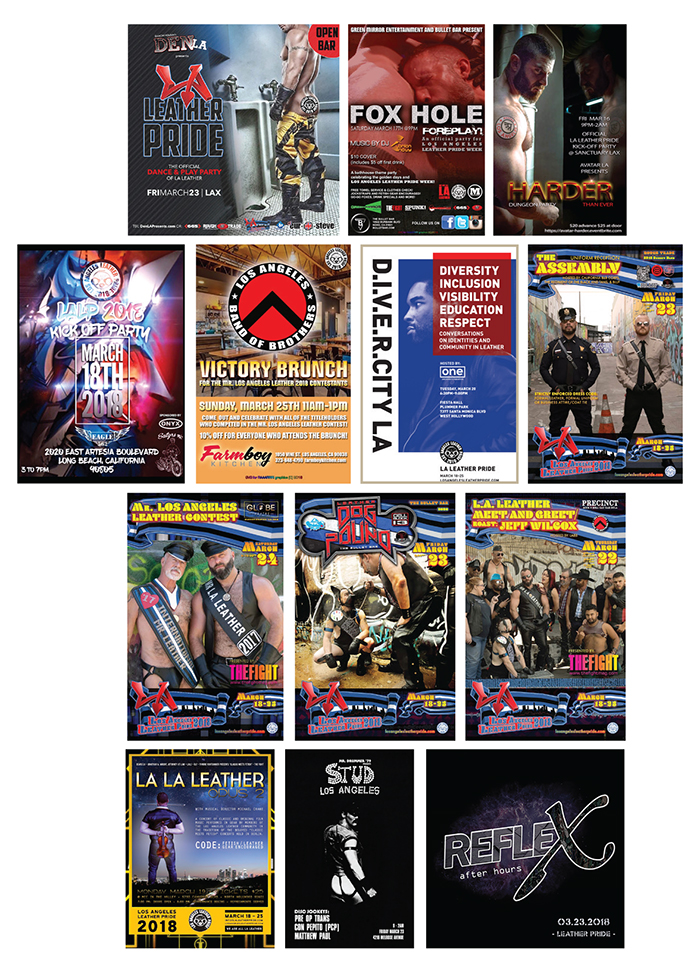 For more details on these events and last minute updates please visit losangelesleatherpride.com.
FRIDAY, MARCH 16  
HARDER: MEN'S ONLY PLAY PARTY BY AVATAR
Sanctuary LAX, 9pm-2am. A Mens Only Play Party. Hot men, Kinky play from the men who are celebrating 35 years of BDSM education.
SATURDAY, MARCH 17  
FOX HOLE: FOREPLAY BY GREEN MIRROR
Bullet Bar, 10522 Burbank Blvd, North Hollywood, 9pm-2am. A bathhouse theme party celebrating the golden days and Los Angeles Leather Pride Week. Free towel service, clothes check, jockstraps and fetish gear encouraged! Go-Go Foxes, drinks specials and more!
SUNDAY, MARCH 18  
LA LEATHER PRIDE 2018 KICK-OFF BY ONYX
Eagle 562, 2020 East Artesia Blvd, Long Beach, 3pm-7pm. Cheer on LA Leather titleholder class of 2018 as they choose their contestant order for the Mr. Los Angeles Leather Contest. Sponsored by Onyx Southwest, featuring a motorcycle ride-in by Satyrs MC.
MONDAY, MARCH 19
LA LA LEATHER OPUS 2 BY BEARS LA
MCC in the Valley, 5730 Cahuenga Blvd, North Hollywood, 7pm-10pm. The Classic Meets Fetish tradition of Folsom Berlin, with an emphasis on classic and original music that has been used in film, television or other media.
TUESDAY, MARCH 20
D.I.V.E.R.CITY LA:  CONVERSATIONS ON IDENTITIES AND COMMUNITY IN LEATHER 
Fiesta Hall, Plummer Park, West Hollywood, 6:30pm-9pm. LA Leather Pride sponsors an interactive discussion. Attendees will hear testimonials from a diverse group of voices telling their experiences of discrimination, both intentional and unintentional.
THURSDAY, MARCH 22  
MR. LA LEATHER MEET & GREET AND ROAST OF JEFF WILCOX
Precinct, 357 S Broadway, Los Angeles, 7pm-11pm. Come out to mingle with the 11 gentlemen who will be onstage for Mr. Los Angeles Leather 2018.  Send off LA's favorite leather muscle man in style—and get all the dirt on his year as Mr. LA Leather 2017.
FRIDAY, MARCH 23 
THE ASSEMBLY
Rough Trade Gear, 3915 Sunset Blvd, Los Angeles, 7:30pm-10:30pm. The California B&B Corps, BLUF, and The Regiment of the Black and Tans present the Southland's hottest uniform dress code event! Note: Strict Dress Code applies to this event.
DENLA PRESENTS:  LA LEATHER PRIDE, OFFICIAL DANCE & PLAY PARTY OF LA LEATHER
Sanctuary LAX, 9pm-3am. Open bar, free gear check, gogo men, live DJ, lights, sound, slings, dungeon bed, play spaces throughout, and the friendliest guys around.
STUD LOS ANGELES 
Faultline Bar, 4216 Melrose Ave, Los Angeles, 9pm-2am. Mr. Drummer '79 presents: A tribute to one of LA's longest running leather bars. From 1974-1988 the Stud inhabited what is now the Faultline. For one night only we are bringing back the old school cruise bar. Leather dress code encouraged.
LEATHER DOG POUND
Bullet Bar, 10522 Burbank Blvd, North Hollywood, 9pm-2am. Four years ago, we decided that some pups needed a place to go on LA Leather Weekend, and so Leather Dog Pound is back this year again as a part of the celebration!
REFLEX AFTER HOURS
Los Globos Theatre, 3040 Sunset Blvd, Los Angeles, 2am-6:30am. AfterHours with Audio4play, Dj/Producer Hector Fonseca. AN Official LA Leather Pride Event. Tickets: ReflexPresents.com.
SATURDAY, MARCH 24  
MR. LOS ANGELES LEATHER 2018 CONTEST
Globe Theatre, 740 S Broadway, Los Angeles, 6pm-10pm. We are ALL LA Leather! Come out and celebrate being a part of this beautifully imperfect tribe. Cheer on the LA Leather Titleholder Class of 2018 as they expose themselves (figuratively and actually) on stage for you.
LEGION MEETS MEGAWOOF:  OFFICIAL MR. LA LEATHER DANCE PARTY
Globe Theatre, 740 S Broadway, Los Angeles, 10pm-4am.The Official Saturday Night Dance with Superstar DJ Tom Stephan + DJ Glovibes. Event starts immediately after the 2018 LA Mr. Leather Contest.
SUNDAY, MARCH 25
LABB TITLEHOLDER VICTORY BRUNCH
Farmboy Kitchen, 1050 Vine St, Los Angeles, 11am-1pm. Celebrating the Mr. Los Angeles Leather 2018 winner and all of the titleholders who competed in the Mr. Los Angeles Leather 2018 Contest! 10% off for everyone who attends the brunch!
OFF SUNSET STREET FESTIVAL
Santa Monica Blvd from Hoover to Sunset, 11am-7pm. LA's Perverted Little Street Fair is back for it's 6th year! Off Sunset Festival, the Los Angeles Leather and Fetish Street fair closes out a week of events for Los Angeles Leather Pride!