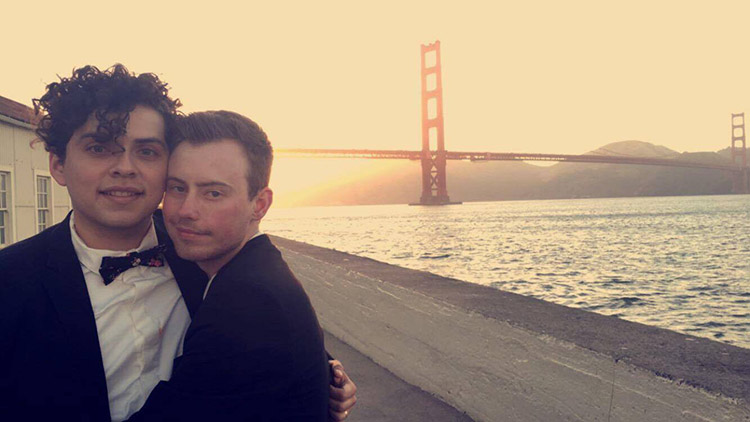 Violence Against Russian LGBTS Prompts Young Violinist To Come Out to The World.
 BY LARRY BUHL
Artem Kolesov didn't plan to be a spokesperson for Russian LGBT rights. The 23-year-old violinist thought his coming-out would be limited to a Facebook status update on his birthday that a few people, and his mother, might see.
In an interview with THE FIGHT Kolesov  confides that he never expected his YouTube video would eventually get more than 50,000 views. But when he heard about a teenager in Russia who was arrested for joining an LGBT group, he decided coming out for any Russian was now by definition a political act.
A BIRTHDAY WISH
"There are still many LGBT people in the world, especially in Russia who are not safe," says Kolesov, adding that the surge in violence against gay men in Chechnya cemented his decision to come out publicly.
In recent months, violence against LGBTs in the Russian states has spiked, and in April reports of more than 100 gay men arrested and tortured—and some reportedly killed by police—in Chechnya have shocked the world and led to rescue efforts.  Authorities continue to deny both the arrests and the deaths.
If immigration laws tighten up Kolesov might apply for refugee status, because his public coming out, and even this article, have put a target on his back in Russia.
In the video, published on March 29, Kolesov begins with a birthday wish to himself, then speaks about how he no longer wants to hide because of his sexuality.
Kolesov also recounts wrenching episodes from his childhood and his suicide attempts.
"When I was five I realized that I liked boys," he says to the camera. "In my family I often heard that all gays should be destroyed and that if anyone in m family should turn out gay that my family should kill them with their bare hands."
Speaking Russian, with English subtitles—he speaks perfect English—was a way of reaching more LGBTs in his home country, he tells THE FIGHT.
The video is part of the Russian "Children-404" project, which allows LGBT youth in Russia to share their stories in Russia. Most of the photos and videos feature a "Children-404" sign in front of participants' faces.
ISOLATION, RELIGIOUS BIGOTRY
Kolesov, the son of to Pentecostal pastors in a small town an hour away from Moscow, moved to Canada at age 16 to study at Dalhousie University in Halifax, Nova Scotia.
"Growing up, I didn't even know there were others around who were LGBT. Knowing there were people like me was a big issue in Canada because they were not hiding."
Kolesov says, with wry irony, that just a few months ago politicians in Russia were saying that they can't possibly discriminate against LGBT people because they didn't have any LGBT people.
Kolesov now lives in Chicago, where he is first violinist in the Yas Quartet.  He plans to move to Los Angeles to be with his new husband.
Homophobia in Russia and the Russian states, explains Kolesov, is partly based on religious intolerance, partly on willful ignorance, and partly on 60-year-old Cold War politics.
"Since the Cold War, the former USSR believe that whatever the United States does now is bad,"states… If being gay is promoted in America, therefore it's bad. If Americans like jazz music, then jazz music is bad."
Kolesov says he fears for his safety if he returns to Russia. "My mom said you cannot be that – she can't say the word gay—and she insists I am just confused. She said 'come back to Russia and we will take you to a professional and do an MRI on your brain.'"
Beyond getting an unwanted brain scan, Kolesov fears arrest, because he technically broke Russia's 2013 anti-propaganda law by creating the video. The 2013 law says it's illegal to tell minors that being gay is acceptable.
LOVE AND MARRIAGE
Just a few weeks after becoming an international gay freedom icon, Kolesov is taking on another role by doing something he could never do in Russia: marry a man.
Two and a half years ago, while Kolesov was auditioning in Los Angeles at Coburn school, he met a UCLA student, Eduardo Diaz, and fell in love. They built a long-distance relationship on phone calls and occasional vacations.
After the unexpected election of Donald Trump in November, they decided to get married as soon as possible, fearing under a Trump regime, the freedom to marry, and Kolesov's freedom to stay in the U.S., might end.
"Trump is unpredictable, but (Vice President) Pence had a long antigay history,"
"Eduardo told me, 'the only logical conclusion is to get married, because I don't see myself with anyone else,'" Kolesov continues.
The couple tied the knot in late May at a courthouse in San Francisco. The reception was small, at a nearby restaurant with less than twenty friends. They honeymooned in Chicago, during a break in their schedules.
Kolesov is applying for a Green Card, but he says if immigration laws tighten up he might apply for refugee status, because his public coming out, and even this article, have put a target on his back in Russia.