RESIDENZA SAN LORENZO
The perfect place for a luxury short getaway or long term stay in Palm Springs.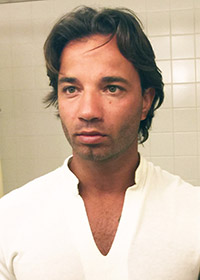 Luca Volpe, co-owner of the luxurious new condominium hotel Residenza San Lorenzo, also known as RSL, in Palm Springs, moved to the USA 6 years ago, after living 2 years in Playa del Carmen, Mexico.
Originally from Italy, Volpe got involved in the hospitality field after meeting his current partner Charlie Hines, who had recently retired after 30+ years from the hotel industry. Together they decided to start a new business and opened RSL.
The property, explains Volpe on an interview with THE FIGHT, is an upscale hotel featuring twelve condos.
"We purchased RSL, formerly Random Haus, in November 2015, reveals Volpe. "One of the main motivating factors that contributed to our decision to move up to a more upscale and challenging opportunity was my realizing how rewarding and satisfying the day-to-day interaction with our guests—and the difference we can make to their Palm Springs experience."
"Our product, both in design and furnishing, is modern and high-end," states Volpe, explaining what makes RSL stand out in comparison to other accommodations in Palm Springs."
"What our guests usually comment upon is the size for living space (all units are two bedrooms and two bathrooms). Having a full kitchen, wine cooler, and washer and dryer enhances the experience for guests seeking extended stays… Our product has been very suitable for traveling workers, temporary relocations and seasonal visitors. Also the private gated parking and lush garden patios, pool and spa, water features, BBQ social area and fire pits, contribute to the overall relaxation and quiet ambiance."
"Although we welcome everyone, we are very supportive of the LGBTQ community." says Volpe. "RSL is the perfect place for a luxury short getaway or long-term stay."
---
For more informations, please visit their website: rslpalmsprings.com