BY JOE FARAGHER
Photos of Chavez by Jon Wells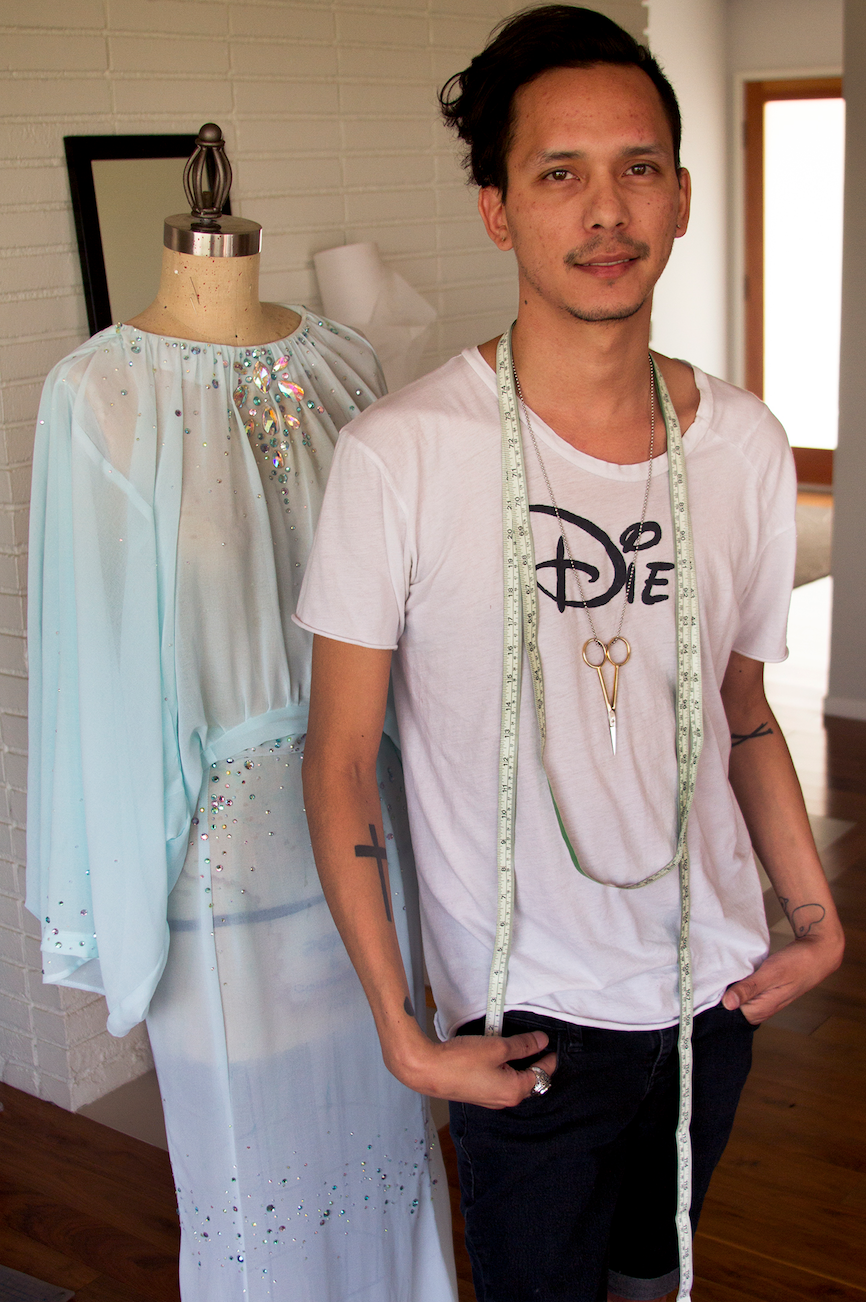 Sitting in Juan Chavez's home in Highland Park, overlooking Northeast Los Angeles, an enormous flurry of bees races past the open window. Chavez, 31, from Palm Springs, California, floats over and shuts the glass. He takes a moment to look out at the insects vanishing into the distance. "They're getting the fuck out of here—too many damn drag queens" he laughs, flicking a bit of ash from his American Spirit into a little black cup. Not an unfair guess, since Chavez's life has been sequins, fabrics and queens for some time now. He is a fashion designer who's current project is his collaboration with Naomi Smalls, Rupaul's Drag Race Season 8 contestant and the only queen on this season from Los Angeles. Naomi is the "High Fashion Hood Rat" with legs for literal years and a keen sense of glamour with a bit of edge that makes her stand out from the everyday "fashion" girl. Chavez has designed all the looks Naomi will wear on Drag Race, and has put together most of her red carpet attire for the premier parties, as well as looks for Kim Chi, another high-profile contender on this season. He also designed the graphics for her first t-shirts and keychain merch.
Chavez went to Otis College of Art and Design in Los Angeles where he was mentored by the legendary Bob Mackey. Needless to say, he's fabulous. Slight but striking, his wan smile betrays a half-hearted attempt to hide his exhaustion. This is a designer who is not caught up in just the fantasy of sketches and inspiration; his attention to detail and labor over stitches marry high concept with flawless execution. All nighters and the hum of a sewing machine are the rhythms by which he lives.
Difficult to read but incredibly kind and soft-spoken, Chavez is confident, but not arrogant. When he describes the quality of a piece he's made, he isn't fluffing his ego. He has a genuine enthusiasm for fashion that makes his usually furrowed and probing eyes glimmer like a little kid when discussing the hat worn by Naomi at a premier party.
I chatted with Juan about Drag Race, his origins, and his work.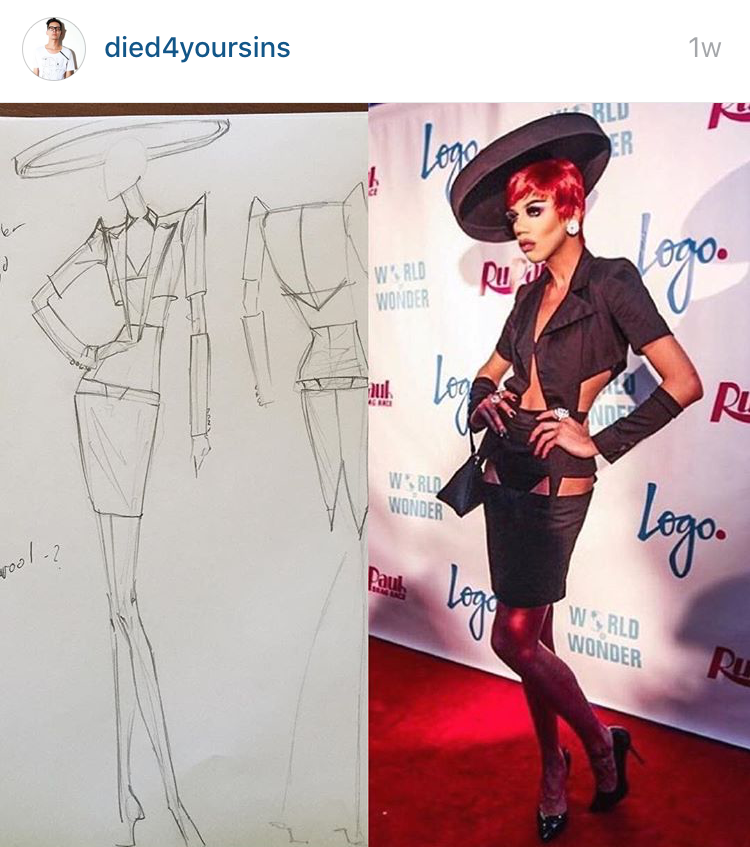 What was growing up like for you, and when did you discover that you wanted to design? 
I grew up in Palm Springs and there was nothing to do. I started dabbling into drugs when I was like 13 and I was a club kid so I started going to raves, making my own clothes but not really knowing I could make my own clothes. Like, all I would do is cut up sweaters and shirts and pants and trace them, not knowing I was making patterns.
When I was 16 I told my parents I wanted to go to arts school and they said "good luck," so that's when I knew that I had to bust my ass and look for scholarships and things to go to school and luckily I made it into Otis. I actually went to school for advertising, not for fashion. And my freshman year, they cal it foundation year, one of my counselors was walking around in the cafe and I was like sketching an outfit for halloween and she turns to me and says "oh you're going into fashion" and I said no. It just so happened that the next day we had to choose our major and I checked fashion.
Did your parents know you were gay? 
I came out when I was 15. My father was more accepting than my mother was. Like my mother loves me but she wasn't as accepting. They are now. (chuckles) Yeah, they had to know.
What inspires you? 
A lot of things. One of the first memories I have of inspiration is when I was 16 just walking down the street and going to school and on the pavement I would see the old bubble gum, like black, like little black shapes and in my head I would make little shapes and stuff like that would inspire me. So, sidewalk gum.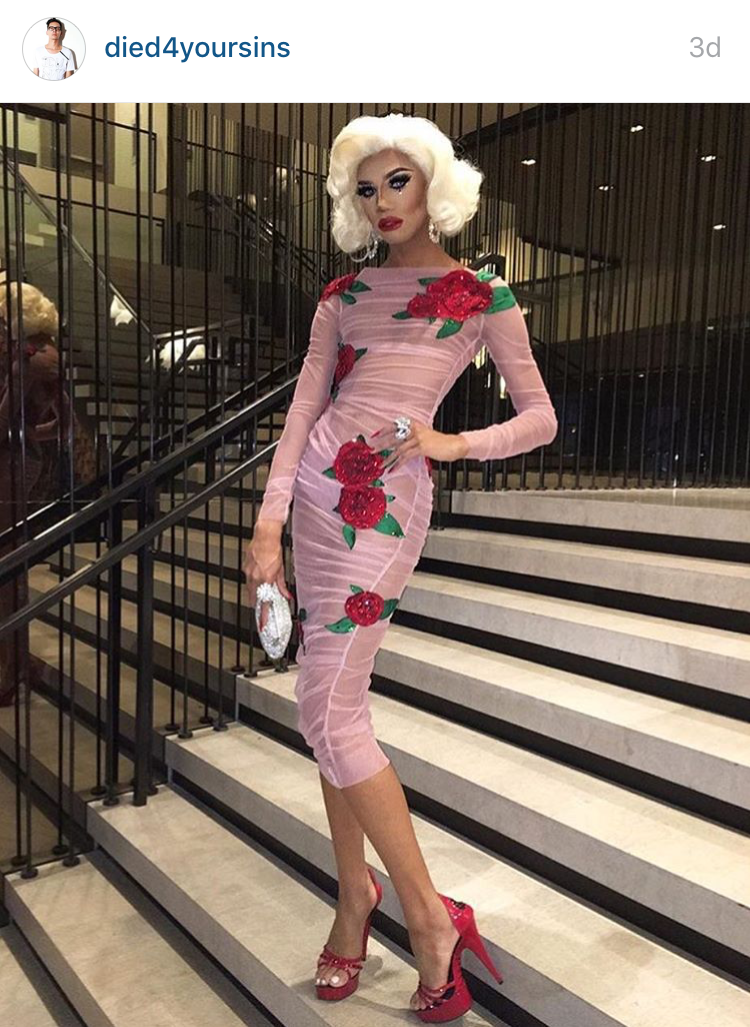 How did you get to where you are now in your career? When did you start collaborating with Naomi Smalls?
Well, at the time when I met Naomi she had asked for my number through another Drag Queen because I really hadn't done costumes for Drag Queens.  I was the assistant creative designer for Iron Fist, the streetwear brand, and I had just been laid off. I made a gown or some jumpsuit for a drag queen named Valentina and it got a lot of recognition at Drag Con and through that jumpsuit, Naomi asked if I was willing to work with her. I was like "yeah of course I think you're gorgeous!" We had started working, and within two weeks she calls me and is like can I take you to lunch and I was like yeah is everything ok and she was like yeah I just really need to talk to you and in my head I already knew I was like "The bitch made drag race." we went to some restaurant and she was like, "I made it"."
And then what happened? 
It was 9 days of non-stop work I didn't sleep. My boyfriend hated me the entire time because the sewing machine was just on the entire time and it's fucking loud. We had 9 days to make 11 looks.
How does the process look between you and Naomi? From start to finish. 
In the beginning she had like a print out of what the producers sent her of what each challenge was, so we had to design within that and she had her own ideas, some of which we didn't follow through because…they weren't good…because she loves fashion but she isn't design-inclined so I would have to tailor it.
After she came back from Drag Race she was like "Girl, make me whatever you want." She blindly trusts me. So I'll make her whatever and she loves it. Like the black look with the hat and the rose dress. It's just oof. And there's so many looks that are coming that people haven't seen that are just. (he pauses and closes his eyes) Stupid. It's so stupid. (he laughs)
With the show coming up, and knowing that you are about to have this tremendous amount of exposure, how are you feeling? 
I actually had kind of a breakdown a couple days ago because ever since the premier started, and I made pretty much all the premier and performance looks for Naomi and even some for Kim Chi, I've been getting like, kind of hate mail, people just being really mean and angry about the looks, and me, just calling me ugly or telling me to brush my hair it's just weird, it's really fucking weird. To the point where Raja called me and she was like "Girl, people are looking to fucking destroy you." I don't get that.
Sounds like they're jealous to me! What is your favorite part about working with Drag Queens? 
The clothes aren't real-they're like fantasies. Even though physically they are clothes, it's not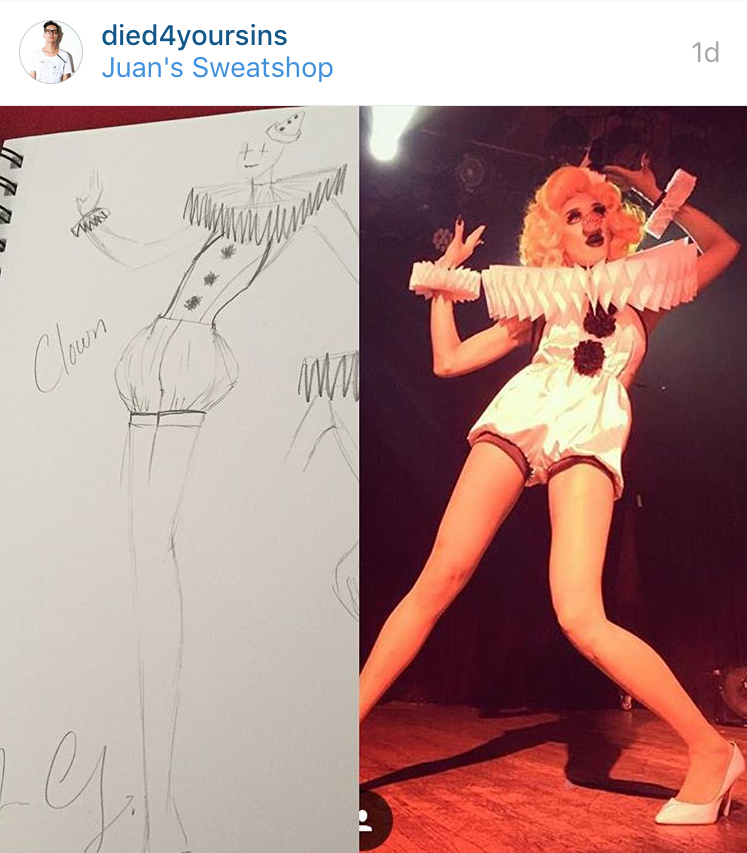 something people would wear. I love that because a drag queen can just tell me "I want to look like a sad clown in white with black pom-poms. Go." And then I'll do it. It's fun. I love what I do. It's stressful and time consuming but I love it.
What is your least favorite part about working with Drag Queens?
Broad shoulders.
Have you been getting a lot of requests from people since the announcement of Season 8? 
Yes but I have to be very selective. Because I'm getting hit up like left and right, and the waiting list is real. And even the same queens that are hating are still on the waiting list!

Drag queens are specific characters. Coming into designing red carpet looks and things like that, how do you find yourself representing your own brand and style when working with those specific characters? 
Well the whole red carpet looks was a different monster because it's red carpets. And when it came to Naomi I told her specifically I want you to look glamorous. I want this to be good drag. Like high fashion, because she's the high fashion hood rat and I wanted her to look gorgeous and a little edgy. As far as Kim Chi because she's very avant-garde and very Harajuku, when I made her a gown it was simple and elegant and she was happy about it. She said she had never f
elt that glamorous in that way.
Are you inspired by Los Angeles? 
No. No. No. It doesn't really affect me. I'm not inspired by Los Angeles at all because it's a very fickle town. Things that inspire me are like, New York. I think it's the f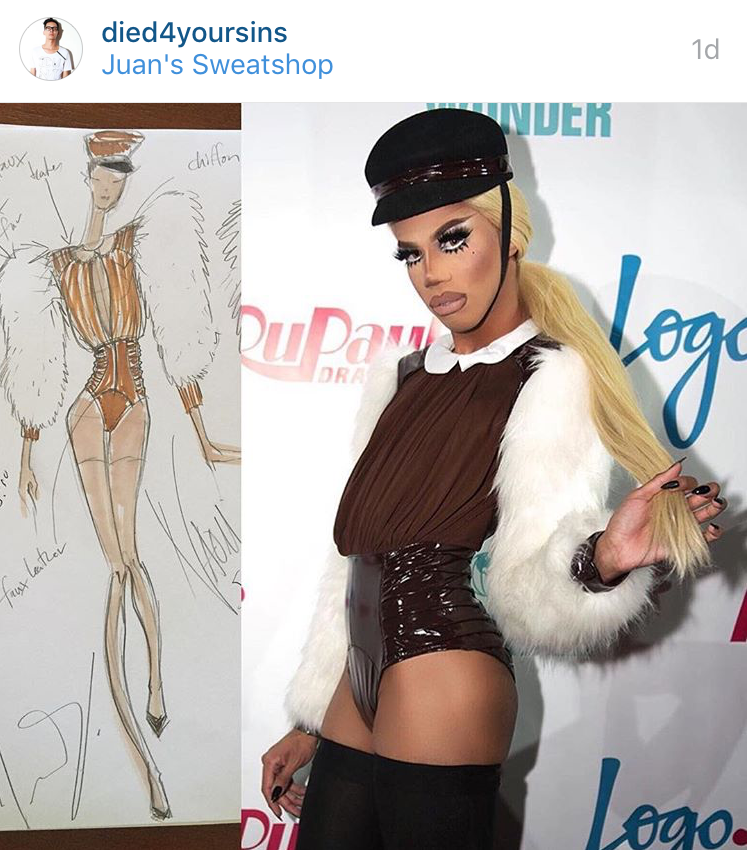 antasy, just that kind of feeling of the busy city, feeling like Sarah Jessica Parker.
Are you a big Sex and the City fan? 
Yes I was obsessed. For the longest time I was the biggest Dior fan, that was like my go-to brand. I fucking love Galliano. What he does with fabric, I only wish.
Do you have gay role models?
John Galliano. I feel like I should say Rupaul, he's always been one of my favorites.
You worked with Bob Mackey. How was that? 
He was my mentor, he taught me a lot how to make gowns. We got to design with him at Otis and I was lucky enough to be on his team. He taught me a lot. I would just shut up and just listen to what he would tell me about gowns and he would critique my work and gave me a lot of insider tips of how to make foundations, corsets. How to fake chiffon nipples—that's one of my favorite things, he was like "you have cut these almost like pepperoni and make them big and then cut smaller and smaller so you can't see the nipples." I thought that was brilliant.
How do you see the LA drag scene, since Naomi is an LA girl?
It's a mixed bag. I have mixed feelings. I do get approached by a lot of queens, like even past Drag Race girls, feeling that I only work with Drag Race girls. But it's not true. I'm lucky to get to pick and choose who I work with. Even reaching out to you (Pickle) and Meatball, because I want to work with queens who inspire me.
Do you enjoy going to drag shows? Is that fun for you? You can be honest.
I love it and I'm going to be vain about it—I love seeing my clothes in motion. I love seeing the full fantasy. I love seeing the full image with the hair and make up and accessories, and when they perform in my stuff it really does give me life. 
Anything else?
I hate everyone.
You can follow Chavez on instagram @died4yoursins. Pictured below is a Naomi Smalls shirt designed by Chavez.