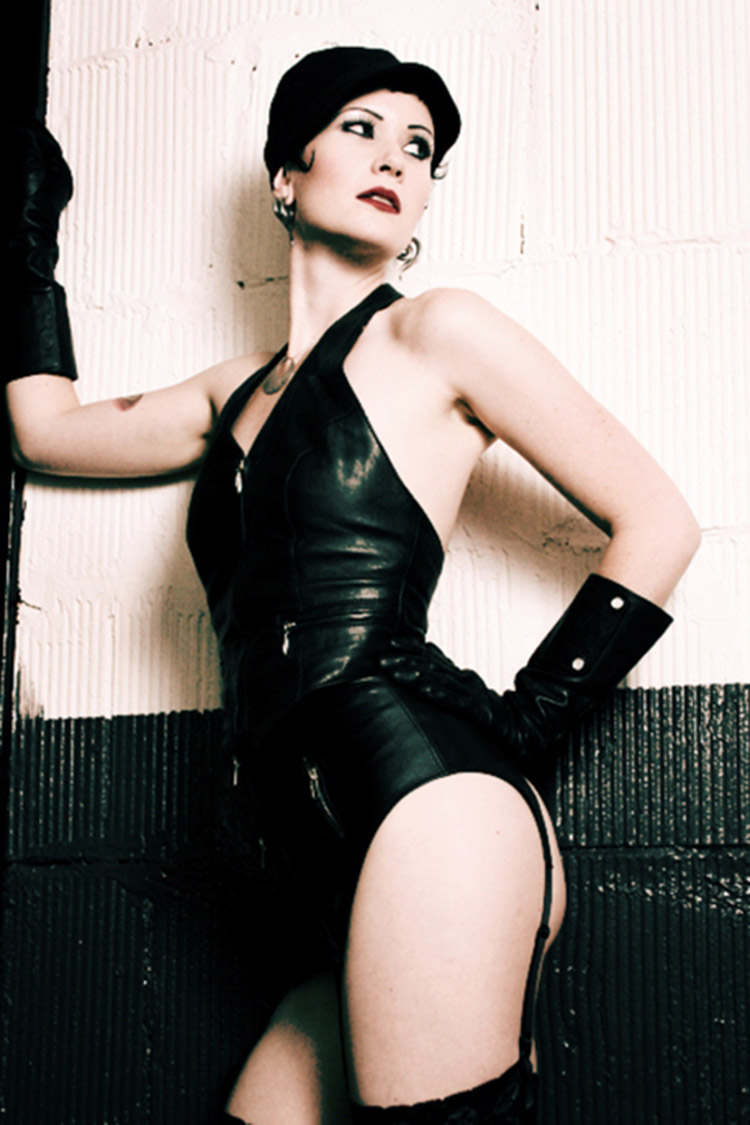 BDSM Educator & "Pro-Dom" Shae Flanigan is resurrecting the Ms. Los Angeles Leather after a 17-year-hiatus, bringing a renewed sense of unity to the Southland's Leather community.
BY BRENDEN SHUCART
As far back as she can remember, Shae Flanigan has always been kinky. Where most kids play "tag," she played 'kidnapper.'
"I remember trying to tie myself up, just to see if i would be able to get out of it, because I was curious If i could." She almost broke her wrist once when her mom came home early.
When she was eight, before she had the internet to offer instruction, Shae had imagination—and a roll of duct tape, which she used to make her first corset. "I can't even express to you how painful that was to try to remove in the shower."
She grew up in the Pacific North West, a self-described "total tomboy." According to Shae, all of her friends were boys whom she loved to wrestle and tickle.
In her first high school relationship "we just naturally fell into the roles of dominate and submissive—and that was before I knew anyone else did these things. We felt like the two freaks on the planet."
Shae self-identifies as "queer," because though 99.99% of her partners are female, gender-queer, or gender-fluid, in her words, "Every now and then there is someone with amazing energy who slips through that loop. I'm an energy player first and foremost."
In her first high school relationship "we just naturally fell into the roles of dominate and submissive—and that was before I knew anyone else did these things. We felt like the two freaks on the planet."
"I was 15 and he was 17. He was wonderful, and he was flamboyant, and he was fantastic. And he frankly made a better girl than a boy, and I helped him with that. He became my 'sissy maid,' and that was our relationship."
Eventually Shae made her way to Los Angels, a city she called home for ten years. "I like to say it took me about that long to dry out."
She still considers L.A. to be her home, though recently an illness in her family has compelled Shae to return the Pacific North West in order to become a full-time caretaker.
OFTEN THE PROTECTORS
In 2014, Shae was the inaugural recipient of the Ms. Sanctuary Leather title, an honor that she is clearly very proud of—but more for what the title represents and the values that it embodies than as a mark of personal achievement.
"Sanctuary is a very cool title—it's the first leather/pro-dom hybrid. There has never been another one like it."
Shae tells me that there has been a long-running stigma against pro-dons (i.e. "professional dominate," the preferred nomenclature for what is often called a "dominatrix"), that they aren't really "Leather."
"But if people look back in their history, they'd know pro-doms were often the protectors of the women's community. For a long period of time, especially in the '70s; pro-doms used to be the ones who kept the play parties safe. For people to find the location of the play party, they had to first play with the pro-dom—prove that they weren't cops—and only then would they be given the location, after she vetted them."
It was the pro-dom, sticking her neck out, risking arrest, for the community.
"A lot of people forget that history," says Shae.
Ms. Sanctuary Leather was also the first L.A.-wide Women's title since the short-lived original Ms. L.A. Leather went into hiatus in 1999, and as a result Shae felt a calling to be an ambassador for the city's Women's Leather community.
"I spent my year introducing myself, because we haven't had an L.A. title roaming around the country." Many people Shae encountered didn't even know L.A. had a women's community. These experiences inspired her decision to resurrect the Ms. L.A. Leather.
Already an experienced pro-dom and a BDSM educator when she came into her title, Shae was able to use her teaching to help support her journey. "And I just kept going—event, to event, to event. My goal for my year was to go as far as my bank account would take me, and then some."
Even an inheritance Shae received that year ended being being channeled into her travels.
"Because we didn't have a Ms. L.A. during my year, I rocked out like I was Ms. L.A. which is what helped me get the idea of exactly what I wanted this contest to be, and why I felt so strongly that we needed to have this title back."
THE "SASH-SPOUSE"
In Los Angeles there are ten titles which "feed" into the Mr. L.A. Leather contest: Mr. Christopher St. West Leather, Mr. Sister Leather, Mr. Sanctuary Leather, Mr. Regiment, Mr. SoCal Leather, Mr. L.A. Leather Bear, Eagle L.A. Mr. Leather, Mr. Oil Can Harry's Leather, Mr. Bullet Leather, & Mr. Pistons Leather.
Whoever of them wins Mr. L.A. Leather goes on to compete at International Mr. Leather, while the First Runner-up goes on to compete at American Brotherhood Weekend in Chicago.
Ms. Los Angeles Leather was recently accepted under the auspices of the L.A. Leather Coalition—the organization that owns and supports the Mr. Los Angeles Leather title.
Ms. L.A. Leather will be considered the "sash-spouse" to Mr. L.A. Leather. And it's feeders will be Ms. Sanctuary & Ms. Bullet. The competition is open to any female-identified person, of any orientation.
Whoever wins Ms. L.A. Leather will have her choice to go on to Women's International Legacy Weekend, or International Ms. Leather—which is equivalent to International Mister Leather.
THE SOCAL SISTERS
In 2014, Shae reached out to Ms. SoCal Leather and Ms. San Diego Leather and together they established the SoCal Sisters, a parallel to the Los
Angeles Band of Brothers–a fraternal brotherhood of past and current "Mr. Leather" titleholders in the greater L.A. area. "I was tasked with forming it… on stage when they made me Ms. Sanctuary."
"One of our main goals is to try to keep women from having to reinvent the wheel every single time, because it's hard. You get a title and it takes about three months to get your feet under you and figure out what you're doing. And then it takes you a bit longer to figure out what you want to do with your year. And then by the time you are actually comfortable in your boots, your year is coming to an end."
"We need to help each other and be a good network of support for each other. So anytime someone has a question, they have this sisterhood behind them."
THE GODDESS MOON
Part of that sisterhood is the Goddess Moon. As the second recipient of the Ms. Sanctuary Leather title she is Shae's "sash-daughter," and she credits Shae not only with building up the institutions on the community of Leather Women, but also building bridges between it and the other Leather communities.
"I think the Trans community is carving its own space out, but there is a Heterosexual community, a Men's space, and a Woman's space. In my year I have tried to bridge those gaps, blending those communities. She definitely started it.
"There have been several women in our community—from San Diego up to the Bay Area—who have for years been trying to bridge the gap between the Men's and Women's communities. And saying 'we have our space when we need our space.' Particularly when it comes to playing—sometimes women just want to play with women and men just want to play with men—that's fine. We all need our individual spaces some times. But when it comes to the bars, when it comes to the conventions and things like that, we need to come together; we need to come together as a community."
According to Goddess Moon, there is a "certain generation" who believes that men should have their own spaces and not co-mingle, especially at the bars.
She attributes this kind of thinking as a hangover from a time when sex in leather bars was a common occurrence. "They didn't want women around because they'd cut into their cruising ability. I think it was a perception that women would be a hindrance on their ability to cruise and have sex in the bar. And there are women who don't want to see a man's penis—I'm not one of them, I don't care. You want to suck a dick in a corner? Go suck a dick in a corner. I'm here to socialize and hang out with my brothers and sisters."
Interestingly, Goddess Moon had never been to a leather bar before receiving her title. "I didn't know that I was welcome." But the first time she stepped into Bullet she received a hearty congratulations and express invitation from Michael Lara, the owner.
"He has been amazing to our Women's Community. In fact, he just held his first Women's Title. It is the first bar title for a woman in L.A. and he did it knowing he might lose customers, and he didn't care. He said it was about community."
THE COMPETITION
The Ms. Los Angeles Leather competition is scheduled take place over Martin Luther King Jr. Weekend, January 15 – 18, 2016.
Friday at 6pm there is a "meet & greet" with the contestants at Rough Trade Gear, 3915 W Sunset Blvd, 90029 which will include raffles, prizes and contestant number draw.
Saturday the contestants are interviewed.
Sunday the competition will be held at the Threshold Society, 11300 Hartland St, North Hollywood, 91605. At 5pm the doors open for cocktails, cigars & bootblacking. The contest begins at 6pm and afterward there will be a play party.
Monday from 3:00pm – 7:00pm, the Victory BBQ is at Bullet Bar, 10522 Burbank Blvd, Los Angeles, 91601.