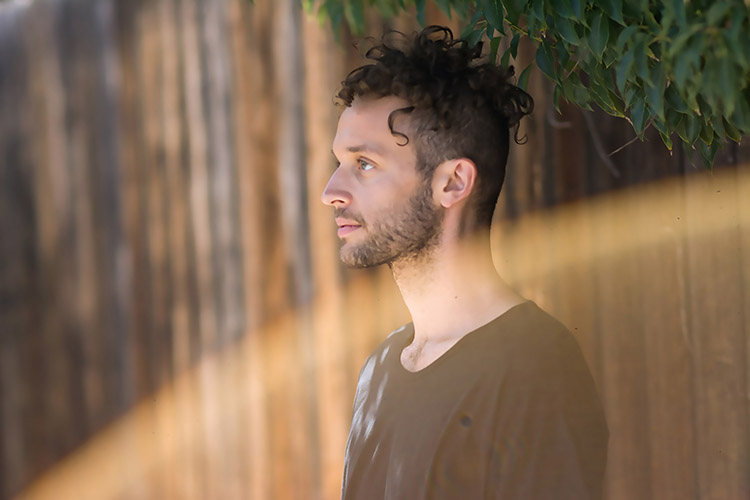 Palm Springs Pride headliner Wrabel on finding your own voice, a painful breakup and the "bully in his head."
BY MARK ARIEL  |  PHOTO BY MATHEW TUCCIARONE
With his first single "Sideways" featured on iTunes and downloaded nearly half a million times—and his song "Ten Feet Tall," featured in a Bud Light commercial during the 2014 Super Bowl—it's safe to say that singer and songwriter Stephen Wrabel (better known as simply "Wrabel") is on his way to becoming a household name.
Wrabel, headlining at Palm Springs Pride this month, has written songs for Phillip Phillips, Adam Lambert, Katharine McPhee, Pentatonix, Will Young, and Ellie Goulding and is consistently called upon by top producers in the music industry while continuing to write for his next record.
In an interview with THE FIGHT Wrabel, a gay man, talks about a painful breakup, his creative process and the "bully in his head."
Where did you grow up?
I was born in Long Island, but we moved quite a bit… I spent time in Virginia, northern and southern California, Massachusetts, Texas, even Australia. Bouncing around was fun for the most part… challenging at times, but I really got used to being the "new kid," which had its pros and cons.
Were you ever bullied as a kid?
I was only bullied directly a few times that I can remember. The meanest bully growing up, and still now at times, is myself. I can really do a number on myself in my head. I've been working through that as I grow up (whatever "growing up" really means… still trying  to work that one out).
I find being honest and open with myself—and those close to me—brings about so much healing. Sharing my story with people and sitting and listening to the stories of others is so eye and heart and mind opening. We're all given a gift in our story, and it really is so important to share that gift with others.
It's easy for me to exist completely in my own little world, but that's when the big bully in my head really starts to work. I can bring myself to tears, keep myself in bed, lock myself inside… it's so hard sometimes, but  something as simple as talking about that begins to take away its power and can start to quiet its very, very loud voice.
When did you know you wanted to be a singer/songwriter/musician?
I remember writing my first song around 3rd or 4th grade. My parents bought me a little janky keyboard, and I wrote a song about climbing up a mountain to one of the preset demo songs on it. Oh what I would give to hear it now…
Through middle school and high school I was in choir and show choir and school musicals and all that. I started playing the piano when I was about 16 and really started writing then, too.
After high school I went to Berklee College of Music in Boston for a semester, before moving out to LA.
How did you start writing for other artists? And when did you decide to perform your own material?
Writing for others was kind of an accident? Well, not completely… I was writing songs with whomever I could write with and playing shows wherever I could. My first placement was with Blake Lewis on his sophomore album. He's a very sweet guy! So talented, too. Since then,
I've written songs with/for Phillip Phillips, Adam Lambert, Katharine Mcphee, Pentatonix, Will Young, and Ellie Goulding… Wow. I just got goose bumps saying that out loud…
It's so bizarre to me looking back and realizing how many songs I've been a part of. I don't mean that in a "well LOOK at ME!" kinda way… it's actually quite the opposite! (Back to the bully in my head… ha).
I feel so humbled and honored to have worked with such wonderful and brilliantly talented artists.
Many of the songs that ended up with other artists started as songs for me—and through some weird, unexpected series of events, ended up with somebody else.
Through it all, I've been performing my own material. I sometimes feel like I 'm leading a double life in that regard, but I wouldn't change it!
Ten Feet Tall," was featured in the Bud Light commercial during the 2014 Super Bowl. How did that change your life?
Oh, in so many ways… it was the first time I heard myself on TV like that. It was just such a bizarre feeling. I spent the day surrounded by friends watching and reeling and crying and laughing (and tweeting). So much exposure… I was (and am) so proud of the song, and so in love with what Afrojack did to it—a true moment to remember.
Can you tell us about the process of working on Sideways? What frame of mind were you in at the time?
Almost all of it was written in London. One song in Paris, and one in LA. I was going through a breakup at the time. A two-year relationship seemingly falling apart at the seams. It was a very painful time for me, but also a very eye-opening experience. The EP really arcs over the whole thing. From the week it started, with "Ten Feet Tall", to trying to find the spark again in "Into The Wild", to the summer I flew out to Ohio as a complete surprise (whilst broken up…) in "Give It Time."
I typically start with chords and then will get on the mic and just sing some melodies and any words that happen to come out. Then it's about piecing it together and looking at what it is and where it's going and shaping it as it comes.
What projects are you currently working on?
I just woke up this morning to see that the Pentatonix record I worked on debuted at number 1 this week on Billboard! Such an amazing feeling! Unbelievable, really… So proud of the song and even more proud of the group. An acapella record at number 1?! Freakin. Yes!
I'm anxiously awaiting November 6 which is when Ellie Goulding's new record "Delirium" comes out. I co-wrote a song on there called "Devotion," which is very special to me.
Other than that, I'm back in working on my next body of work which I am beyond thrilled to say is now taking form and turning into something I 'm very inspired by.
I'm independent now, and at first that was very scary. It's so easy to just wake up and go where somebody tells you to go, write with who somebody tells you to write with, sound like what somebody tells you to sound like. It's much harder, I'm finding, to just sit with yourself and express yourself…
I'm pushing myself by working with new collaborators, while also learning to trust myself all over again in the studio. Fighting the bully in my head, and really re-learning to allow myself to just be, personally and professionally and creatively.
---
For more on Wrabel visit wrabelmusic.com.